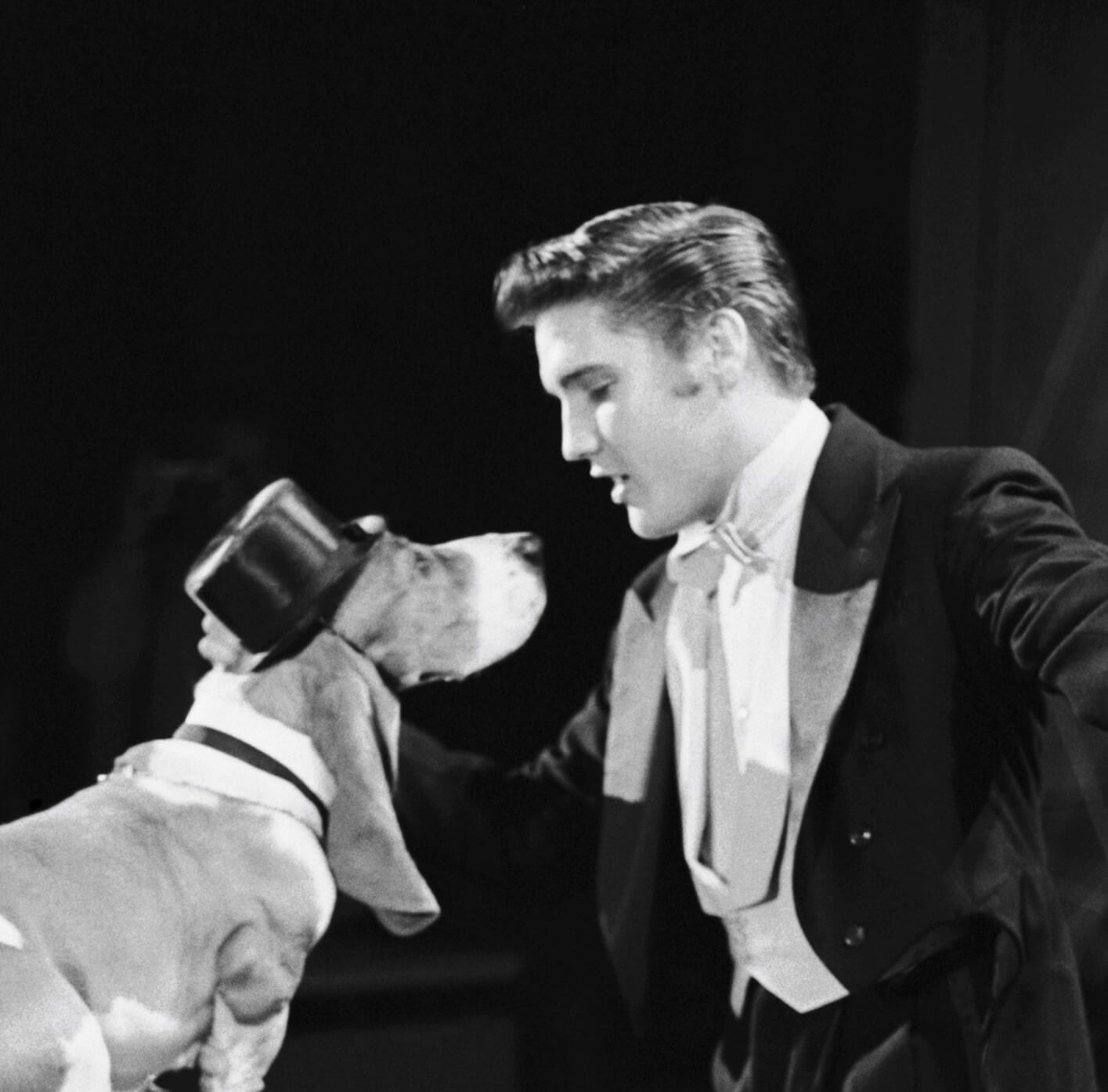 Elvis Presley's 'Hound Dog' Was Altered to Be About an Actual Dog
Big Mama Thornton's "Hound Dog" was risque. A band changed the lyrics, so Elvis Presley's "Hound Dog" was less sexual. Elvis later sang the song to a dog on TV.
When you look closely at a set of lyrics, it's astounding how much a classic rock song can get misinterpreted. For example, the original version of Elvis Presley's "Hound Dog" was about a gigolo. However, a band changed the lyrics to be about an actual dog and the rest is history. In addition, a famous television appearance might've made audiences think "Hound Dog" is about a canine.
The original version of Elvis Presley's 'Hound Dog' was about a freeloader
Jerry Leiber and Mike Stoller co-wrote "Hound Dog," which was first recorded by Big Mama Thornton. During a 2020 interview with Elvis Australia, Stoller discussed the evolution of the song's lyrics. "Elvis knew Big Mama's record, but Big Mama's version of 'Hound Dog' was written for a woman," he said. "And so Elvis couldn't perform it that way. 
"There was a group, Freddie Bell and the Bell Boys, working in the lounge in Vegas who had recorded it," Stoller added. "They had altered the lyrics — the altered lyrics don't really mean terribly much. They made it sound like the song was written about a dog. Big Mama's record had the original lyrics, which were written about a freeloading gigolo."
The song led Elvis Presley to record another 1 of his classic tunes
Elvis' version of the song is based on Freddie Bell and the Bell Boys'. "After that, Elvis' music publishers, the Aberbach brothers, Jean and Julian, contacted us," Stoller recalled. "We had known them out in L.A. They used to have a home and office out here on Hollywood Boulevard, just west of La Brea. 
"We had talked to them a number of times about other matters," he added. "They called and asked if we had any other songs that we thought might be good for Elvis. Jerry thought of this ballad that we'd recorded called 'Love Me.'" Elvis later recorded "Love Me" for his second album, Elvis.
The King of Rock 'n' Roll performed 'Hound Dog' to a dog
According to The Billboard Book of Number 1 Hits, Elvis performed "Hound Dog" for the first time on television during an episode of The Milton Berle Show. The singer's signature dance moves were considered obscene. For this reason, Ed Sullivan vowed never to let Elvis appear on his show.
Sullivan's rival, Steve Allen, took the opposite approach. Elvis infamously performed "Hound Dog" on The Steve Allen Show in front of a bloodhound. The "Can't Help Falling in Love" singer was asked to stand still during the show. The use of a dog and the lack of dancing took a lot of the sexuality out of "Hound Dog." The show was such a huge success that Sullivan changed his mind.
Notably, Stoller told Elvis Australia that he wasn't a fan of Elvis' "Hound Dog." He thought it was too stiff and the vocals sounded nervous. However, he grew more fond of the cover once it sold 7 million copies.
The original meaning of "Hound Dog" has gotten lost in the shuffle but it's still a hip-swiveling good time.