'Elvis' Trailer: Baz Luhrmann's Elvis Presley Drama Wants You to 'Watch That Skinny Boy Transform Into a Superhero'
'The Great Gatsby' filmmaker Baz Luhrmann returns to making another film about legendary source material. Next, he's tackling Elvis Presley in the official trailer for 'Elvis.'
The biographical drama genre is a big hit in the film industry these days. Movies such as The Eyes of Tammy Faye, Spencer, and House of Gucci are just some of the recent movies of this nature to hit the silver screen. As a result, they tend to attract big talent and audiences who have an interest in their real-life counterpart. Filmmaker Baz Luhrmann takes a stab at Elvis Presley in the full-length official Elvis trailer.
Elvis Presley is the true 'King of Rock and Roll'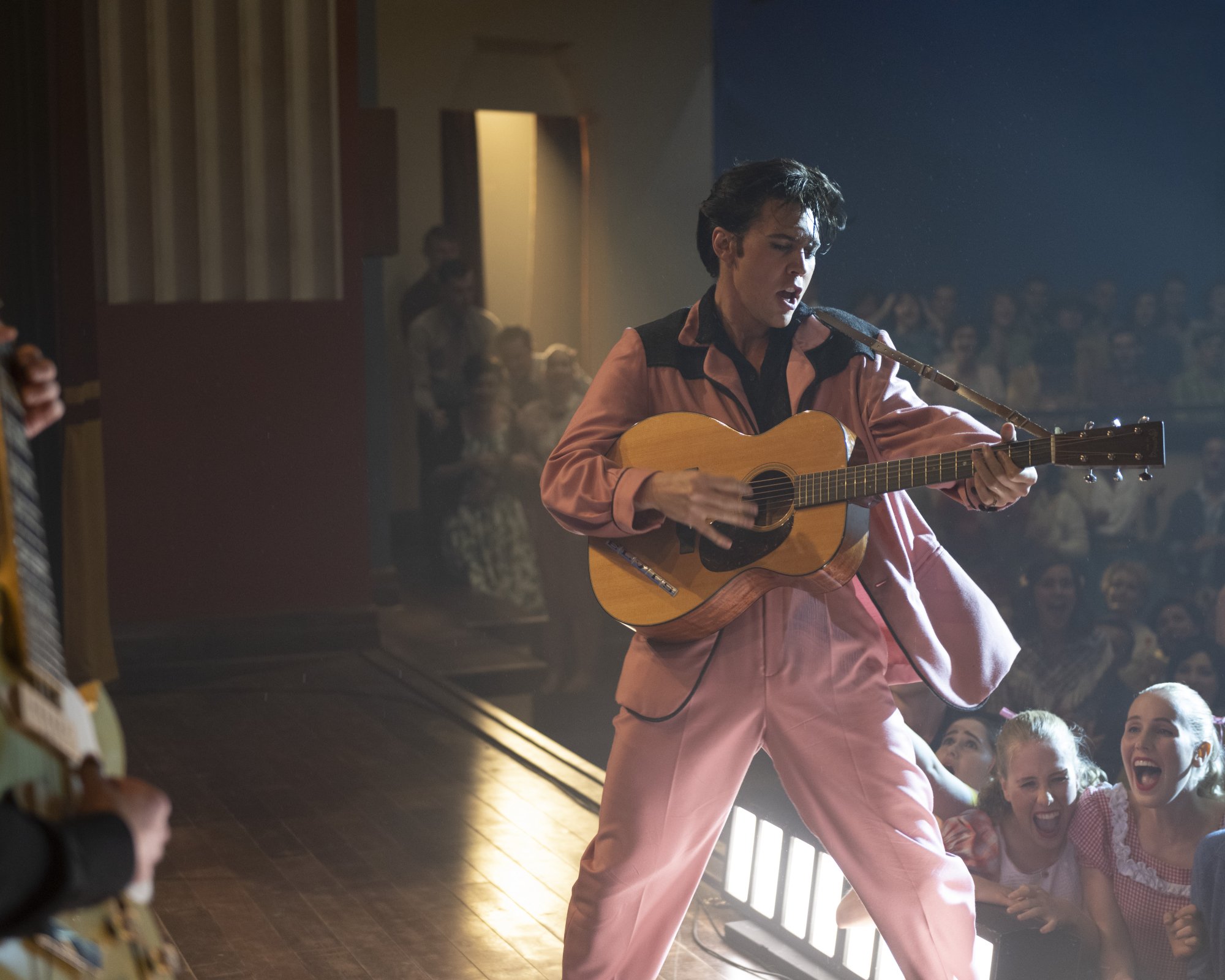 Presley was born on January 8, 1935, in Tupelo, Mississippi before moving to Memphis, Tennessee at the age of 13. He launched his music career in 1954 with producer Sam Phillips. His career took a big upswing with his first RCA Victor single, "Heartbreak Hotel." Presley quickly became the face and voice of a new sound of rock and roll that captivated the United States.
The music star's popularity spread into film with his debut in 1956's Love Me Tender. Presley relaunched his career after returning from his military draft. As a result, he would make some of his biggest hits, solidifying him as the "King of Rock and Roll." Presley was an international star, who died suddenly in 1977.
Baz Luhrmann's 'Elvis' trailer shows a 'skinny boy transform into a superhero'
Luhrmann's Elvis got an official trailer that gives a look into the upcoming biographical drama. It outlines Presley's journey through stardom. Once Upon a Time in Hollywood actor Austin Butler plays the King of Rock and Roll. He owns the iconic haircut and demeanor required for the part.
The Elvis trailer opens on the title character himself, featuring a voiceover from Colonel Tom Parker (Tom Hanks). He explains how some folks would make him the villain of this particular story.
The footage jumps back to Presley's childhood at a church tent with Parker's narration talking about destiny. Next, the Elvis trailer splices his childhood and years later, as he moves to gospel music as a child and enters onto a stage in front of a huge audience as an adult.
However, an audience member heckles him regarding his haircut. Parker explains how he witnessed "that skinny boy transform into a superhero." Presley's voice and body movements instantly generate a huge reaction from the crowd, with Parker explaining that the musician is his destiny.
The Elvis trailer begins to show his rise to fame and the culture clash that he met regarding his music and dancing. This establishes the film's conflict, as he faces powerful folks and law enforcement. Great tragedies, such as Kennedy and Martin Luther King's assassinations, haunt him.
The remainder of the trailer displays Presley's relation to religion, music, and fear of being forgotten.
Baz Luhrmann makes his first feature film return since 2013's 'The Great Gatsby'
Luhrmann is the filmmaker behind other big music projects, such as Moulin Rouge! and Strictly Ballroom. He most recently hit the silver screen with The Great Gatsby, starring Leonardo DiCaprio and Tobey Maguire. Luhrmann has experience working with various pieces of legendary source material. Additionally, he knows how to make the visuals sing on the screen.
Presley fans are singing praise in the comments of the Elvis trailer. Butler puts in the work to deliver the King of Rock and Roll's looks, mannerisms, and personality. It's clear that this is a passion project made with love and respect for the legendary icon.
Elvis hits theaters on June 24.