Emilia Clarke Said Jason Momoa Cried More in Their 'Game of Thrones' Scenes
If anyone got to know each other well on the set of Game of Thrones, it's Jason Momoa and Emilia Clarke. They had some of the most intense scenes together in season one of the hit HBO series, but they bonded over it and helped each other make those rough scenes bearable. It's something neither of them has forgotten.
Momoa is huge and intimidating, just like his character Khal Drogo, but don't be deceived. He's really one big teddy bear who loves to reunite with his Khaleesi, or the moon of his life, any chance he gets. But it turns out he was way more emotional during certain scenes with Clarke's Daenerys.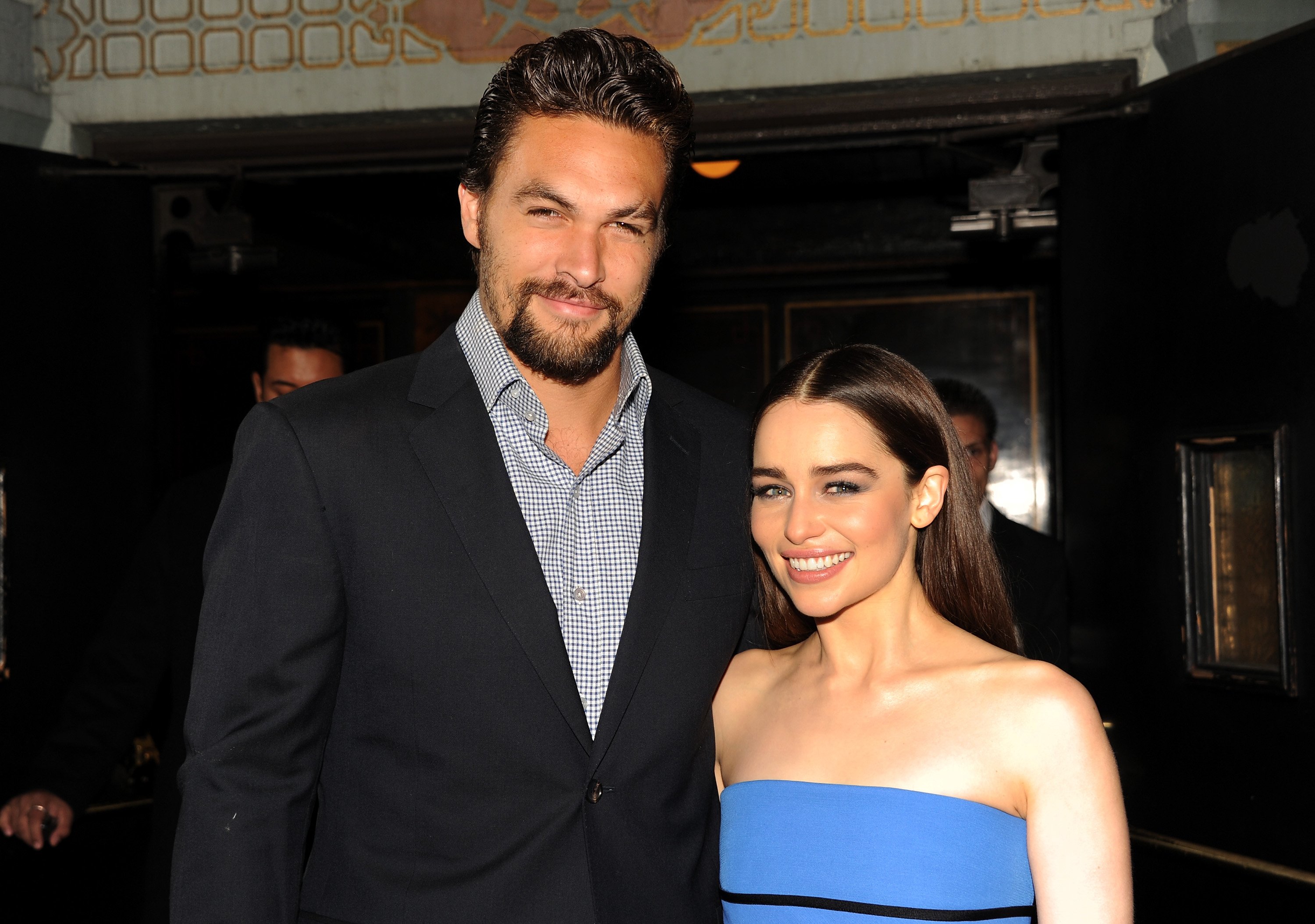 Emilia Clarke was terrified of filming naked
Both Momoa and Clarke were relative newcomers when they first walked on to the set of Game of Thrones. However, what was most intimidating was the graphic scenes they had to do together right off the bat. Clarke was only 23 years old at the time. Could you imagine doing a sex scene with someone you just met?
Speaking to Dax Shepard on his podcast, Armchair Expert, in 2019, Clarke talked about her experiences filming those scenes and being absolutely terrified.
"I'd never been on a film set like this before," she explained. "I'd been on a film set twice before then, and I'm now on a film set completely naked with all of these people, and I don't know what I'm meant to do, and I don't know what's expected of me, and I don't know what you want, and I don't know what I want."
RELATED: Emilia Clarke Reunites With Jason Momoa: See the Sweet Picture
Jason Momoa guided Emilia Clarke through the tough scenes
Momoa was there for Clarke during those uncomfortable scenes and made her feel protected. Even though they were filming some of the most graphic scenes, including their character's wedding night scene, Momoa was the complete opposite of Drogo in those moments.
"Had there been nudity or not, I would've spent that first season thinking I'm not worthy of requiring anything," Clarke explained. "It was definitely hard, which is why the scenes, when I got to do them with Jason were wonderful because he was like, 'No, sweetie, this is not okay' and I was like 'Oh.'"
"He took care of me in an environment where I didn't know I needed to be taken care of," Clarke said. "Jason was an experienced actor who had done a bunch of stuff before coming onto Game of Thrones. He said, 'This is how it's meant to be and how it's not meant to be. I'm going to make sure that's not the case.' So he was always like, 'Can we get her a robe? She's shivering!"
Now, looking back, Clarke appreciates everything Momoa did for her during that first season. Soon enough, she was a pro. "It's only now I realize how fortunate I was. That could've gone many, many different ways. He was so kind and considerate and cared about me as a human being," Clarke said.
Not many in Hollywood can say that someone had their back like Momoa had Clarke's. In fact, one of the reasons why actors like Cameron Diaz have left the industry is because of the feeling that no one cares about people as human beings.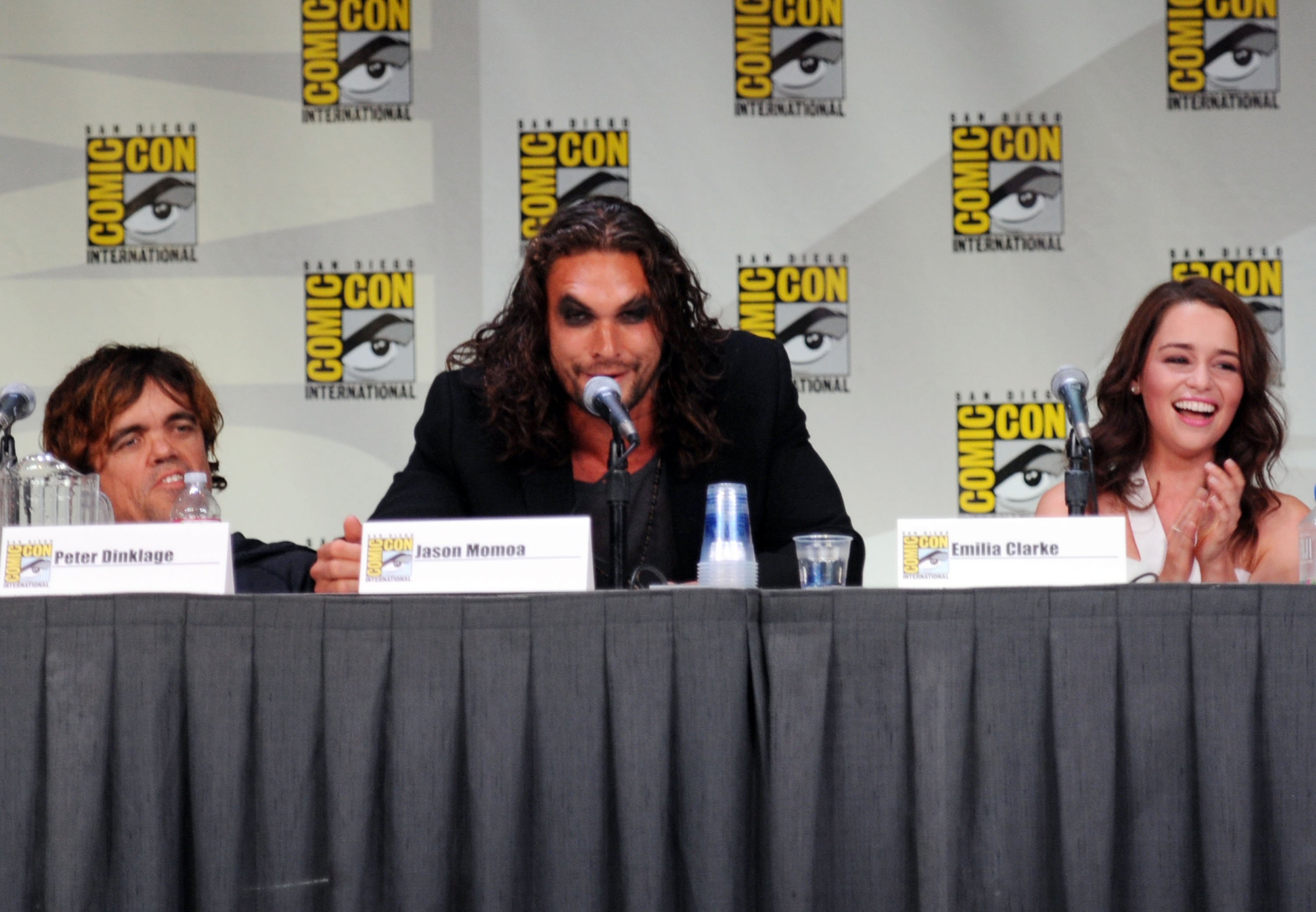 RELATED: Is Emilia Clarke Single? Find Out Who the 'Game of Thrones' Actress Is Dating
Jason Momoa cried more than Emilia Clarke on 'Game of Thrones'
Clarke also admitted that it was Momoa who cried the most during their scenes. She didn't explain why, but it was probably because Momoa didn't want to traumatize her in any way. It goes to show that Momoa is such a softy.
Momoa told the New York Times that he didn't like doing the scenes and made him feel weird. But at the end of the day, it was his job, and he was playing a certain character.
On the other hand, Momoa had made controversial jokes about those r-rated scenes he had with Clarke. At the Comic-Con 2011, the year Game of Thrones premiered, Momoa said he liked being on the show because "there are so many things you can do…like rape beautiful women."
Momoa later posted a public apology for his insensitive jokes. His comments don't seem to have affected his relationship with Clarke because they are each other's moon and stars.
How to get help: In the U.S., call the RAINN National Sexual Assault Telephone Hotline at 1-800-656-4673 to connect with a trained staff member from a sexual assault service provider in your area.