Do Emily Blunt and Dwayne Johnson Sing in Disney's 'The Jungle Cruise'?
These explorers travel through some of the most dangerous parts of the jungle. They even see the eighth wonder of the world — the backside of water! Do Emily Blunt and Dwayne "The Rock" Johnson sing during Disney's The Jungle Cruise? 
Here's what we know about this 2021 release.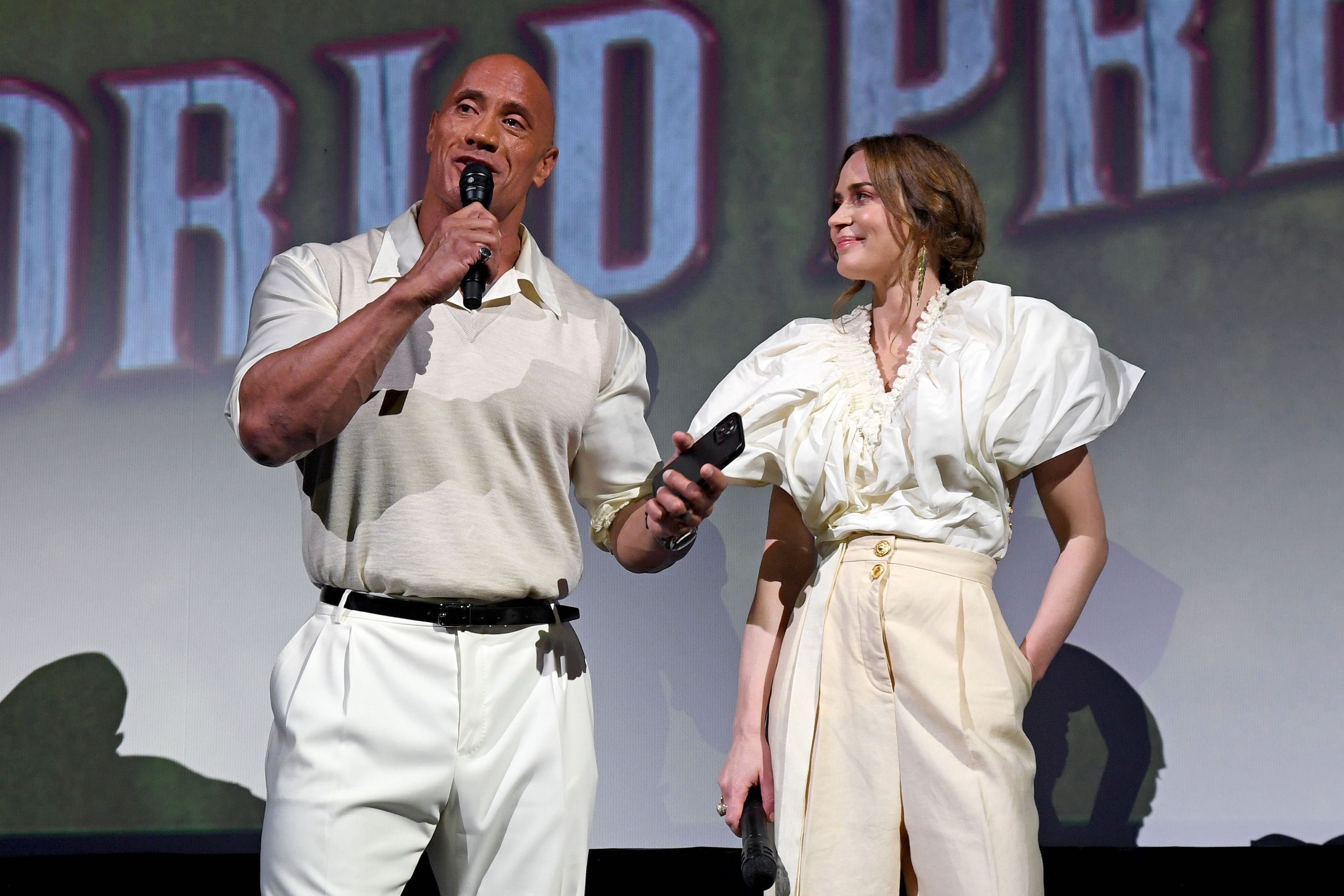 Emily Blunt and Dwayne 'the Rock' Johnson star as skippers/explorers in 'Disney's Jungle Cruise'
It's always an adventure when Blunt and Johnson are involved. For Disney's 2021 release inspired by their iconic theme park attraction, these actors starred as the main characters — Dr. Lily Houghton and Skipper Frank Wolff, respectively.
"Emily rode the ride for the first time the other day," Johnson said during an interview with Screenrant. "It was beautiful, and it was just awesome for me to watch her experience the ride in that way. And then for us to go to the premiere and watch everyone around us experience the movie, which is – as you call it – such a… "
"It's like a joy bomb," Blunt continued. "It's like this nostalgic joy bomb. It's the movies you grew up watching, and that's why we signed on. That's why we wanted to do it."
Do Emily Blunt and Dwayne Johnson sing in 'Disney's Jungle Cruise'?
Blunt and Johnson portray the main characters in Disney's Jungle Cruise. Although Disney included instrumental tracks in this movie's official soundtrack, Blunt and Johnson do not sing during this production.
In one promotional clip, though, the actors broke out into a spontaneous cover of "The Lion Sleeps Tonight" from The Lion King. Additionally, Blunt and Johnson sing in other Disney productions. For Blunt, that included Mary Poppins Returns and Into the Woods. For Johson, that was the animated film Moana.
These actors sing in other Disney movies
In 2014, Blunt starred as the Baker's Wife in Disney's adaptation of Into the Woods. Years later, she partnered with the entertainment company to appear in the Mary Poppins sequel, titled Mary Poppins Returns.
As the iconic character originally popularized by Julie Andrews, Mary Poppins, Blunt performed several songs in this original sequel. "The Place Where Lost Things Go," performed by Blunt, earned the Academy Award nomination for Best Achievement in Music Written for Motion Pictures (Original Song).
Before he starred in Disney's Jungle Cruise, Johnson voiced one animated character in Disney's Moana. As Maui (AKA the demi-god, shapeshifter, hero to all,) Johnson performs the song "You're Welcome" on the official Moana soundtrack.
The track currently has over 330 million Spotify plays. In 2020, this song even earned 4x platinum certification. Johnson was also a producer behind the Disney+ original documentary series, Behind the Attraction.
Disney's Jungle Cruise joins Disney+ on Nov. 12, along with productions like Frozen Fever and Marvel's Shang-Chi and the Legend of the Ten Rings. Until then, Mary Poppins Returns and Moana are already available for streaming with Disney's subscription service.
RELATED: ​​'Mulan,' 'Cruella,' and 'Disney's Jungle Cruise' Debuted on Disney+ With 'Premier Access' — Will Marvel's 'Shang-Chi'?
Related post url: