'Emily in Paris' Cast Believes Lily Collins is Most Like Her Character
Emily in Paris has become a surprising hit on Netflix, with a section of fans who can't get enough of the protagonist and her shenanigans in Paris. Although the first season of the series was very controversial and widely panned by audiences for its insensitive portrayals of French people, it has come out ahead with a fourth season on the way.
The cast of Emily in Paris recently revealed that Lily Collins had a lot more in common with her character.
[Spoiler Alert: This article contains spoilers for Emily in Paris season three.]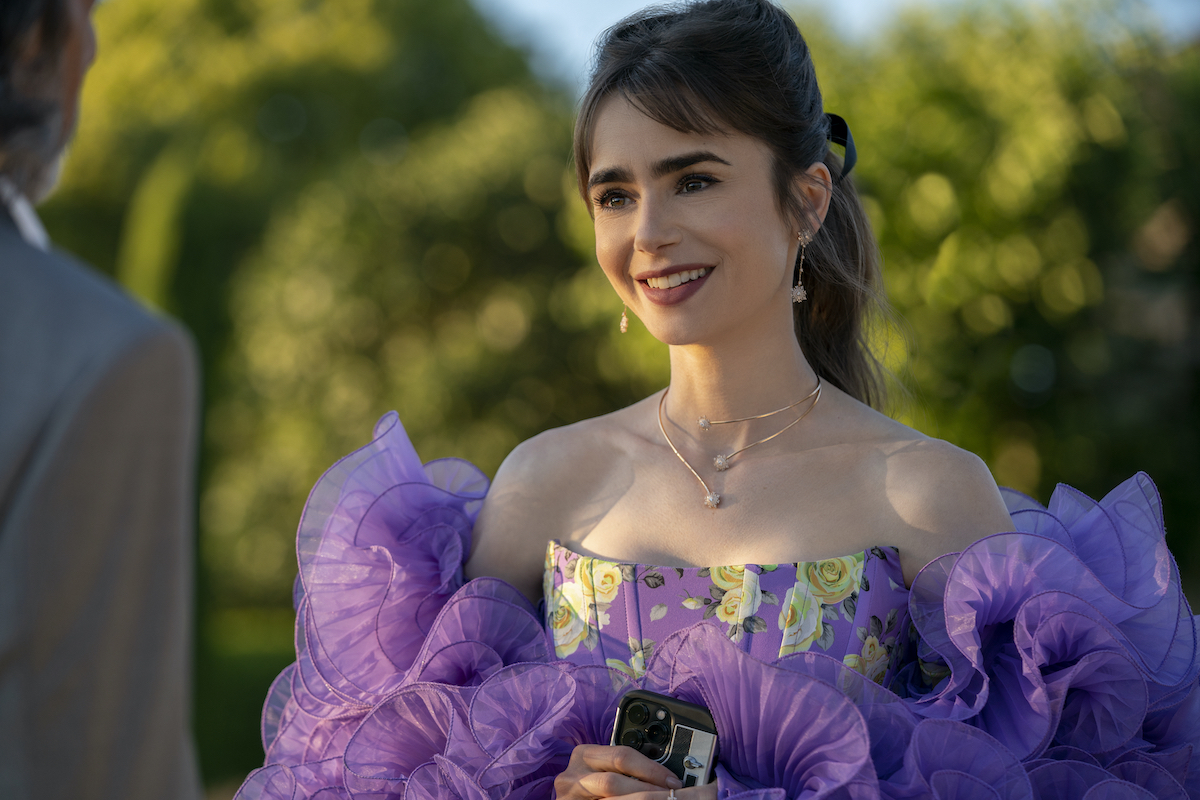 Emily is a cheery character in 'Emily in Paris'
Emily Cooper is an American college graduate with a Master's degree in communication. She lands an unexpected job opportunity in Paris, France, after her boss becomes pregnant and is unable to travel and make such a huge commitment.
Emily's task is to bring an American perspective and social media presence to the French marketing firm her American company acquired. When Emily lands in Paris, she immediately realizes that things are more difficult than she initially imagined.
While she enjoys the city and all it has to offer, she finds that its inhabitants aren't as friendly as she'd hoped. Her new coworkers are very dismissive, and her new boss Sylvie seems to hate her guts.
However, Emily chooses to look at every situation in a glass-half-full way. Along the way, she makes friends, and although she and her boyfriend break up, she meets a new man, Gabriel, with whom she engages in a love triangle.
'Emily in Paris' cast thinks Lily Collins is most like her character
Season 3 of Emily in Paris hit Netflix on December 21, 2022, and the cast has been up and about promoting it. In a recent interview with BuzzFeed Celeb, the cast of Emily in Paris engaged in a game of Who's Who. When asked who was more like their character, Camille Razat, who plays Camille on the show, pointed at Collins, to which the other female stars of the show agreed.
Philippine Leroy-Beaulieu said she felt she had more in common with her character Sylvie, but Collins disagreed. Collins said she initially thought Leroy-Beaulieu was like her character but admitted that when she got to know the French star, she got a different view of them.
"I thought you were like your character, but then I was like, 'I don't understand. She loves nature, and she's an Earth angel," Collins said of Leroy-Beaulieu. Collins also said Razat was more like their character. The male actors agreed that William Abadie had the same "elegance" as his character.
What to expect for 'Emily in Paris' season 4?
With season three out, fans are already looking forward to season four of Emily in Paris. In season three, Alfie returned to Paris after leaving for London in season two, and although he didn't inform Emily about his return, they reunited and patched things up.
Camille and Emily made a pact that forbade them from pursuing a relationship with Gabriel, but Camille broke the agreement and accepted his proposal. However, Camille interrupted their wedding by coming clean about their pact.
Not wanting to be a second option, Alfie breaks up with Emily, and she and Gabriel proclaim their feelings for one another, but Gabriel drops a bombshell on Emily, telling her that Camille returned from Greece because she was pregnant.
Season four will dive into Emily, Gabriel, and Camille's difficult relationship now that a baby is on the way. Camille might end up finding love with Sofia, as hinted in season three. Mindy may decide to leave Nicolas to be with Benoît, given their shared love for music. Emily may lose her job once more after Julien's frustrations with her and Sylvie's promise to handle the situation.