'Emily in Paris': Kate Walsh on Madeline's Fashion in Season 3, 'There's Never Enough'
Emily in Paris focuses on fashion and the clashing of cultures. Kate Walsh's Madeline Wheeler is a very important part of that. Walsh talked to Showbiz Cheat Sheet over Zoom on June 22, 2022, about her character's fashion sense in season 3 and her big feud.
Kate Walsh reveals what she has in common with Madeline in 'Emily in Paris'
RELATED: 'Emily in Paris': Even Lucas Bravo is Team Alfie — Here's Why
Walsh has fun playing the Chicago native, who sticks out in Paris like her employee. She has a history of playing out workplace conflict in her other roles like Grey's Anatomy and The Umbrella Academy.
"What I'll say is I very much identify, and it's always fun to be the outsider sort of archetype coming in and being the fly in the ointment if you will," Walsh told Showbiz Cheat Sheet.
"It's fun to just play this ridiculous like this, this character that is so much like me that's just always stepping in it and messing up," the actor added. That's not the only thing Walsh has in common with her character. She used to live in Chicago but pulled back on some Midwestern traits for the role.
Madeline doesn't sound like some people would expect for a reason. "Because I just figured she's enough," Walsh explained. "There's a lot going on there. And also, I think there's a lot of people that live in Chicago and work. I lived there for five years and, you know, they don't have that. And I think it's a little on the nose kind of to do that Midwest accent. You know, I think it's an obvious choice. No disrespect."
Could Madeline and Sylvie become friends on 'Emily in Paris'?
RELATED: 'Emily in Paris' Has Been 'Weirdly Popular' With a Very Specific Audience, Lily Collins Says
Season 2 ended with Sylvie (Philippine Leroy-Beaulieu) quitting because of Madeline's management and taking a lot of her people with her. She also offers Emily (Lily Collins) a chance to work at her new company. Walsh answered if she hopes Sylvie and Madeline will be able to become friends or if it's more fun to play enemies.
"I mean, conflict is always fun," the actor said. "And I think that that's the nature of any good drama or comedy. And you could still have conflict within friendships or working relationships. And, you know, so we'll see."
Kate Walsh says Madeline's fashion in season 3 is 'never enough'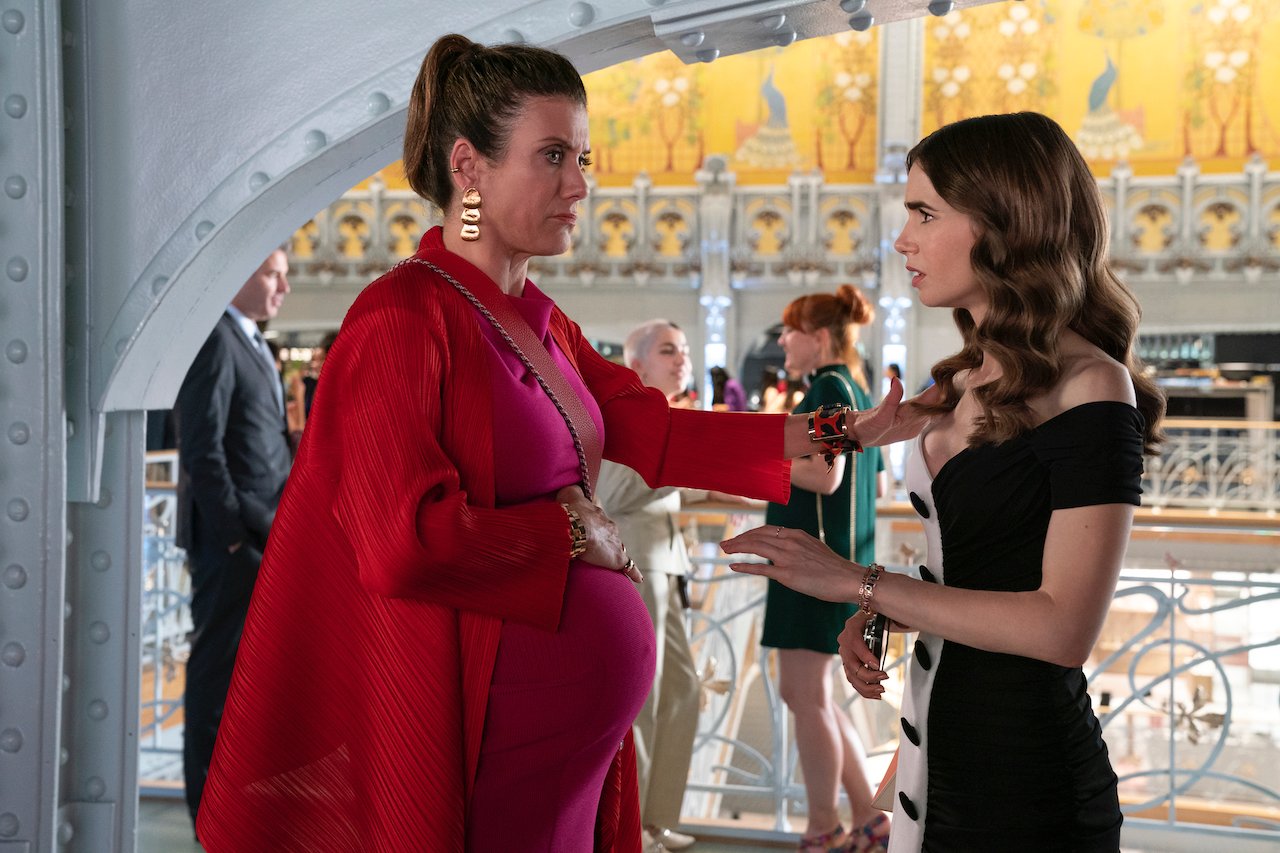 RELATED: 'Emily in Paris': Lucien Laviscount Has Lily Collins to Thank for His Confidence
Madeline wears bright colors and patterns. She also wears a lot of gold jewelry. But is any of that actually from the actor's closet?
"I don't use my personal stuff," Walsh answered. "Once in a while where if there's a sentimental piece that I want to wear for sentimental reasons, I will." 
However, the actor loves working with designers and what people have planned for her character for The Umbrella Academy and Emily in Paris. "They always have, like a festival of goodness," she said. "But it's definitely I'm probably a more and more, more type, and it's applicable, at least for these two characters, particularly Madeline, too. There's never enough. And you'll see a lot of that in season three, in Emily in Paris."
It sounds like Madeline's fashion sense won't be changing next season. Netflix hasn't revealed when season 3 will be released.
Walsh also talked about her partnership with SYSTANE® COMPLETE Preservative-Free Lubricating Eye Drops. She revealed that she was diagnosed with dry eyes by an optometrist years ago and now uses this product. There is currently an offer for an $8 coupon for Systane Complete Preservative Free Lubricating Eye Drops on Systane.com, which can be redeemed in-stores (July 1-July 31) at all major retailers.
"It's right over the counter," Walsh explained. "You can get it [in] any pharmacy. You don't have to have a prescription for it, and it works."