Eminem Addresses Whether He Would Ever Make Another Movie After '8 Mile'
The rap game is ever-changing. For instance, Eminem was once the undisputed hottest rapper out there. In the early 2000s, he released back-to-back albums which were certified as Diamond — meaning they sold at least 10 million copies — and constantly made headlines for his hot-button lyrics.
However, while it's debatable whether he's still at the top of his game, Eminem's legacy is secure. And on a recent surprise appearance at the Academy Awards, he proved he is still more than capable of getting people talking. Now Eminem is letting fans know if he's willing to make another movie.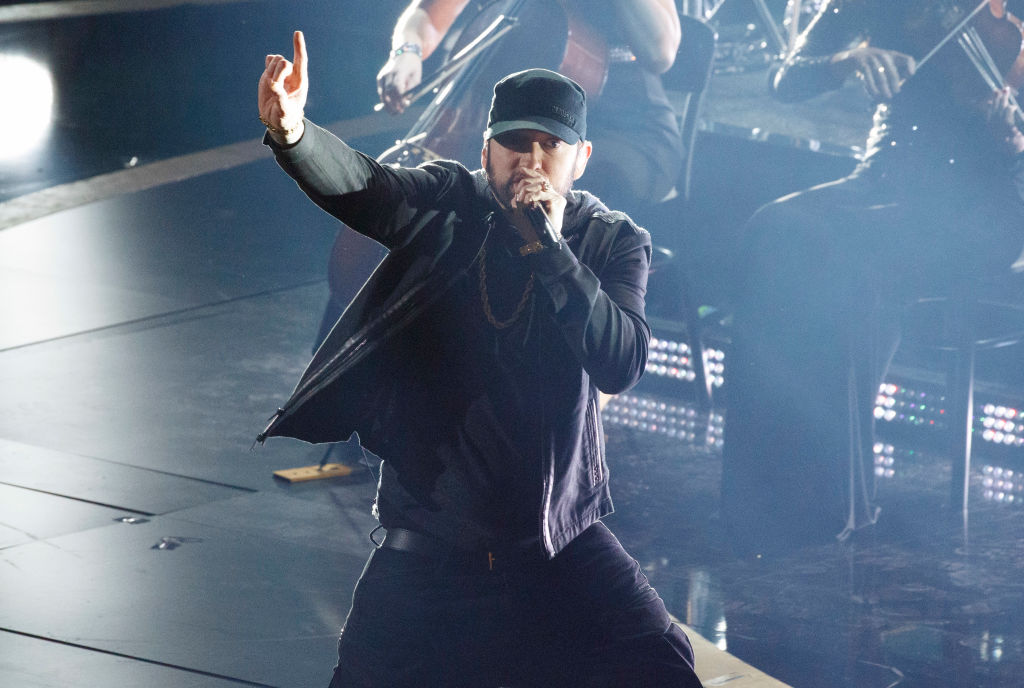 Eminem starred in his first movie back in 2002
In the very same year he released his iconic The Eminem Show album, the rapper took on his first starring movie role. As an aspiring Detroit rapper, Eminem's performance in director Curtis Hanson's (L.A. Confidential) 8 Mile undoubtedly hit close to home for him. Earning critical raves for his work in the film, Eminem suddenly found himself an acclaimed actor.
Although Eminem didn't receive a nod for his performance, 8 Mile won the Best Original Song Academy Award for "Lose Yourself." That track still stands among the rapper's biggest and most beloved hits. Yet, Eminem declined to perform at the 2003 Oscars or attend the show to accept his award.
Instead, his appearance on the Academy Awards stage was delayed by 17 years. During the 2020 Oscars, Eminem shocked attendees and fans watching from home by appearing to perform "Lose Yourself." Eminem's long-awaited Oscars appearance now begs the question of if he's more open now to make another movie.
The rapper reflects on the making of '8 Mile'
Playing Jimmy "B-Rabbit" Smith in 8 Mile was Eminem's first and, so far, only lead film role. Sure, he's made cameos as himself now and again — in 2009's Funny People and 2014's The Interview, for instance — but making movies hasn't seemed like something Eminem was really interested in.
After all, the music business is very different from Hollywood. Perhaps Eminem just didn't enjoy the process and has no interest in returning to it. Speaking to Variety recently, Eminem opened up about whether he enjoyed his experience making 8 Mile.
I did [enjoy making 8 Mile]… and I didn't. There was a lot of stuff that was not… It was a lot of work, and it being my first film, I was not really expecting that. And it's tough when you've got to be on someone else's schedule, with the way that I work. But yeah, I'm certainly glad that I did it, and there were parts that were definitely fun. It was just a lot.

Fair enough. When it comes to his music, Eminem retains much of the creative control. So it's easy to understand why he — especially as a non-professional actor — would struggle. Even in a world he was less knowledgeable about or comfortable in, Eminem delivered a pretty compelling performance. So would he dive back into Hollywood?
But is he planning a potential return to the big screen?
Unfortunately, Eminem's Oscars appearance isn't a sign he's planning a return trip to the silver screen. Rather, it was more of a payoff 17 years in the making. However, the rapper isn't ruling out possibly giving fans the sophomore film they're hoping to see.
"I'm not gonna say I don't [want to do more acting], because if the right script comes along, and it's something that fits with my schedule, I might take another dive in it," Eminem told Variety.
Right now, Eminem said he doesn't have any new projects lined up beyond his latest album, Music to Be Murdered By. Then again, the rapper has embraced the art of surprises. In both 2018 and 2019, he released albums with no forewarning. And then, of course, there's the unannounced Oscars performance. So he could very well make a movie in secret, and we wouldn't even know until it hits theaters.