Who Eminem Dated After His Ex-Wife Kimberly Scott
If you're a fan of Eminem then you're likely familiar with his ex-wife Kimberly Scott. She and the rapper began dating when they were teenagers and had one daughter together. The pair got hitched in 1999 but divorced after two years. They rekindled their romance years later and remarried, only to divorce again after a few months.
Something Marshall Mathers' fans don't know much about is the hip-hop star's love life when he wasn't married to Scott. Here's more on the famous women Em dated and was linked to, plus who he reportedly had a crush on.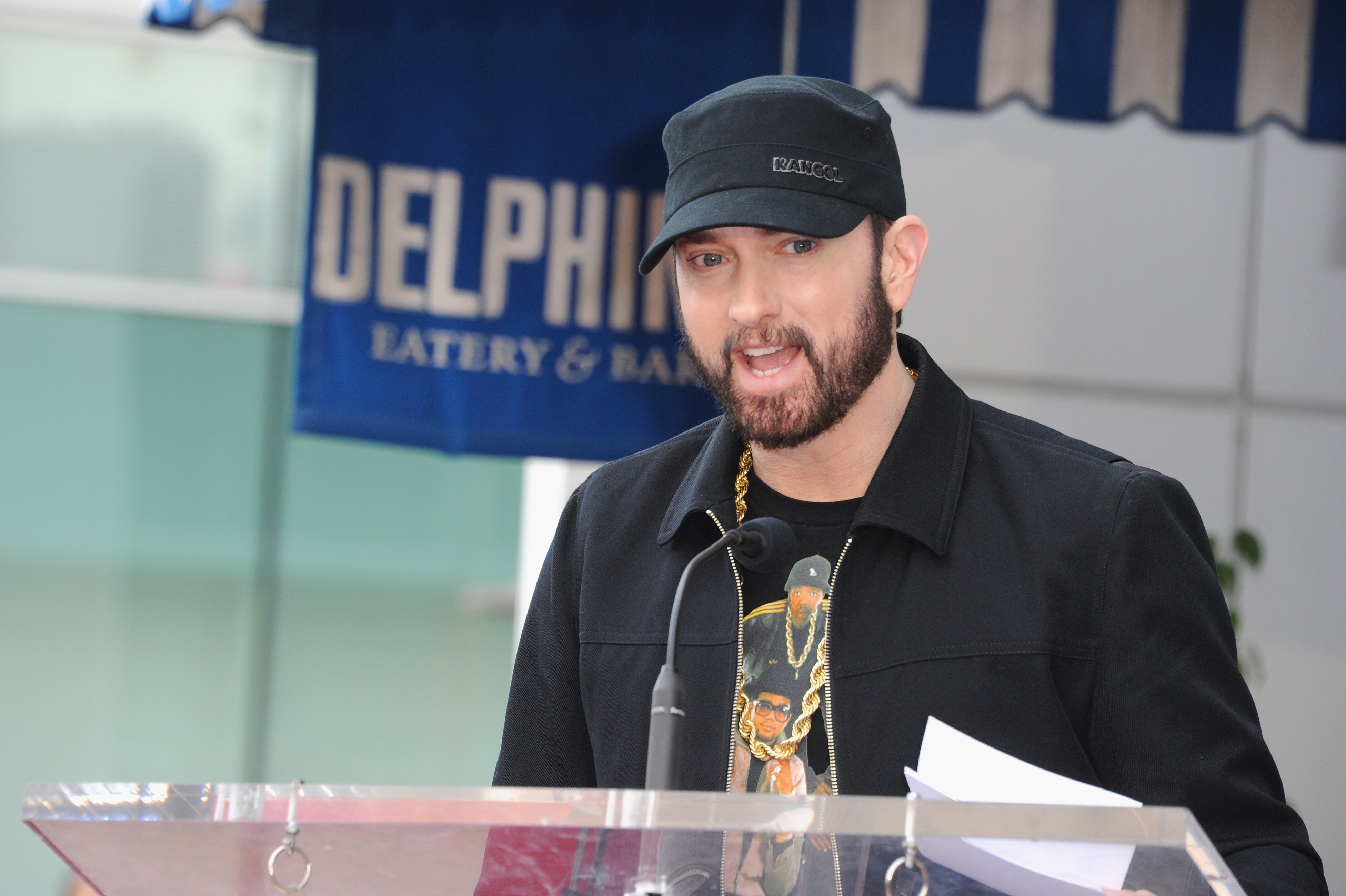 Eminem said he was in a relationship with Mariah Carey
Eminem is no stranger to feuding with pop stars, as well as fellow rappers, and other celebrities but one of his feuds started after he talked about a relationship he allegedly had with the one and only Mariah Carey. The diva denied that they were an item but Em claimed they dated for six months and even wrote a few songs about it including the 2009 track "Bagpipes from Baghdad" in which he rapped: "Mariah, what's ever happened to us? Why did we have to break up? All I asked for was a glass of punch. You see, I never really ask for much."
Following the release of his song, Carey responded with "Obsessed" about a man who was so infatuated with her and continued to claim that they in a relationship. And when the singer put out the video just about everyone was drawing conclusions that the tune was indeed about the "Lose Yourself" lyricist.
Eminem shot back with the 2010 track titled "The Warning" and said he had proof of their relationship rapping: "Oh gee, is that supposed to be me in the video with the goatee? Wow Mariah didn't expect you to go balls out. B—- shut the f— up 'fore I put all them phone calls out."
The rapper dated his '8 Mile' co-star Brittany Murphy
In 2002, the "Stan" artist starred in the film 8 Mile alongside the late Brittany Murphy. The pair had some steamy scenes and chemistry onscreen which translated off-screen, according to Murphy.
During an appearance on MTV's Total Request Live to promote the movie, Murphy was asked about a behind-the-scenes romance with the hip-hop artist and admitted they did briefly date saying (per RapDirt): "The rumors are true, they were true."
The Tara Reid, Kim Basinger, and Joy McAvoy rumors
Murphy isn't the only movie star Slim Shady was romantically linked to. He was also thought to have dated another one of his 8 Mile co-stars Kim Basinger, who played the mother of his character in the film. These reports came out after the two were spotted in public together on multiple occasions.
Then in 2004 rumors swirled that Eminem was seeing Tara Reid. The rapper seemed to confirm just that when he mentioned Reid on his Kamikaze album.
Another actor said that she had a fling with Em. The Sun noted that Joy McAvoy, who appeared in Avengers: Endgame as well as X-Men: Dark Phoenix, admitted that she spent a night with Eminem in the early 2000s. However, he never confirmed or denied that.
Eminem may have had a crush on Rihanna and Salma Hayek
In 2010, Eminem teamed up with Rihanna for the hit song "Love The Way You Lie." After recording that single together a number of publications reported that Em had a crush on RiRi. His grandmother, Betty Kresin, even told the Evening Standard that she thought they would make a wonderful couple. At the time though, the "Umbrella" songbird was dating baseball player Matt Kemp.
Another woman the rapper is thought to have had a crush on is Salma Hayek. This chatter came about after the two ran into each other at the Oscars in 2020 where Eminem gave a surprise performance. When a photo of them backstage together looking stunned made the rounds Hayek explained: "I was getting ready to walk onstage, I was so shocked to see him that I spilled water all over him. If you examine our faces, I look mortified and he looks terrified of me–As I was trying to wipe it off I impulsively hugged him and I said 'Nice to meet you Eminem- I'm a HUGE fan!'"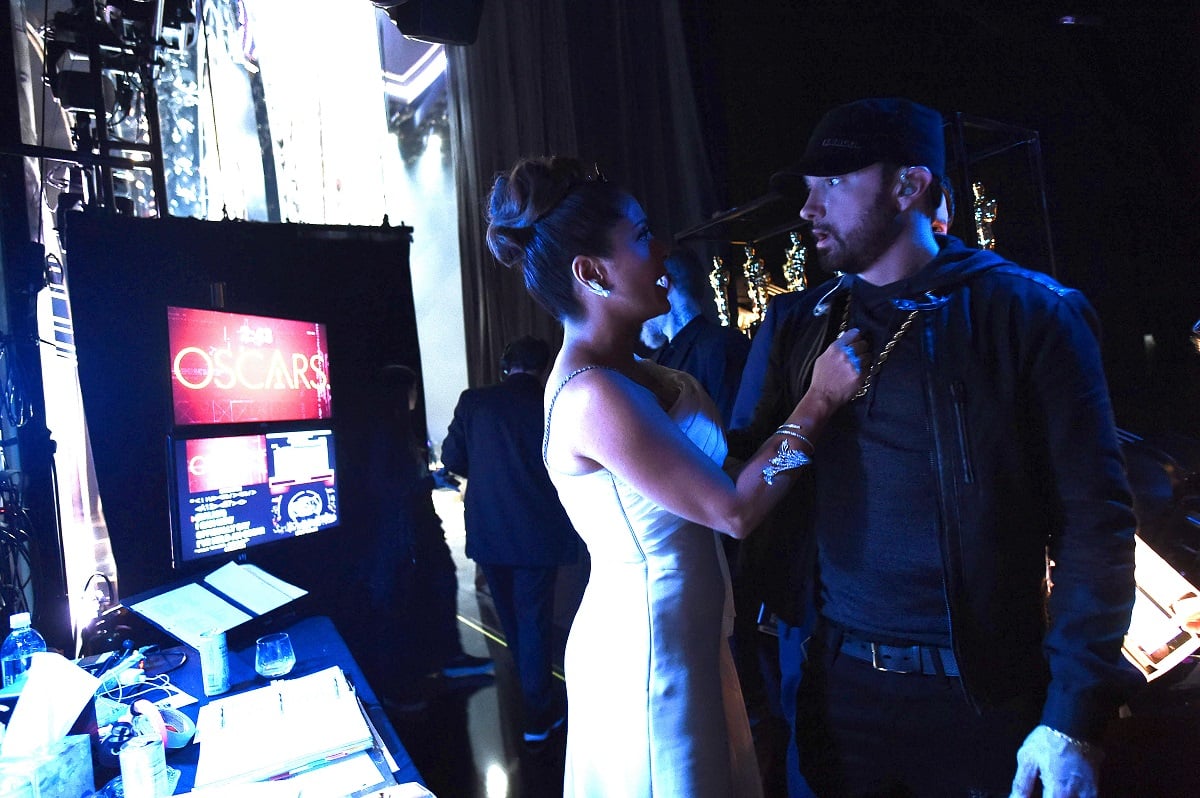 When Em was asked during an interview with Rolling Stone if he enjoyed his night at the award show he replied: "Absolutely. I got to hug Salma Hayek!"
RELATED: Why Eminem Said He Will 'Never Go to the Grammys Again'