Why Mary J. Blige, Eminem, Snoop Dogg, Kendrick Lamar, Dr. Dre, and 50 Cent Didn't Get Paid for Their Super Bowl 2022 Performance
Despite performing in the iconic NFL halftime show, the artists at the 2022 Super Bowl didn't earn a penny for their performance. Here's why.
The Super Bowl is one of the biggest sporting events of the year. Millions of football fans tune in to watch the players square off while other viewers turn the big game on just to catch the hilarious commercials. Still others watch the Super Bowl exclusively for the halftime show, a major entertainment event that features some of the biggest stars in the music industry. With multiple major rap artists performing at this year's halftime show, it raises questions about how much the stars got paid. 
Who performed at the 2022 Super Bowl halftime show?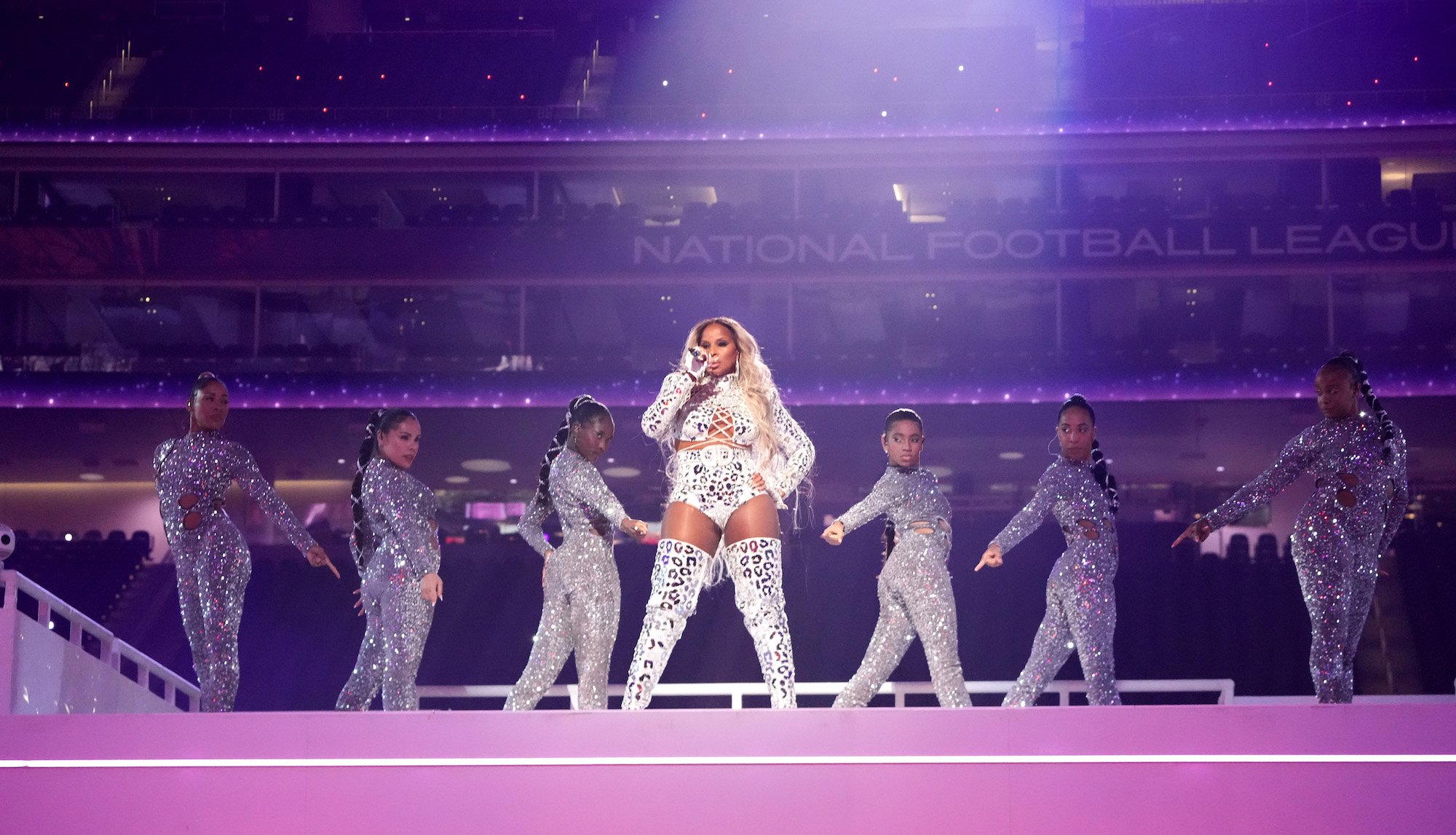 The Super Bowl has a history of bringing exciting, innovative performers to entertain viewers during the halftime show. This year was no exception. And with not one but five superstars taking over the show, fans were beyond excited. Dr. Dre, Eminem, Snoop Dogg, Kendrick Lamar, and Mary J. Blige were all been tapped to perform. This is a historic group of singers, in part because the five artists share nearly 50 Grammy Awards among them.
In a statement from the NFL, Dr. Dre said: "The opportunity to perform at the Super Bowl Halftime show, and to do it in my own backyard, will be one of the biggest thrills of my career. I'm grateful to JAY-Z, Roc Nation, the NFL, and Pepsi as well as Snoop Dogg, Eminem, Mary J. Blige and Kendrick Lamar for joining me in what will be an unforgettable cultural moment."
Notably, this was the first time all five stars were on stage performing together, according to CBS Sports.
How much do entertainers get paid for the halftime show?
If traditional concert promoters tried to book Dr. Dre, Eminem, Mary J. Blige, Kendrick Lamar, and Snoop Dogg for a concert, they might expect to shell out an extremely high sum. However, not only did these five artists not make a dime for their Super Bowl 2022 performance, but none of the halftime show performers of the past made money from it either.
According to Esquire, the NFL policy is to cover all costs related to the production of the halftime show. But the performers themselves do not bring home a salary. 
It's likely a worthwhile tradeoff for the featured artists. Super Bowl halftime show performers get an extreme amount of publicity thanks to the gig and can enjoy skyrocketing music sales because of the exposure. Pulling off a successful halftime show is considered to be a badge of honor. And it's rare even to be asked to perform at the Super Bowl.
The 2022 show had some surprising moments
Rapper 50 Cent made a quick appearance during the 2022 show after Snoop and Dre performed "The Next Episode" and California Love." The rapper was seen upside down and flexing, much like he did in his "In Da Club" music video. He performed with a team of dancers before handing off the show to Blige to perform "Family Affair."
Rapper Eminem took a knee after performing his 2002 iconic hit song "Lose Yourself." Many have taken the gesture to be a throwback to former NFL quarterback Colin Kaepernick's symbolic protest against police brutality and racial discrimination in the United States.