Did Eminem Ever Meet His Father Before He Died?
If you're a fan of Eminem's music then you've heard him rap about his family many times. Slim Shady has entire songs about his past issues with his ex-wife, Kimberly Scott, and his mother, Debbie Nelson-Mathers. Another person the hip-hop artist had directed his anger at through his lyrics is his father. Em made it no secret that Marshall Bruce Mathers Jr. wasn't present in his life. But did you know that his dad tried reaching out to his son before his death?
Here's more on that and if the rapper ever met his father before he died.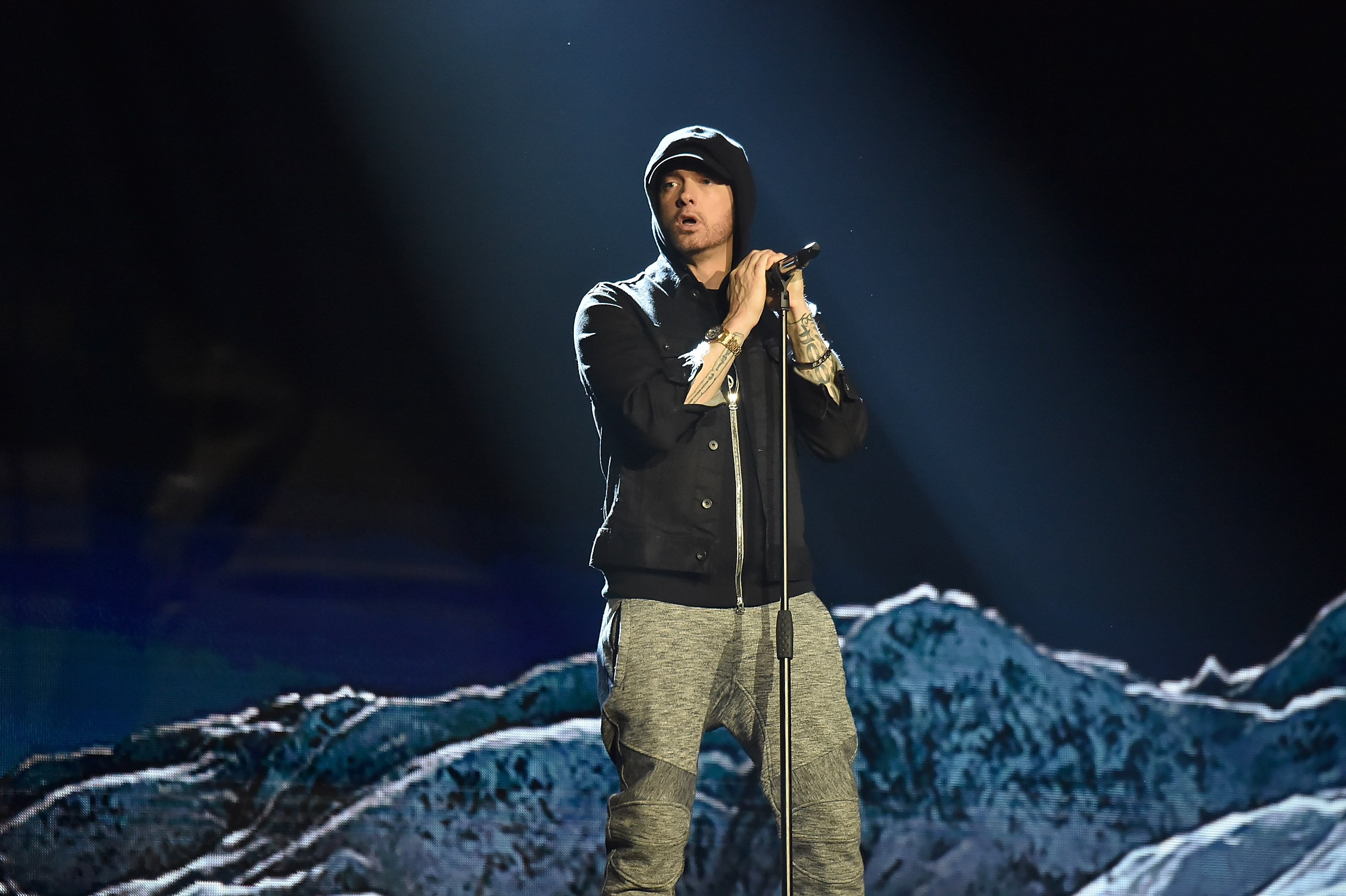 Who was Eminem's father Marshall Bruce Mathers Jr.?
Mathers Jr. married Debbie when she was just 15 years old and he was 22. Two years later, the couple welcomed Marshall Bruce Mathers III. Eminem made it known that his father walked out on him when he was a baby. After his dad picked up left, he moved to California and had two more children. Em and his mother then moved to Detroit. "He never knew his father, and I did all I could to make up for it. I wanted Marshall to have a relationship with his father… but Bruce didn't want to," Debbie wrote in her 2008 memoir titled My Son Marshall, My Son Eminem.
In an interview with Rolling Stone Eminem spoke about the adults in his life who did love and care for him. They were his great-aunt Edna and his great-uncle Charles on his father's side. He remembered spending some weekends at their house when his dad would call but he never asked to speak to his son.
"A lot of times he'd call, and I'd be there — maybe I'd be on the floor coloring or watching TV," the rapper recalled. "It wouldn't have been nothing for him to say, 'Put him on the phone.' He could talk to me, let me know something. 'Cause as far as father figures, I didn't have any in my life."
According to Debbie, as a teenager the future hip-hop star sent dozens of letters to his dad but they all came back unopened and marked "Return to Sender."
Eminem's dad tried to get in touch with him after he became famous
Turns out Eminem's dad did want to speak to him, but only after he became famous. The Mirror reported that in 2001, Mathers Jr. reached out to the "Lose Yourself" artist. He told the outlet at the time: "I desperately want to meet my son and tell him that I love him. I'm not interested in his money. I just want to talk to him. I want him to know that I'm here for him if he lets me back into his life."
At that point, the tables had turned and Mathers Jr. was the one writing to his estranged son. In his letter, he told Eminem a different story than the one his mom had told him."You think I dumped you and your mother and never came looking for you. You're convinced I'm a drunk who never answered any of your letters. Well, I want you to read this and realize you've been fed lies all your life," he wrote before claiming that he wasn't looking for a handout.
Eminem wasn't at all moved by the story and in 2002, called out his father for abandoning him in his song "Cleaning Out My Closet" with the lines: "My f—– father must have had his panties up in a bunch 'cause he split. I wonder if he even kissed me goodbye. No I don't, on second thought I just f—— wished he would die."
Eminem later said that he doesn't know anything about his dad and didn't care to get to know him. Therefore, the in-person reunion that his father hoped for never happened. TMZ confirmed that Mathers Jr. died on June 26, 2019, from an apparent heart attack. He was 67.
RELATED: What Is Eminem's Ex-Wife Kimberly Anne Scott Doing Now?