Eminem Explains the Huge Difference Between Himself and His Late Father
Eminem was once at the top of the rap scene, and even today he's considered the third-best rapper of all time. His journey to success, however, didn't begin in a very rosy place.
He faced a staggering number of struggles in his life, and one of them was his relationship with his father. Although it fueled some of his most powerful work, it's also clearly a painful part of his upbringing that he still carries with him.
One of the lessons Eminem carries with him from his father has given him important guidance in life. He may not always make the best choices, but there's one vital difference that sets them apart.
Eminem's difficult childhood made harder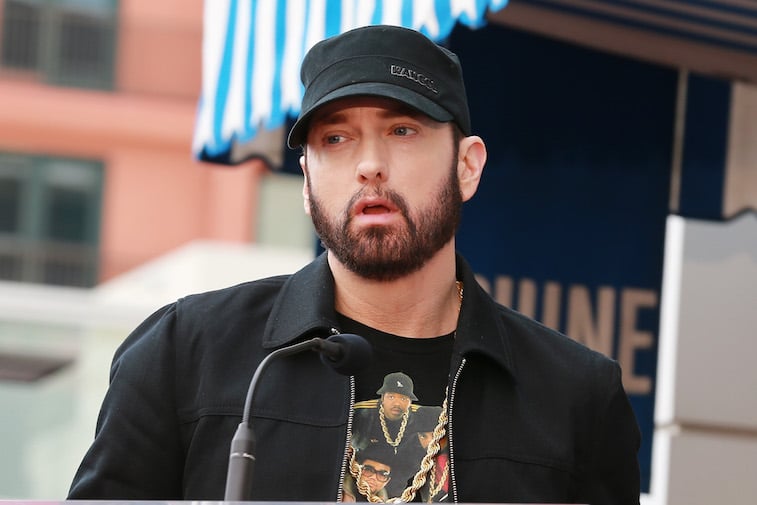 RELATED: Eminem Addresses Whether He Would Ever Make Another Movie After '8 Mile'
Eminem's mother, Debbie Nelson, was only 15 years old when she married his father, Marshal Bruce Mathers, Jr. Their son, then known as Marshal Bruce Mathers III, was born two years later. By the time he was two, the couple had split up, and Mathers was out of the picture.
According to India Today, Nelson said in her memoir that the marriage ended when Mathers became violent and that although she wanted her son to know his father, Mathers was not willing to stay connected. Eminem says he has no memories of his father. He spent time with his father's relatives as a child, but even then Mathers showed no interest.
"A lot of times he'd call, and I'd be there — maybe I'd be on the floor coloring or watching TV — and it wouldn't have been nothing for him to say, 'Put him on the phone.' He could talk to me, let me know something," Eminem has said. "Cause as far as father figures, I didn't have any in my life."
Eminem remembers sending his dad letters, only to have them come back, marked "return to sender."
He became interested after his son was famous
Eminem never had a relationship with his father, but he did talk about him in his music. In his song "My Name Is" he said, "And by the way when you see my dad? Tell him that I slit his throat, in this dream I had."
In "Cleaning Out My Closet" he rapped, "My f*ggot father must have had his panties up in a bunch/ 'Cause he split, I wonder if he even kissed me goodbye/ No I don't, on second thought I just f***ing wished he would die."
In 2001, according to Bro Bible, Mathers published an open letter to his famous son in The Mirror. In the letter, he claimed that he wasn't the monster Nelson made him out to be, and that the only reason he hadn't contacted Eminem sooner was that he and Nelson had moved around so frequently that he couldn't find them.
But although he insisted that "the one ambition left in my life is to give you a hug and tell you I've always loved you," Eminem was unmoved.
Eminem couldn't understand this about his dad
RELATED: Eminem on His Daughter, Feeling Worthless, & Money
Eminem wasn't impressed by his dad's letter, saying bluntly, "Don't know anything about my dad and I don't care." But it was more than just old resentment holding him back. As a father, he couldn't fathom Mathers' choice to let him go, and he didn't believe his excuse that he couldn't find him.
"If my kids moved to the edge of the earth I would find them, no doubt in my mind," he told Anderson Cooper in a 2010 interview. "No money, no nothing, if I had nothing I would find my kids." Eminem has a daughter named Hailie, and in "Cleaning Out My Closet," he explained, "I look at Hailie, and I couldn't picture leavin' her side."
Mathers died last year of a heart attack at age 67. He and Eminem never reconciled, but it doesn't seem that the famous rapper considers it to be much of a loss.