Eminem's Ex-Wife Kim Scott Once Opened Up About Their On-and-Off Relationship: 'We'll Have Two Good Years Then It Will Go Bad'
Rapper Eminem may seem like a ladies man, but he's only had one serious relationship in his life. During his rise to fame, Slim Shady was married to his now ex-wife Kimberly Anne "Kim" Scott, with whom he shares a daughter. The two were married for a total of three years, during which time the famous rapper wrote several songs detailing the issues they went through while together. Though Eminem's fans got to hear a lot from him about his past with his ex-wife, Scott kept a tight lip on their relationship until 2007 when she finally opened up about their "love-hate relationship."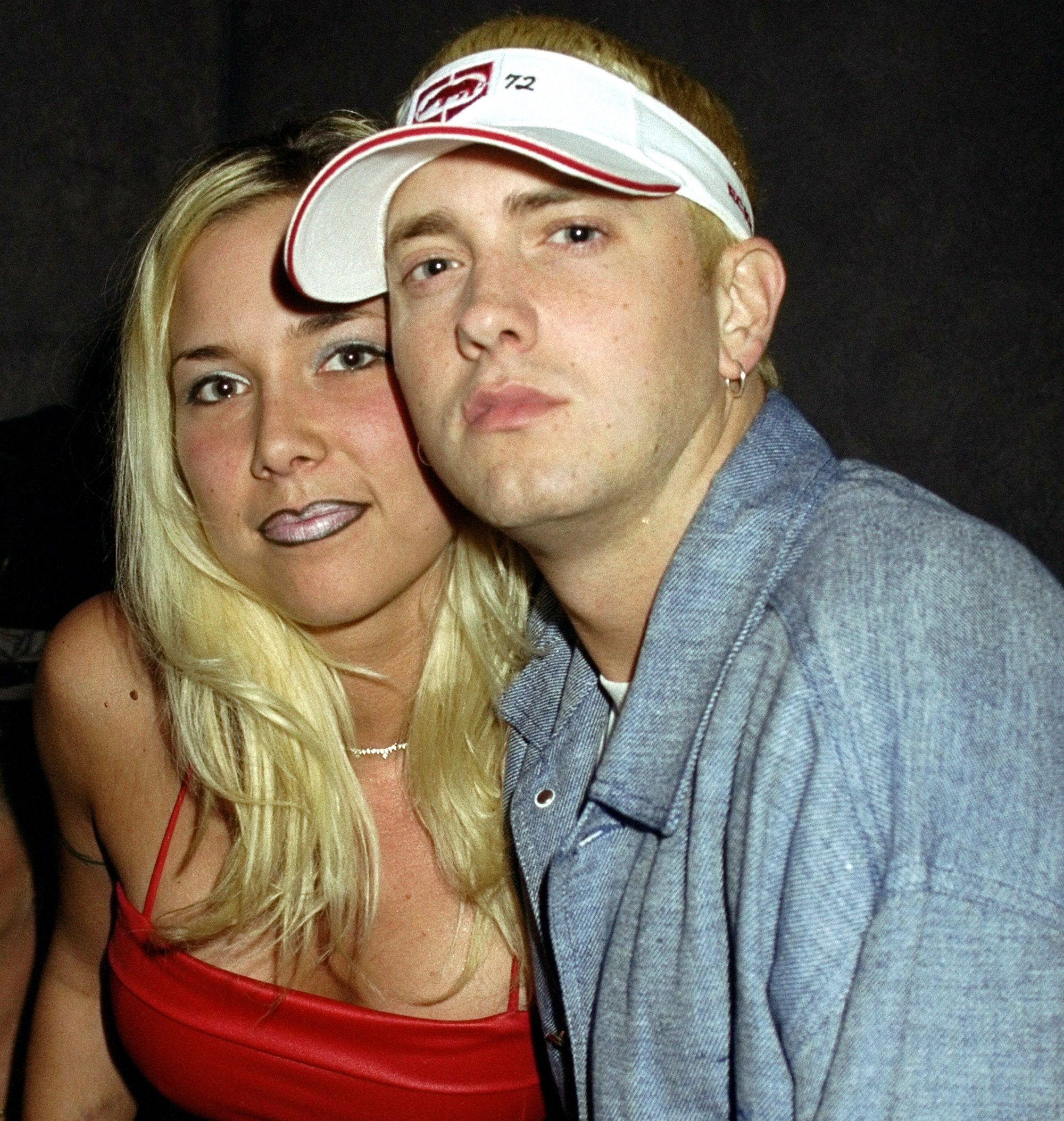 Eminem and Kim Scott started dating in high school
Eminem (whose real name is Marshall Bruce Mathers III) and his ex-wife first met when they were teenagers. After Scott and her twin sister ran away from home, she crossed paths with the rapper at a house party in Detroit. She was 13 years old while he was 15.
It wasn't long after that Scott began living with Eminem and his mother and the two found themselves in a romantic relationship.
On Dec.25, 1995, the couple welcomed their daughter Hailie Jade. Four years later, they got married.
During the first year of their marriage, Eminem's rapping career was taking off, which caused his and Scott's relationship to suffer.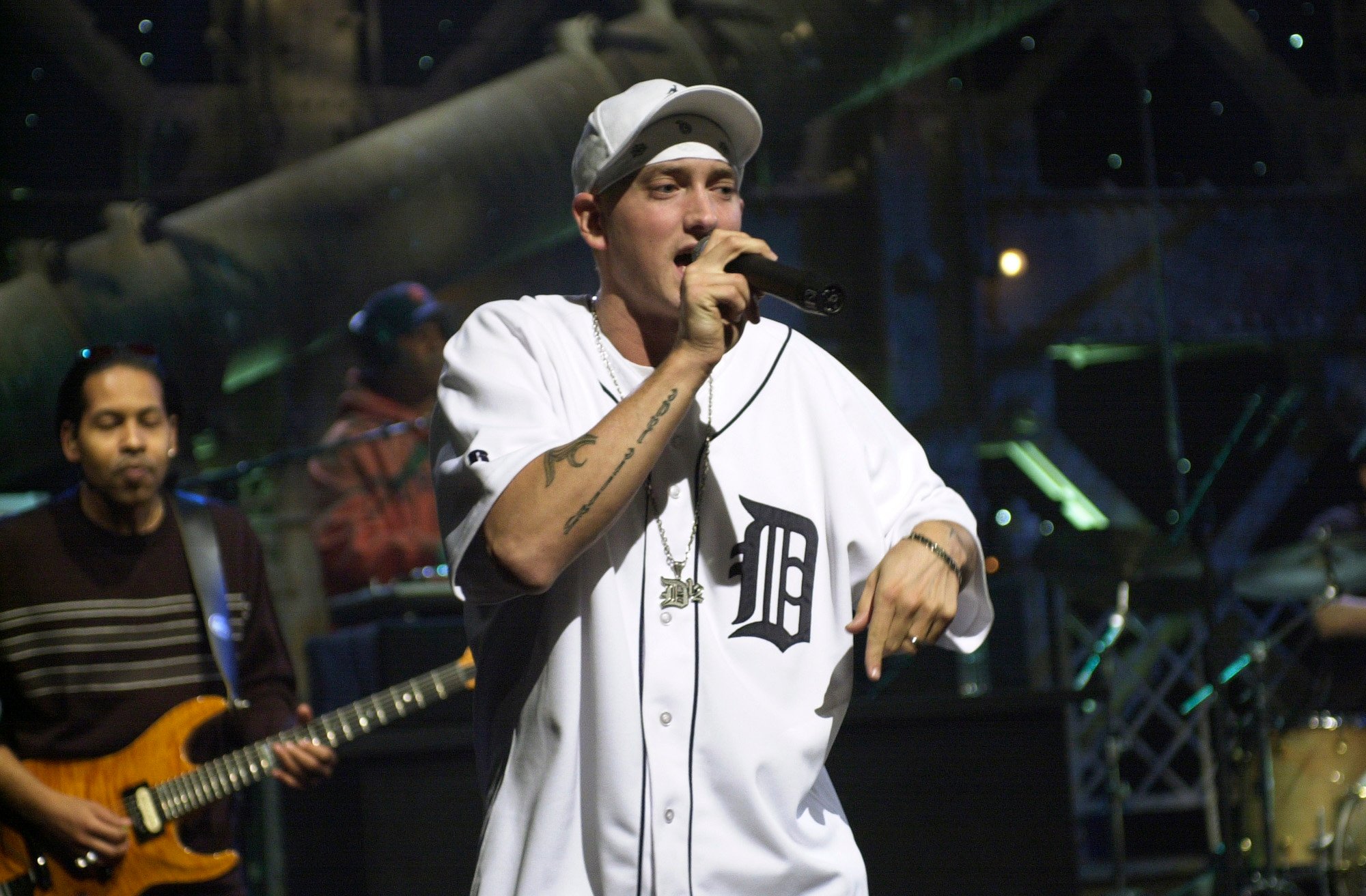 "He would constantly try to belittle me and make me think, like, I should be grateful, basically, that he was with me," Scott said during an interview with 20/20 in 2007.
Eventually, the pair's union became tumultuous, one that was riddled with constant infidelities.
"Money is great, but it doesn't make your husband stay at home with you," Scott explained. "Or sleep in the same bed with you … Him being on the road and on tour … that was like the big one. I mean … constant infidelities, all the time."
By 2001, both couldn't take it anymore and ultimately decided to divorce.
Kim Scott and Eminem eventually remarried
Despite ending their marriage, Eminem and his ex-wife Kim Scott remained in each other's lives while raising their children together.
Eventually, the two reconciled and tied the knot again in January 2006, despite Scott's reservations.
"I was excited, I was happy, but at the same time, I thought he was rushing things," Scott said of Eminem after he proposed to her a second time.
When asked why she felt that way, Scott shared that she and the rapper had the kind of relationship that would go on for a few short years, end, and then start again.
"In our relationship, there's a pattern. Like, we'll have two good years and then it will go bad for some reason. It's like a two-year max with us and we hadn't reached the two years yet. I just didn't want to rush into anything before the two years."
The rapper and his ex-wife divorced for good in 2006
Eminem's second marriage to his ex-wife was brief as things began going wrong shortly after their wedding.
According to Scott, she and the rapper were together for about a month before he decided to leave their home for good following an argument.
"There was a disagreement between me and his brother," she recalled. "Inappropriate behavior that his brother had. That's what it was. The next morning, there was a note in the bathroom that said, 'I'm going to the other house. I need to clear my head.' I'm so confused about the whole thing. He didn't even come around for a month after that. He didn't come to see the kids, he wasn't calling me. He didn't return phone calls, I didn't know what the heck was going on. Then his attorney's assistant comes to the door and serves me papers."
Eminem and Scott divorced for the second and final time in April 2006, agreeing to share joint custody of their children.
Since then, Slim has been furthering his rapping career.
As for Scott, she's had a few run-ins with the law, mainly having to do with DUIs and being in possession of illegal substances.
On July 30, 2021, police were called to Scott's home to respond to "a call of a suicidal person." TMZ reported that upon arrival, deputies and paramedics found that Scott had cut herself as she had "several small lacerations on the back of her leg."
After she was restrained, Scott was rushed to a hospital for both medical and psychological evaluation. She has since been released and is now recovering at home.