Emma Watson Felt She Had 'No Chance' at Playing Hermione Thanks to 1 Actor
For Emma Watson, being cast as Hermione Granger in the Harry Potter movies was akin to winning the lottery. The film franchise launched her career in acting and transformed her into a household name. Despite not having any professional acting credits, Watson managed to beat out thousands of talented girls for the part. But one actor had Watson convinced that she'd never get the coveted role.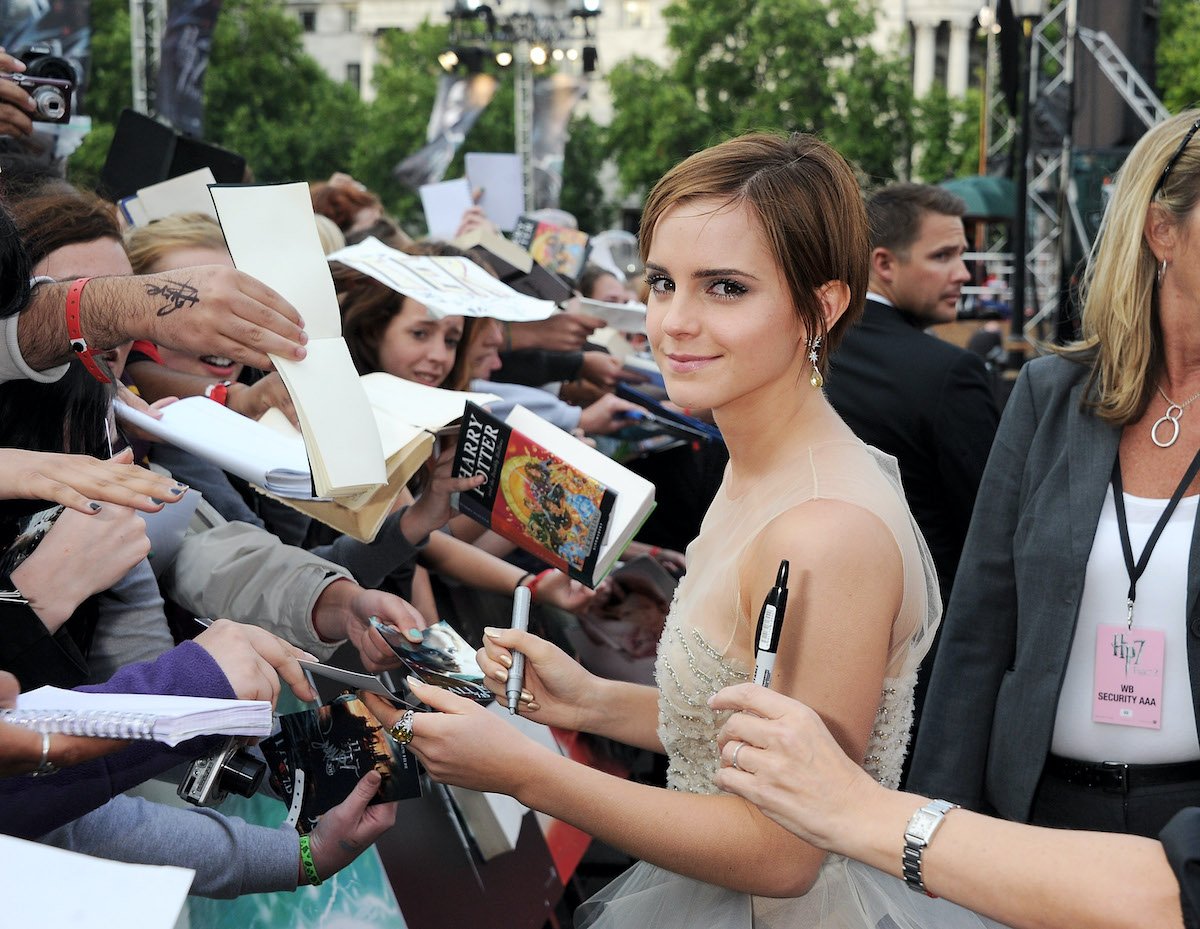 It's no secret that Watson and Hermione have a lot in common. Like her Harry Potter character, Watson is a true bookworm and felt a deep connection to the young witch after her dad read the books to her. When the producers came to her school looking for children to audition for the role, she was ecstatic. Even though the part was highly competitive, the Little Women star truly believed that the role belonged to her. In fact, even her parents couldn't get her to be realistic about the possibility of not winning the part.
Emma Watson felt like another actor would get cast as Hermione Granger instead of her
Of course, there was a time throughout Watson's arduous audition process when her confidence was shaken. In a conversation with Interview Magazine, Watson revealed that she was intimidated when she learned that a more experienced actor was also up for the role of Hermione. Considering the actor had already done a fairly popular feature film, Watson mistakenly believed that she had no chance at booking the part.
"I won't say the name, but there was this girl who had already done a film before," Watson revealed about auditioning for the Harry Potter movies. "I can remember just crumbling at the sight of her, thinking, 'She's been in a film before, and she knows how to do this. I have no chance.' Even worse, one time I came to the studios, and she was there playing cards with one of the other boys auditioning for Harry—not Daniel Radcliffe. And I was like, 'Oh, my God, they're making friends already! I'm definitely not going to get it.' I was so, so upset.'
What actor could've been cast in the 'Harry Potter' movies instead of the 'Little Women' star?
But who exactly was the actor who had Watson so convinced that she'd lost out on Hermione forever? While the Noah star refused to name names, Janet Hirshenson, who was one of the casting directors for Harry Potter, provided more information. In an interview with HuffPost, Hirshenson gave more details about the young actor who had Watson rattled.
"There was another little girl that we tested who had just done I think Madeline," Hirshenson recalled. "She had done a big movie, and she was quite Hermione-ish, so I think Emma saw her at the auditions and went, 'Oh, well, I got no chance. There's her.'" The actor in question was actually Hatty Jones, who played the titular role in Madeline. While she was quite talented, there was something about Watson's portrayal of Hermione that made everyone sit up and take notice.
Watson's interpretation of Hermione impressed the producers and casting directors
"For the Hermiones, as soon as Emma came on, (there were six of us in the screening room) we just gasped," Hirshenson revealed. "It was like, 'Oh my God.' Like, 'Whoaaa!' She took up the screen.'" Clearly, Watson was wrong to think that she didn't have a shot at playing Hermione. To this day, we're sure fans of Harry Potter couldn't imagine anyone else playing "the brightest witch of the age."