Emma Watson Reveals Why the 'Harry Potter' Stars Aren't in a Group Chat
Emma Watson, Daniel Radcliffe, and Rupert Grint got together for an emotional reunion in the HBO Max special, Harry Potter 20th Anniversary: Return to Hogwarts. After spending a decade of their lives together, the trio still seem pretty close. But in a recent interview. Watson revealed why they still aren't part of a group chat.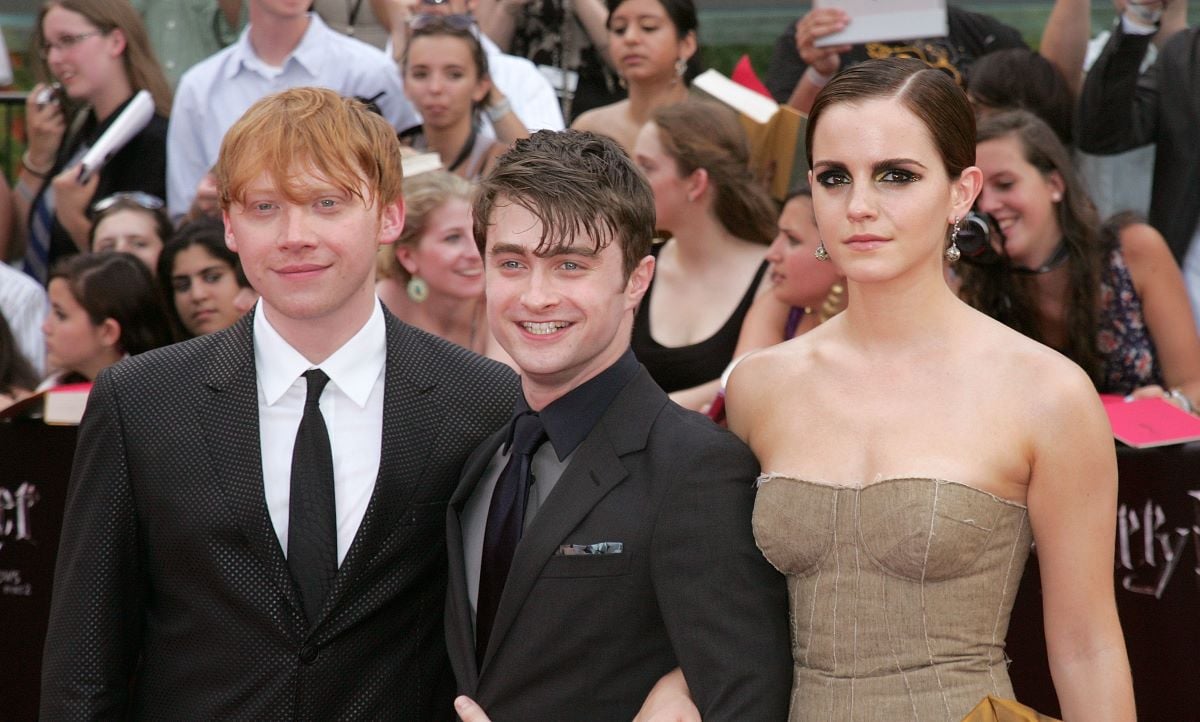 Emma Watson says Daniel Radcliffe and Rupert Grint hate their phones
Watson, Radcliffe, and Grint's bond is apparent in the Harry Potter reunion special. But according to Watson, the trio doesn't often communicate, at least via phone or group chat.
"They both hate WhatsApp and their phones in general," she told Vogue when talking about Radcliffe and Grint. "Actually, as a three, we really try and stay off electronics, so that doesn't help for a massive amount of back and forth. We aren't on a group chat, but we speak individually."
But the actor did note that Grint sends her photos of his baby girl. And she suggested Radcliffe helps keep her grounded.
"Rupert sends me pictures of [his daughter] Wednesday and I die," Watson added. "Dan and I generally try and calm each other's nerves. We both mainly try and stay out of the limelight so it's been nice to have each other's support, knowing there was going to be another wave of attention coming."
The 'Harry Potter' star got emotional seeing Grint and Radcliffe on set
Harry Potter 20th Anniversary: Return to Hogwarts features Watson, Grint, and Radcliffe reuniting on the set of their eight franchise movies. And after seeing her co-stars in this familiar setting, Watson admitted she was overwhelmed.
"It was emotional and also intense to have such an intimate moment so closely watched," she told Vogue. "Mostly I was just so happy to have a mediator who could ask us these questions and get to be part of seeing how differently – and similarly – we had processed things. I love that we remembered different things."
The actor called out a specific moment when Grint got emotional and told her, "We're family. We always will be. It's a strong bond. We'll always be part of each other's lives." And she revealed why Grint's candid sentiment was so special.
"That was the most emotional moment for me," Watson said. "When Rupert says things, he really means them. I was taken aback by how vulnerable and kind he was deciding to be so publicly. Similarly for Dan, it really touched me how reflective he had been over the years about how different it had been for me as a girl."
RELATED: 'The Queen's Gambit' Features a 'Harry Potter' Star You May Not Have Recognized
Emma Watson was also thrilled to be back on the original sets
The Harry Potter film sets were preserved and became a part of the Warner Bros. Studio Tour London – The Making of Harry Potter attraction in Leavesden, England. So when Watson visited the sets with her co-stars, she said it felt like 'heaven.'
"I am just so happy they still exist," she said in her chat with Vogue. "Most film sets are torn down the minute a scene is finished. I am so happy they are still there for people to enjoy, me included. [Production designer] Stuart Craig is truly a genius. What he did is perfect."