Emma Watson Slapped 'Harry Potter' Castmate Tom Felton Off Camera
Though there are plenty of great moments within the eight Harry Potter movies, fans truly appreciate Hermione Granger punching Draco Malfoy in the face. Draco's arrogance led him to be attacked by Buckbeak the hippogriff during his first Care of Magical Creatures class with Hagrid. Though he suffered only a minor injury, he and his father campaigned to have Buckbeak killed. When Hermione found out, she gave Draco a well-deserved punch. But Emma Watson actually slapped Tom Felton when the cameras weren't rolling also.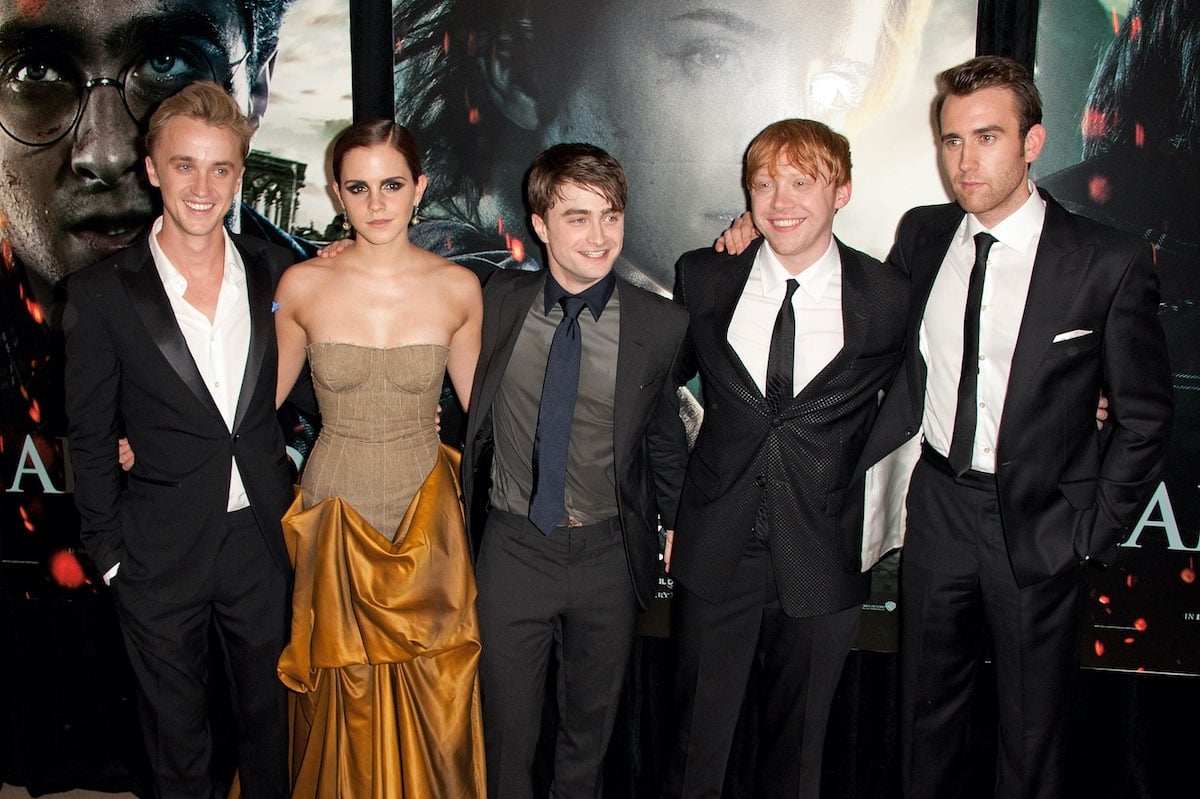 Felton and Watson portrayed Draco and Hermione in the films. Though the Harry Potter alums are good friends now, things were a bit awkward between them for the first couple of movies. This is because Watson developed a pretty wicked crush on her fellow castmate. The Noah star has shared multiple times that Felton was her very first crush.
Emma Watson had a huge crush on Tom Felton during the first two 'Harry Potter' movies
Like many first crushes, Watson's feelings for Felton were completely unrequited at the time. However, Watson has shared that Felton totally knew about the crush and was still very nice to her. Furthermore, after the first two Harry Potter movies, her crush wore off and the pair were able to laugh about it later.
But just because Watson had a crush on Felton doesn't mean that she wasn't willing to cause him bodily harm. When the pair were filming Harry Potter and the Chamber of Secrets, Felton encouraged Watson to slap him. According to the actor, he'd read about the upcoming slap that would occur in Harry Potter and the Prisoner of Azkaban and he wanted to practice it. However, he didn't expect Watson to take him up on his offer.
'The Circle' star slapped Felton in his face
"I remember in the second [Harry Potter] film when I knew this was going to happen I went up to her and told her to slap me, to rehearse it," Felton recalled about Watson in an interview with Seventeen. "Course she just walked up and slapped me across the face. My male ego didn't quite know what to do with it."
But even practicing the slap didn't fully prepare Felton for the iconic scene in the third movie. This was especially true after the slap got rewritten as a punch. According to Felton, he has no idea how that happened. "I'm not sure!" he shared when asked when the slap became a punch. "Somewhere between that and the third film, it got a little bit more violent. Luckily she didn't actually clock me with her fist. She's got a bit of a mean right hook, Emma Watson."
Felton and Watson are still good friends today
Despite Watson's penchant for packing a punch, she and Felton are still very close today. "I absolutely think the world of her," Felton shared about Watson in an interview with ET. "I think to be a part of what we've all been a part of, but for her to be the only girl, certainly the youngest one on set, to grow up with what she had to grow up with was incredibly exciting. You're going to get me teary now, but no, I think she's a fantastic influence on the world."