'Emmys 2021': 5 Ways This Year's Awards Could Make History, From 'Ted Lasso' to 'Pose'
Emmys 2021 is setting up to be a stellar year for nominees. From Ted Lasso to Pose, the diverse selection has something for everyone. On Sunday, Sept.19, the 73rd iteration of the award ceremony returns. That said, this year the Emmy Awards could be history-making for a few reasons.
From 'Ted Lasso' to 'Pose' star Mj Rodriguez, Emmys 2021 will be historic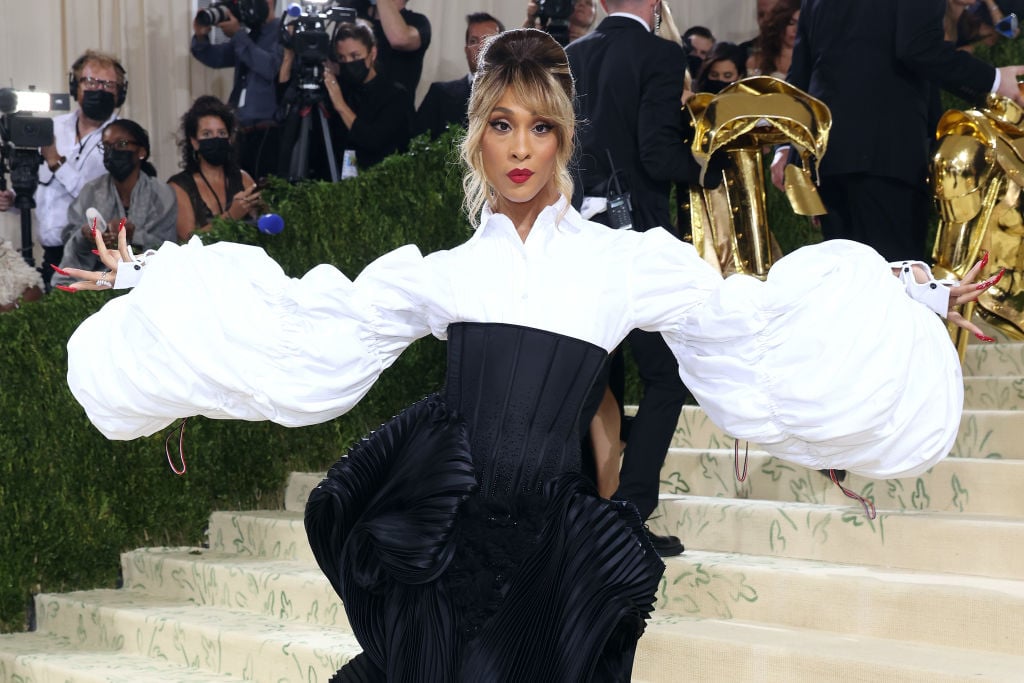 Pose's Mj Rodriguez is nominated in the Outstanding Lead Actress in a Drama. She could make history if there's an Emmy win. The transgender star played Blanca Rodriguez in the drama. In the past, Laverne Cox of Orange Is the New Black and Rain Valdez of Razor Tongue received nominations but neither won.
"It's crazy to think that just before Pose, none of this was even a thought in anyone's mind," Rodriguez told The Guardian. "We had never been in these spaces, on those sets, in Hollywood. So it's amazing, and honey, I'm living for it. But I do wish there was more of it so we didn't have to constantly be the educators. Some of us just want to be the artists."
She continued: "I want to be seen as a human being first," she said. What comes after is my being African American, Latina, a trans woman. I just want people to see me as a performer—an actress. When you keep reading, 'She's the first trans performer to do this, the first trans woman to be nominated for that,' I wonder how people start to perceive me. I would love it if my trans-ness was not always the leading cause of why I am celebrated."
Emmys 2021 could be a big win for Bo Burnham
If Bo Burnham takes home just one more Emmy for his Netflix comedy special Inside, that will make four total Emmys in a single year — a historic moment. The only others to do this are Moira Demos for Making a Murderer, Amy Sherman Palladino for The Marvelous Mrs. Maisel, and Dan Levy for Schitt's Creek.
Burnham's Emmy nominations that he already won this year (in the pre-recorded portion) include Outstanding Directing For A Variety Special, Outstanding Variety Special, and Outstanding Music Direction.
'Ted Lasso' could sweep the ceremony
Perhaps the most significant moment of this award season so far is that Ted Lasso scooped up 20 Emmy nominations, already making history. The AppleTV+ series starring Jason Sudeikis already picked up three awards during the Creative Arts Ceremony on Sept. 11. The wins include Outstanding Sound Mixing For A Comedy Or Drama Series (Half-Hour) And Animation, Outstanding Single-Camera Picture Editing For A Comedy Series, and
Outstanding Casting For A Comedy Series.
Sudeikis is nominated for Outstanding Lead Actor in a Comedy Series. Early predictions say the show will sweep the Emmys just as Schitt's Creek did last year. Winning every nomination for a single season would mark the first time to happen.
Will 2021 put Netflix on the map? Probably not with 'Ted Lasso' in the running
Netflix has the appearance of a big award winner but it's never won Emmys for Outstanding Drama Series or Outstanding Comedy Series. This year's contenders for both include the royal-infused drama The Crown, the literary obsession of many, Bridgerton. The comedy nominees are Cobra Kai, Emily in Paris, and The Kominsky Method.
Unfortunately, both top categories have intense competition, from Ted Lasso to Pose on other platforms.
A mid-pandemic award show looks traditional
It's no secret the world has been in and out of lockdown thanks to the coronavirus (COVID-19) pandemic. Last year's Emmys became a virtual event. While this year won't be completely traditional, it's as close as we can get with all things considered.
According to the Emmys website, "not all nominees will be able to attend this year's awards." There will be a four-person limit for each ensemble to accommodate the COVID safety guidelines. The event will take place on the Event Deck at L.A. Live, also a new location.
"The health and safety of our nominees is of paramount importance," the Academy said. "Thank you for your understanding as we continue to navigate the COVID-19 delta variant."
From Ted Lasso to Pose, we can't wait to see who takes home a win.
The 73rd Primetime Emmy Awards airs Sunday, Sept. 19, at 8:00 p.m. ET on CBS.