Emmys 2021: 'WandaVision' Star Elizabeth Olsen's Sisters Mary-Kate and Ashley Have Never Been Nominated, So She Brought Them With Her For Her Emmy Debut…Sort Of
Elizabeth Olsen made her Emmy Awards debut on Sunday, Sept. 19. The Wandavision star joins actors Kate Winslet, Cynthia Erivo, Michaela Coel, and Anya Taylor-Joy as nominees for Outstanding Lead Actress in a Limited or Anthology Series or Movie. 
Olsen's nomination marks a first for the Olsen family. Although her sisters Mary-Kate Olsen and Ashley Olsen are industry veterans, they've never taken home an Emmy award. However, their sister made sure they played a significant role on Emmys night.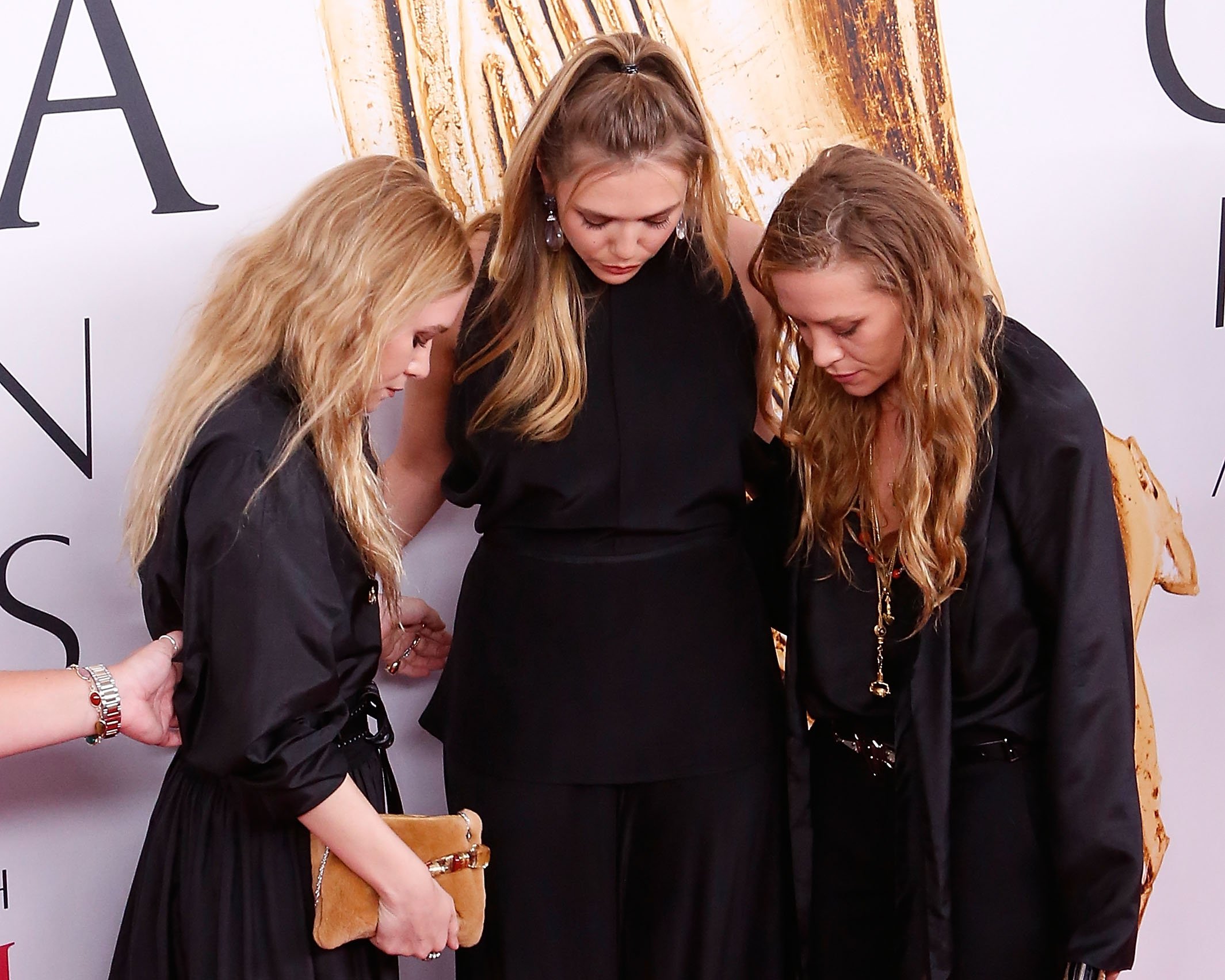 Elizabeth Olsen wore a Mary-Kate Olsen and Ashley Olsen design to Emmys 2021
Olsen first appeared on screen in 1994 with a role in Mary-Kate and Ashley's film, How the West Was Fun. However, the Godzilla actor has said on multiple occasions that she didn't want to act at first. In addition to fearing being placed under her famous sisters' shadow, Olsen also feared she wouldn't receive serious recognition as an actor.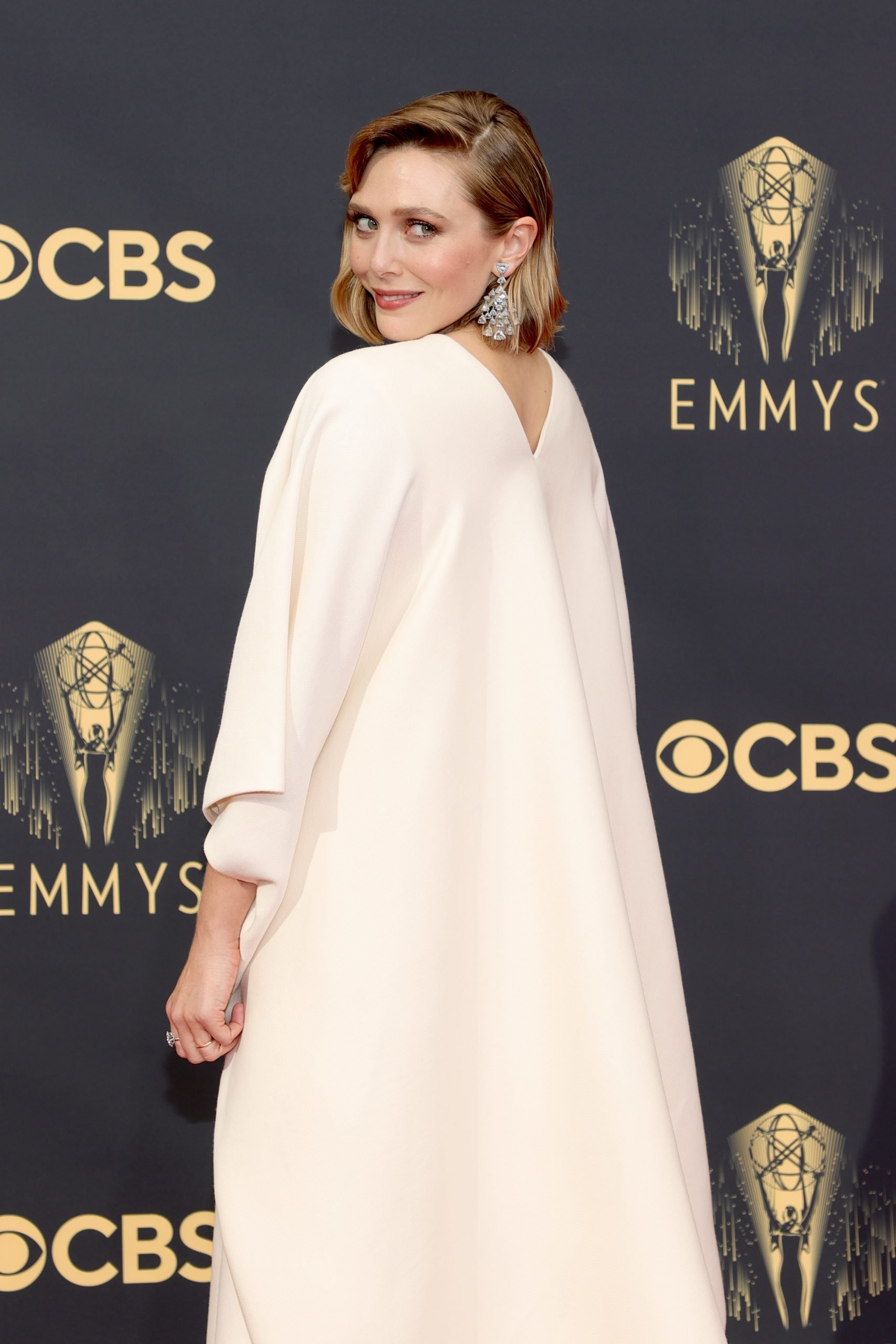 Fortunately, the Ingrid Goes West star took a chance on herself and landed her first role in Silent House in 2011. Soon, she booked the part of Wanda Maximoff/ Scarlett Witch in the Avengers films. Olsen's portrayal of Wanda earned her a Disney+ show, WandaVision. After one season, the actor received her first Emmys nod. Despite starring in shows like Full House and their classic '90s films, Mary-Kate and Ashley didn't get the same recognition as their little sister before they quit acting. 
Although her sisters were never nominated for an Emmy, Olsen looked to them when searching for her Emmy Awards gown. Ultimately, she told E! News that she went with a dress from her sisters' fashion line, The Row. On the red carpet, Olsen wore a white gown with a plunging neckline. Additionally, the actor accessorized the look with silver diamond earrings. 
Emmys 2021 nominee Elizabeth Olsen takes fashion advice from Mary-Kate and Ashley Olsen 
Since Olsen was a child, her sisters were global stars. In addition to Mary-Kate and Ashley's movie and TV show stardom, they also delved into fashion at the height of their careers. After attending New York University in 2004, Mary-Kate and Ashley launched The Row in 2006. According to Good Morning America, the twins also debuted a clothing line at Kohl's in 2020. 
Ashley and Mary-Kate's impact on fashion affected Olsen as well. During an interview, the Sorry for Your Loss star admitted she still wants "everything my sisters have ever worn in my entire life." Olsen also received important fashion advice from her older sisters as a child. 
"Be comfortable, wear soft clothes," the It Takes Two stars told Olsen, per Elle. 
The Emmys 2021 nominee respects the Olsen twins' privacy 
Throughout the years, Mary-Kate and Ashley have stayed away from the spotlight as much as possible. The former child stars rarely give interviews anymore and seemingly only focus on their fashion lines. 
As Olsen continues to soar with WandaVision and other projects, the actor said she looks to her siblings to help with navigating fame. 
"There are always ways you can be private—my sisters are intimately private, and I respect that," she told Harper's Bazaar in 2018. "They showed me that you can be private, but also accessible to journalists, for those reasons. It's helpful that I learned my value system from them."