'Enchanted': Giselle Wasn't the Only Disney Princess in the Movie
Fun fact: there were a ton of Disney references in the 2007 film Enchanted.
Ever since Disney announced that the beloved fairy-tale is getting a sequel, we've been finding out some interesting things about the film. One mind-boggling fact we've come across about Enchanted is that it features cameos by several Disney greats, who many of us overlooked when the movie was first released.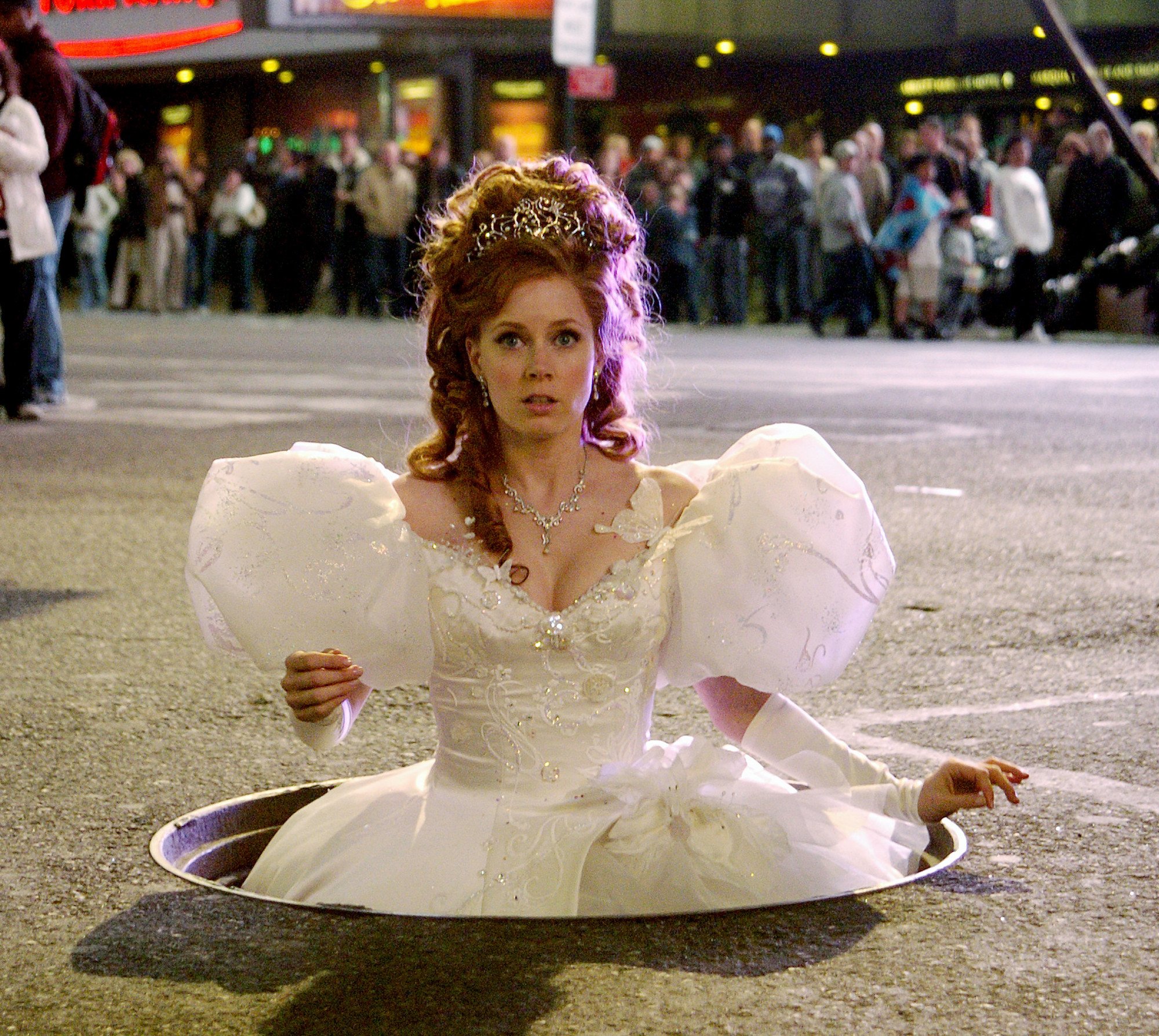 What is 'Enchanted' about?
In 2007, Disney released the live-action/animated musical fantasy, Enchanted.
The film stars actor Amy Adams as Giselle, a cartoon princess who gets transformed into a live-action version of herself and transported to the real world by an evil queen (Susan Sarandon), who doesn't want her marrying Prince Charming (James Marsden). 
While in the place where there are "no happy ever afters" — New York City — Giselle meets Robert Philip, a single dad and cynical Manhattan divorce attorney who doesn't believe in true love.
Not long after meeting, Giselle's sense of fun and belief in happily ever after begins rubbing off on Robert. Eventually, the two share "true love's kiss," marry, and form a happy family with his daughter Morgan in NYC.
Following its release in November 2007, Enchanted became a worldwide phenomenon, earning three nominations at the 2008 Academy Awards and two at the 65th Golden Globe Awards.
The film also made a star out of Adams, establishing her as a leading lady and ultimately kicking off her career as a well-versed actor.
Several Disney princesses made cameos in 'Enchanted'
Though Enchanted starred plenty of well-known celebrities, like Patrick Dempsey, James Marsden, and Susan Sarandon, it turns out that the film also included cameos by a few famous voice actors who easily slipped under our radar.
According to MovieFone, several actors who voiced some of the most beloved Disney princesses and characters made cameos in the movie.
Jodi Benson, who voiced Ariel in The Little Mermaid, played Robert's assistant Sam. In the film, she shares a scene with Giselle that involves a fish tank, while the ballad "Part of Your World" plays in the background.
In one of the more subtly comedic moments of the film, Judy Kuhn — who was the singing voice of Pocahontas — played a mom who dished out sass to Edward (James Marsden) as he searched for Giselle in New York City.
Meanwhile, Paige O'Hara, who voiced Belle in Beauty and the Beast, can be heard playing a soap opera character on a show Edward was watching in his hotel room.
Future Frozen princess Idina Menzel was also in the film, having played Robert's fiancée, Nancy.
And to round out the pack, Mary Poppins herself, Julie Andrews, is the film's voiceover narrator.

Now that we know Giselle wasn't the only Disney princess in Enchanted, we wonder: Will these actors reprise their roles in the upcoming sequel Disenchanted?
Seeing as there is no release date yet, we'll just have to wait and see.