ENHYPEN Release Their New EP 'Border: Carnival'
Heeseung, Jay, Jake, Sunghoon, Sunoo, Jungwon, and Ni-ki became members of ENHYPEN through the survival competition–reality show I-Land. The K-pop group was formed in 2020 by Belift Lab, a joint venture by CJ E&M and HYBE. On April 26, the K-pop group released Border: Carnival, the members' second EP as ENHYPEN.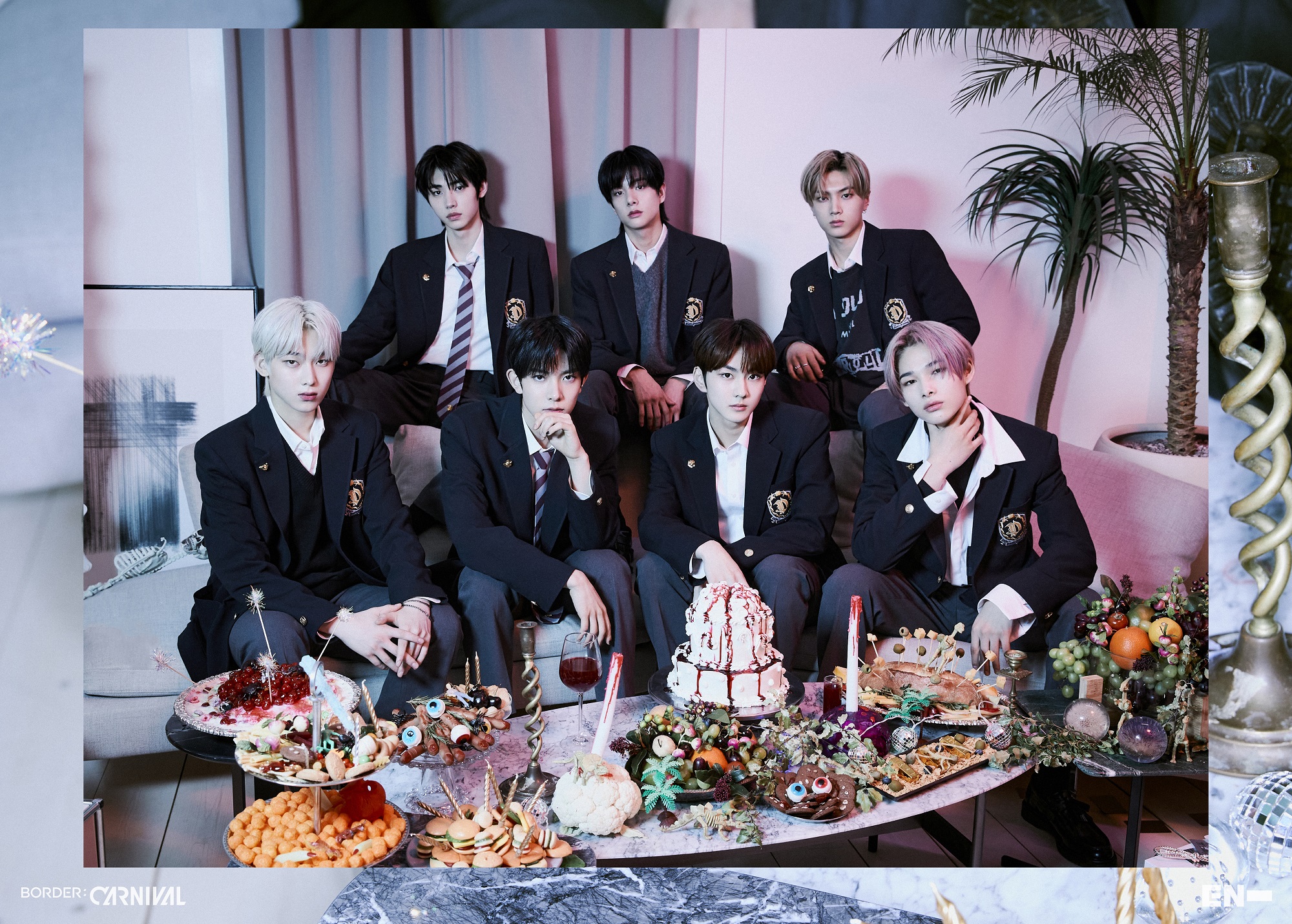 What to know about ENHYPEN's album 'Border: Carnival'
After debuting as ENHYPEN following I-Land, the band's first EP Border: Day One explored their uncertain feelings about their debut and future careers.
According to a press release, "Border: Carnival, the sequel to their Border series, captures the honest emotions the members experienced while facing the unfamiliar, yet magnificent world in their post-debut reality."
Border: Carnival has six tracks: "Intro : The Invitation," "Drunk-Dazed," "FEVER," "Not For Sale," "Mixed Up," and "Outro : The Wormhole." The lead single on the EP is "Drunk-Dazed."
A press release states that the lead single "epitomizes the overarching theme of Border: Carnival. In the track, ENHYPEN likens the post-debut world in which they find themselves to a magnificent carnival, and the septet candidly expresses their complex emotions that arise in this place full of glitz and glamour where existing rules don't seem to apply anymore." 
RELATED: BTS, Justin Bieber, and More Celebrate HYBE Merging With Ithaca Holdings
ENHYPEN are grateful for their fans
ENHYPEN released their debut EP Border: Day One in November 2020, meaning the septet debuted in the midst of a global pandemic. In an interview with NME, the members shared their hopes to spend more time with their fans, ENGENE.
When asked about the most memorable part of being in ENHYPEN, Jay replied, "Every moment as a member of ENHYPEN has been precious, but if I had to choose the best moment of all, it would be meeting our fans in person at our first fan meet in February. I remember being so excited to meet ENGENEs and practicing even harder while preparing for it. I was happy to see that our fans seemed to enjoy it."
Ni-ki connected ENHYPEN's love of ENGENE back to the band's song "FEVER" because the members want to spend as much time as possible with their fans.
"Without a doubt, meeting our ENGENEs in person. They are inseparable to ENHYPEN and so special to us. We not only want to communicate face-to-face, but also show them an amazing live performance," he said.
RELATED: TOMORROW X TOGETHER Release Promotion Schedule for 'The Chaos Chapter: FREEZE'
The K-pop group communicates with fans through music
Because of the coronavirus (COVID-19) pandemic, in-person communication is difficult and there has been a focus on virtual events. Because of this, the members of ENHYPEN have worked on connecting with fans through their music.
"Music has a huge role in connecting us to our fans whether it's in person or online. Since we're currently in a situation where we can't meet our fans face-to-face, our desire to make music that more fans can relate to has gotten greater in order to form deeper connections with them," Jake told NME.
He continued, "Regardless of the situation, however, we want to continue to express our honest thoughts and relate to one another through our music."