'Enola Holmes': Is the New Netflix Movie Based on a Book?
Millie Bobby Brown and Henry Cavill's new Netflix movie, Enola Holmes, features characters and elements from Sir Arthur Conan Doyle's Sherlock Holmes series, But it isn't based on any of the author's classic works. So, is Enola Holmes based on a book, or was it written specifically for the screen?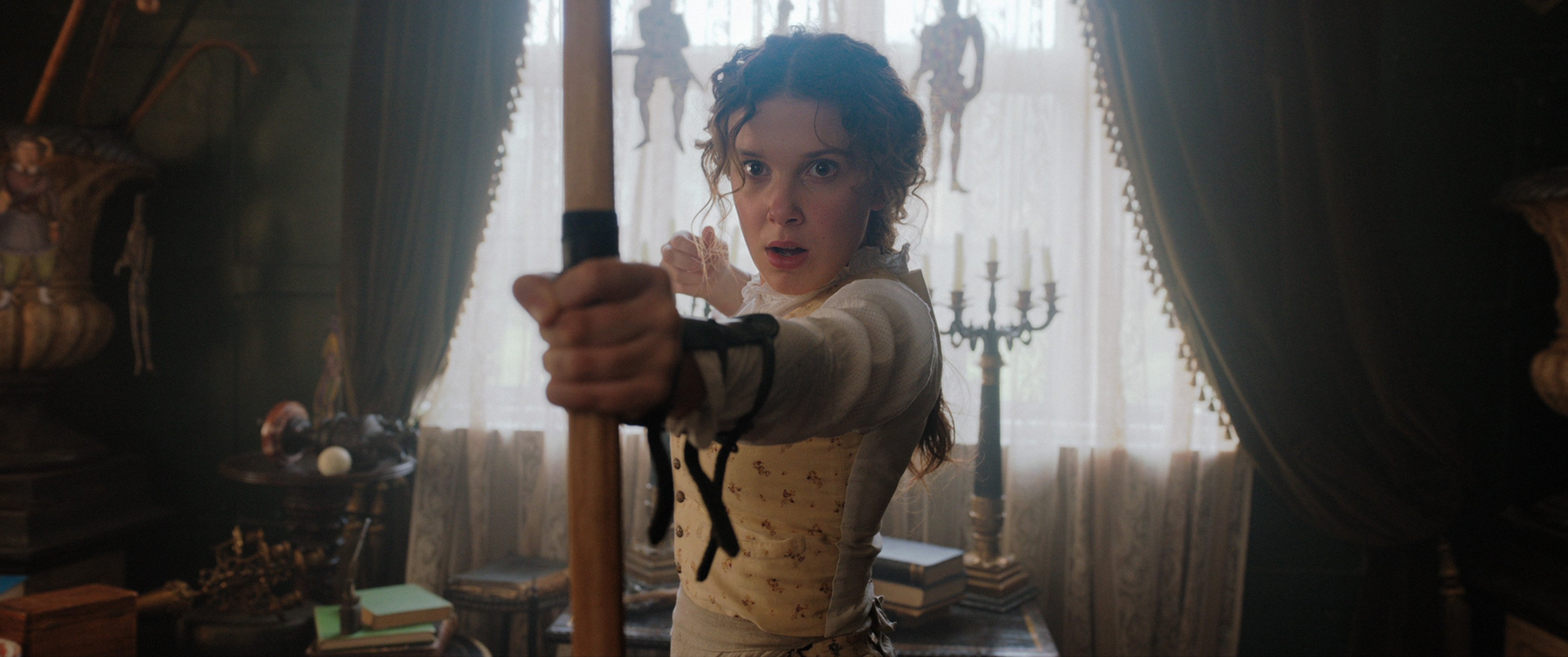 What is 'Enola Holmes' about?
Set in Victorian-era London, Netflix's Enola Holmes tells the story of a 16-year-old girl named Enola (Millie Bobby Brown), who is raised by her mother Eudoria (Helena Bonham Carter). When Eudoria goes missing, Enola's older brothers, Sherlock (Henry Cavill) and Mycroft (Sam Claflin) take her to a boarding school, and head off to find their mother. 
But Enola isn't taking orders from her brothers. Determined to find Eudoria, the teen runs away from boarding school and insists on solving the mystery herself.
RELATED: 7 Sherlock Holmes Film and TV Adaptions for Mystery Lovers
'Enola Holmes' is based on Nancy Springer's YA mystery novels
Enola Holmes features characters created by Doyle, but the film is actually is based on a series of young adult books by Nancy Springer. The author's 2006 novel, An Enola Holmes Mystery: The Case of the Missing Marquess introduces readers to Enola as she takes on her first mystery — finding her missing mother.
Springer's series features a total of six Enola Holmes mysteries, including The Case of the Left-Handed Lady (2007), The Case of the Bizarre Bouquets (2008), The Case of the Peculiar Pink Fan (2008), The Case of the Cryptic Crinoline (2009), and The Case of the Gypsy Goodbye (2010).
How Nancy Springer got the idea for the story
When answering reader questions on Good Reads, Springer revealed that her editor was indirectly responsible for the creation of Enola Holmes. She revealed that he asked her to create a story "set in deepest, darkest London at the time of Jack the Ripper." And after thinking about her favorite works set in the late nineteenth century, Springer was inspired to take on Doyle's iconic character.
"Sherlock Holmes," she wrote. "I couldn't give him a daughter; that would have been scandalous, but I created a younger sister for him, named her Enola (a name that had fascinated me for years) and all else followed."
In an interview with BookYurt, Springer revealed that she's been a lifelong fan of Doyle's work. And with the Enola Holmes series, she wanted to bring a strong female presence to his literary world.
"While Doyle was a very good writer, he was also quite a misogynist," Springer explained. "Occasionally and with difficulty he represents women positively, but much more often he has Holmes dismiss them as hopelessly vapid, hysterical and illogical. I exploited with glee Sherlock's complete ignorance of the feminine sphere of Victorian society."
Millie Bobby Brown helped bring 'Enola Holmes' to screen
Stranger Things star Millie Bobby Brown is a fan of Springer's Enola Holmes series, and she's partly responsible for bringing it to screen. "How the decision [to make the film] came about I can only conjecture," Springer wrote in her Good Reads fan Q &A. "But I think Millie Bobby Brown had a lot to do with it, kudos to her!"
In an interview with Who What Wear, Brown (who also serves as the film's executive producer) said she immediately connected with the character. And she said she knew it was meant to be seen on the big screen.
"When I was younger and lived in London, I felt as though I could never connect with a lead British female," Brown said. "When I read this book, I genuinely felt like I had found someone just like me. My sister and I both fell in love with Enola and everything about her. We thought, 'This needs to be seen.'"
Enola Holmes hits Netflix on Sept. 23.