Eric Clapton Said Paul McCartney Ate Humble Pie During Concert for George
According to Eric Clapton, Paul McCartney had a very humbling experience rehearsing for Concert for George. He had to be around George's closest friends.
According to Eric Clapton, Paul McCartney wasn't all that comfortable during the rehearsals for Concert for George. Let's just say it was a humbling experience. However, Paul walked away from the tribute concert with even more love for his "baby brother," George Harrison.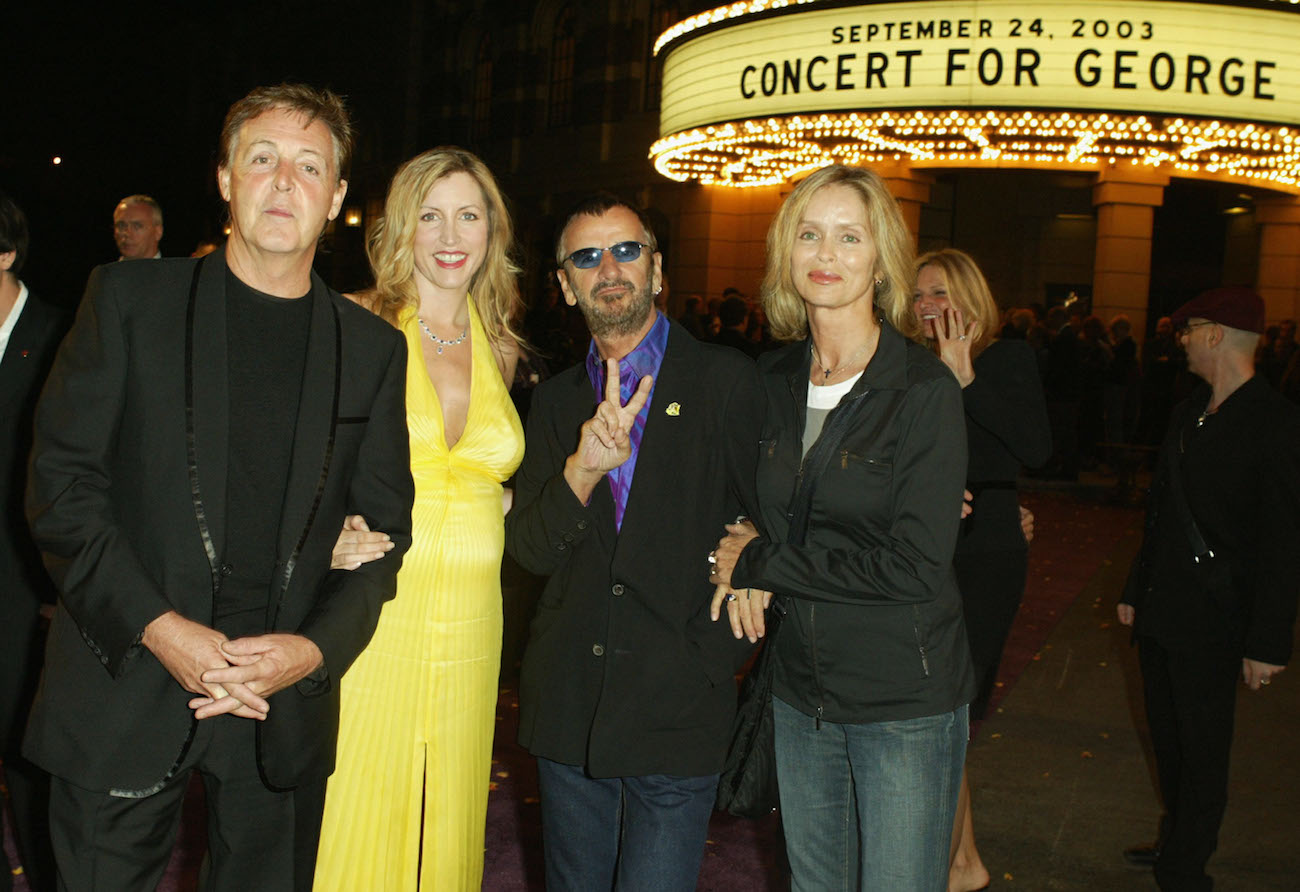 Eric Clapton organized Concert for George in 2002
George died in 2001 from cancer. He left behind his wife, Olivia, their only son, Dhani, and countless friends that loved him like a brother. George had a profound effect on people. Everyone who knew him craved to be in his company. Not to mention, George had tons of fans.
So, there had to be a celebration of George, one where the fans and all of George's friends could come together and honor him and his music. Eric Clapton, one of George's closest buddies, knew this.
"It was [Clapton's] idea," Olivia told Rolling Stone. "He phoned me not long after George died and said, 'I'd like to do something.' Eric was a very deep friend of George's, so I felt confident and relieved that it was Eric coming to me."
"Olivia had given me this job of being musical director," Clapton added, "to single out people for certain songs, and I found that really hard. We were all quite protective of our relationships with George."
Fans and a vast group of George's closest friends gathered on Nov. 29, 2002, exactly a year after George died, at London's Royal Albert Hall for Concert for George. They filmed it and released it in theaters and on DVD a year later.
Among the performers were Clapton, Ravi Shankar, Ringo Starr, Jeff Lynne, Tom Petty and the Heartbreakers, Billy Preston, and Paul. Dhani played acoustic guitar through most of the performance.
However, the rehearsals for the tribute concert were just as humbling as the live performance.
Clapton said Paul McCartney ate humble pie during Concert for George
According to Clapton, Paul had a tough time rehearsing for Concert for George. Clapton knew that Paul loved George just as much, if not more than everyone else in the room. However, it was a bit humbling for Paul, being in a group of people who knew George better than him.
The group of performers rehearsed at London's Asylum Studios for weeks.
Rolling Stone wrote, "Clapton was impressed with McCartney's demeanor: 'Those guys' inability to express love for one another was classic,' he says of the Beatles. 'The exception is Ringo, who says [in the film], 'I love George, and George loved me.' That wouldn't have been so easy for Paul.'"
Paul played ukulele and sang with Clapton on "Something," and later sang lead on "All Things Must Pass." Paul surprisingly had trouble on the latter.
In rehearsals, Clapton said, "Paul had to admit that he didn't know 'All Things Must Pass,' and that was an awful thing to confront. It was huge humble-pie stuff for Paul to be among these people who he may have thought had a better relationship with George than he did.
"But I believe Paul missed George as much as — if not more than — anybody."
A tree helps Paul remember George
Performing at Concert for George and seeing how many people loved his "baby brother" must have also been a humbling experience for Paul. It all made sense after that. Paul walked away with even more love for George.
Paul will never stop loving George. Twenty years after George's death, Paul still has a touching way of remembering his best friend. In 2020, Paul told NPR that George, a "really good gardener" who was "very into horticulture," once gave him a tree as a present. Since George's death, the tree has become very special to Paul.
"It's a big fir tree, and it's by my gate," Paul explained. "As I was leaving my house this morning, I get out of the car, close the gate and look up at the tree and say, 'Hi, George.' There he is, growing strongly. As the years go by, every time I look at it I go, 'That's the tree George gave me.' George has entered that tree for me. I hope he's happy with that."
George would be pleased about that. He'd also be happy that Paul got closer to him during Concert for George.