Eric Idle Couldn't Get George Harrison to Be Friends With David Bowie
Eric Idle and George Harrison were good friends who bonded over their love of comedy. Idle said it was "love at first sight" when they met in the mid-1970s. However, the friends disagreed on a couple of things. While Idle soaked up everything the ex-Beatle said, George wouldn't listen to the Monty Python comedian's claims about David Bowie.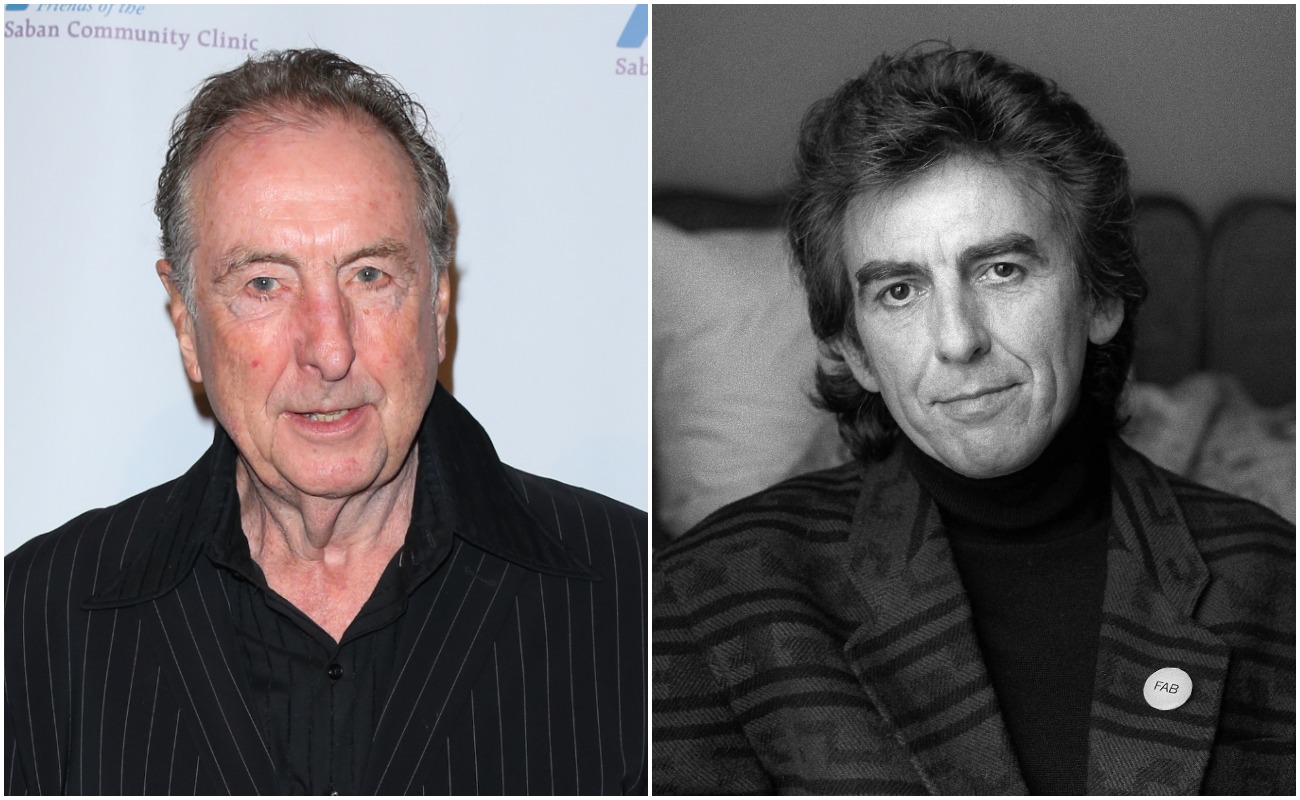 Eric Idle met George Harrison at a screening for 'Monty Python and the Holy Grail'
In his memoir, Always Look on the Bright Side of Life: A Sortabiography, Idle explained that he met George at a screening for Monty Python and the Holy Grail.
Idle wrote, "I had heard that George wanted to meet me, but I was somewhat shy of meeting him. I was shy and tried to avoid him, but he snuck up on me in the back of the theater as the credits began to roll. I hadn't yet learned he was unstoppable.
"We began a conversation that would last about twenty-four hours. Who could resist his opening line? 'We can't talk here. Let's go and have a reefer in the projection booth.' No telling what the startled projectionist felt as a Beatle came in with one of the actors from the movie he had just projected and lit up a joint.
"He managed eventually to get us to leave, and we went off to dinner with Terry Gilliam and Olivia Harrison. After dinner George insisted I go with him to A&M Studios, where he introduced me to Joni Mitchell. Joni f***ing Mitchell, for Christ's sake.
"Saxophonist Tom Scott was at work on some overdubs of George's latest album, Extra Texture, and we listened to some of the tracks and then went back to the Beverly Wilshire Hotel, where we talked and talked and talked for the rest of the night. What was it like to be a Python? What was it like to be a Beatle? A thousand questions."
Idle told Rolling Stone, "It occurred to me later that we both played similar roles inside our groups with big power blocks. Once I was moaning a little bit on Brian, saying, 'It was hard to get onscreen with Michael Palin and John Cleese.' He said, 'Well, imagine what it's like trying to get studio time with Lennon and McCartney.'
"I said, 'All right. Absolutely. Got it. OK. Check. I'll shut up now.' Then it occurred to me that yes, in fact, we were slightly the outsiders, playing similar roles in our groups."
RELATED: George Harrison Once Surprised Michael Caine by Playing Ukulele All Night
Idle tried to get George to be friends with David Bowie
The comedian was also close with David Bowie. Idle explained that Bowie wanted to collaborate with him on a Ziggy Stardust musical in his memoir.
"He asked me to collaborate with him in making a Ziggy musical, handing me a tape of Diamond Dogs to listen to," Idle wrote (per Rolling Stone). "I didn't know how to respond so I said, 'It's very loud.'"
Still, the pair became close. Although, that didn't make George like the glam rock singer. No matter how hard Idle tried, he couldn't get George to be friends with Bowie. Idle was like a sponge around George. He listened to everything he said, including his spiritual wisdom. However, George wouldn't hear how great Bowie was and didn't care.
"I would say to George [Harrison], '[Bowie is] wonderful and brilliant and funny,' but then George would become very much a Beatle, 'Oh, Bowie,' he would say contemptuously to rhyme with 'Bowwow,'" Idle wrote.
RELATED: John Lennon's Aunt Wasn't Happy That George Harrison's Mother 'Encouraged' The Beatles Early On
The Monty Python comedian said George always found the humor in a situation
George didn't listen to Idle about Bowie, but Idle continued to listen to George about spirituality. The comedian said the ex-Beatle was his guru. George taught him how to live in the moment. Although comedy was Idle's specialty, George also taught him to find humor in every situation.
In 1999, George and Olivia were attacked during a home invasion. Still, George found the humor when Idle called him about the attack. Idle wrote that George said, "Why doesn't this kind of thing happen to the Rolling Stones?"
Since George died in 2001, Idle has supported his friend on multiple occasions. Idle and the rest of the Monty Python troupe performed at the Concert for George. Idle will always support George's legacy.
RELATED: George Harrison's Hilarious Response to Mark Hamill's Fanboy Moment