Eric Idle Said George Harrison Was 'One of the Few Morally Good People That Rock 'N' Roll Has Produced'
Eric Idle said his friend George Harrison was 'one of the few morally good people that rock 'n' roll has produced.'
Eric Idle and George Harrison were friends for 25 years, and there was never a dull moment in their friendship. When George wanted to be friends with someone, they knew it, and Idle experienced that fill force the first time they met. After that, they had a beautiful friendship. They were there for each other at the drop of a hat.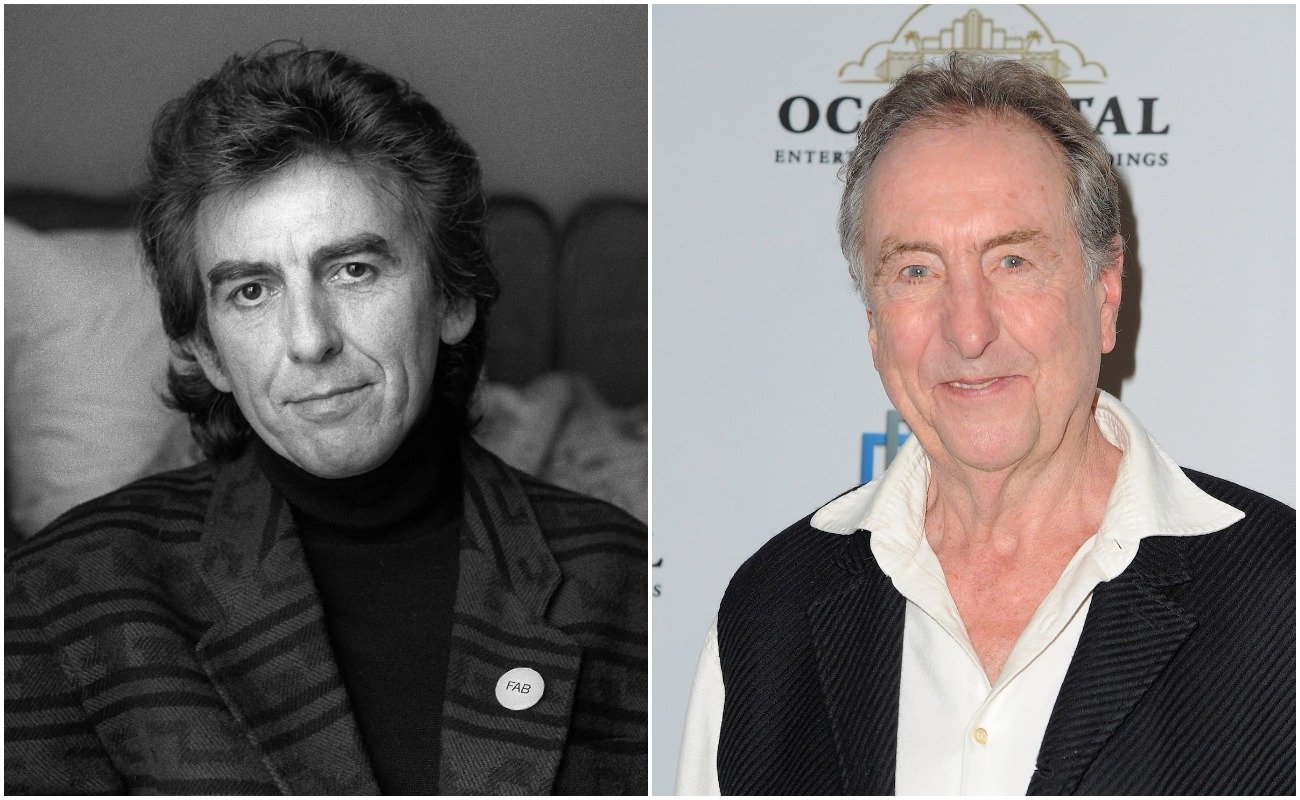 Eric Idle and George Harrison smoked pot in a projection room during the premiere of 'Monty Python and the Holy Grail' the first time they met
In his memoir, Always Look on the Bright Side of Life: A Sortabiography, Idle explained that he met George at a Monty Python and the Holy Grail screening.
Idle wrote, "I had heard that George wanted to meet me, but I was somewhat shy of meeting him. I was shy and tried to avoid him, but he snuck up on me in the back of the theater as the credits began to roll. I hadn't yet learned he was unstoppable.
"We began a conversation that would last about twenty-four hours. Who could resist his opening line? 'We can't talk here. Let's go and have a reefer in the projection booth.' No telling what the startled projectionist felt as a Beatle came in with one of the actors from the movie he had just projected and lit up a joint."
Idle couldn't get rid of George after that.
After the projectionist made George and Idle leave, they went to dinner with Terry Gilliam and George's wife, Olivia Harrison. Then, George insisted Idle come with him to A&M Studios where he introduced the comedian to Joni Mitchell.
"Saxophonist Tom Scott was at work on some overdubs of George's latest album, Extra Texture, and we listened to some of the tracks and then went back to the Beverly Wilshire Hotel, where we talked and talked and talked for the rest of the night."
In Martin Scorsese's documentary George Harrison: Living in the Material World, Idle said they engaged in a 48-hour dialogue. "What was it like to be a Python? What was it like to be a Beatle? A thousand questions," Idle continued.
Idle told Rolling Stone, "It occurred to me later that we both played similar roles inside our groups with big power blocks. Once I was moaning a little bit on Brian, saying, 'It was hard to get onscreen with Michael Palin and John Cleese.' He said, 'Well, imagine what it's like trying to get studio time with Lennon and McCartney.'
"I said, 'All right. Absolutely. Got it. OK. Check. I'll shut up now.' Then it occurred to me that yes, in fact, we were slightly the outsiders, playing similar roles in our groups."
Idle said George was 'one of the few morally good people that rock 'n' roll has produced'
Idle and George's 48-hour dialogue seemed to bind them together for the rest of their lives. They were close friends from then on and did anything for each other. In the late 1970s, Idle vented to George about EMI dropping Monty Python's newest film, Life of Brian.
George's manager, Denis O'Brien, suggested the former Beatle fund the film. So, they founded their own production company, Handmade Films, in 1978.
In the end, George mortgaged his house, Friar Park, to fund Handmade Films and Life of Brian. George wanted to see the film and give his friends the chance to make it.
Idle said George was "one of the few morally good people that rock 'n' roll has produced."
The comedian was there for the musician following a home invasion
Idle was so thankful to George for supporting Monty Python in their time of need. The comedian returned the favor whenever he could, including after George's 1999 home invasion that almost left him and Olivia dead.
Idle was in Santa Barbara at the time of the incident. He immediately wanted to see his friend. When Idle called, George eagerly said, "Where are you!?"
"So, OK, so, we got on a plane and came immediately, and it was very powerful. They would walk us round where the various stages of the attack took place," Idle said in Scorsese's documentary.
Although George had injuries, he still had his dark sense of humor. "When they picked him up, they put him on this stretcher. They're carrying him downstairs, and there were two people who had just started to work that weekend," Idle explained.
"He's being carried out stabbed with eight stab wounds and he looks over and says, 'So what do you think of the job so far?' Which is a great kind of-very George."
George's dark humor about the incident didn't stop there. When Idle and George talked about it later (per Rolling Stone), Idle said George joked, "Why doesn't this kind of thing happen to the Rolling Stones?"
The pair gave each other so much more than friendship.