'Eternals': The Latest Marvel Trailer Shows Off the Team's Powers, Deviants, and Phastos' Family
Marvel's Eternals hits theaters in November, and it's shaping up to be unlike anything that's come from the studio before. Chloé Zhao's film brings Celestials and Deviants into the Marvel Cinematic Universe, and both are featured heavily in the most recent Eternals trailer. The new footage rehashed some previous talking points. However, it also gave fans a glimpse at a few new scenes.
New 'Eternals' trailer shows off the team's powers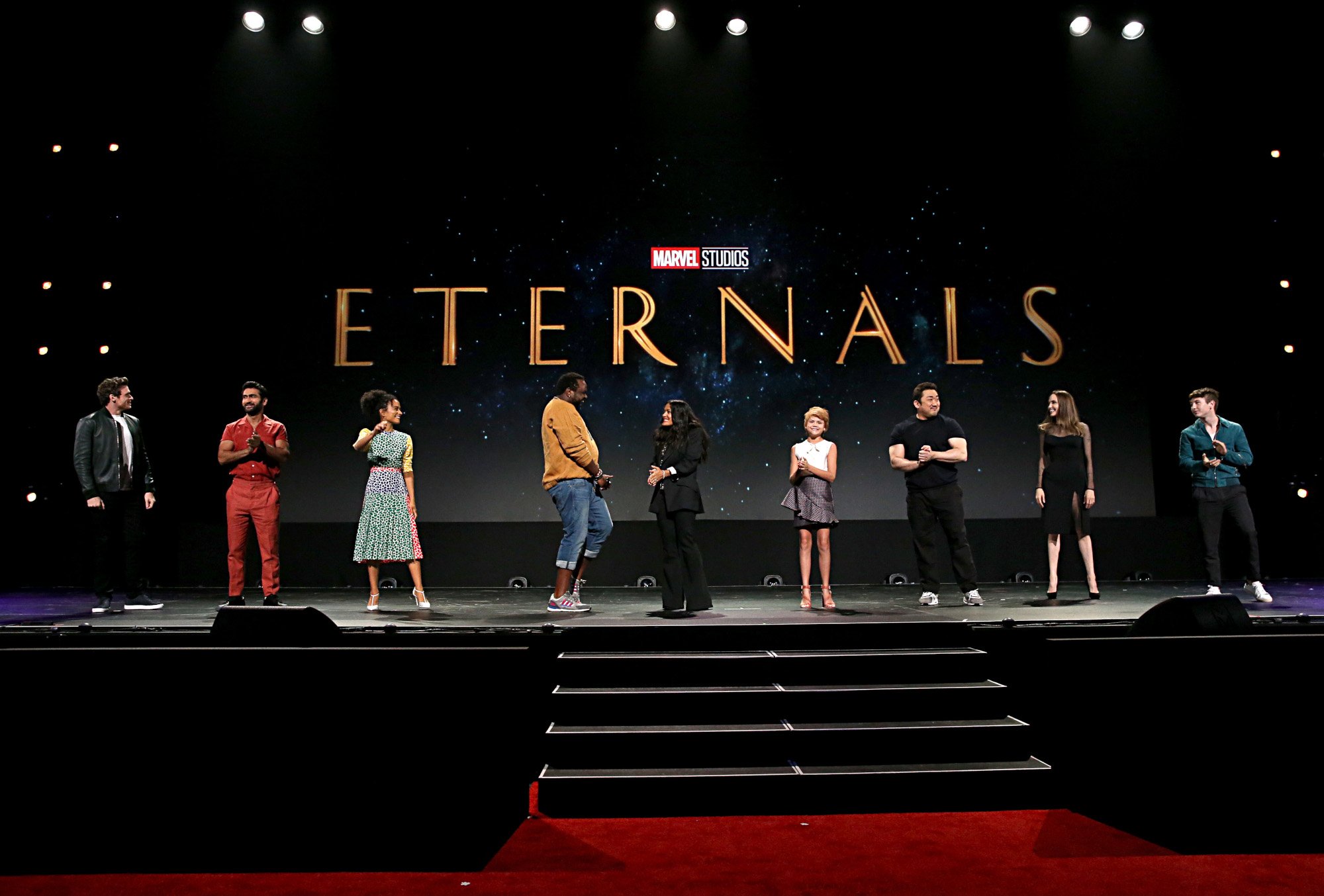 Recent trailers for Eternals have showcased the MCU's newest team, and they've shown them using their powers in the footage. Marvel Studios' latest look at the film reiterates their strength. Ikaris (Richard Madden) shooting laser beams out of his eyes is bound to excite fans as much as it thrills Phastos' (Brian Tyree Henry) son.
Viewers will also catch a glimpse of Sersi (Gemma Chan) saving Kit Harington's Dane Whitman from certain death. Just as a bus is about to fall on his character, she turns it to flowers — a good save, but one that leaves him looking like he's seen a ghost. Repeat footage of Thena (Angelina Jolie) and Kingo (Kumail Nanjiani) breaking out their otherworldly powers also shows up. Of course, the new spot gives fans a better look at what they're fighting against.
Marvel's Deviants take center stage in the new footage
While most Eternals trailers highlight the new team's powers, this one gives fans a closer look at the Deviants. Another alien race that the Celestials have sworn to shield humanity from, these creatures look every bit as intimidating as they're made out to be.
As Collider points out, this footage offers the best shots of these threats we've seen thus far. They may not be the main villains of the movie, but they'll certainly bring some interesting fight scenes to the table. The action takes center stage in the latest footage, promising a suspenseful ride.
'Eternals' trailer shows Marvel's first LGBTQ family
In addition to the epic fight sequences Eternals promises, there's another compelling reason to be excited about the film — and viewers get a glimpse of it in the trailer. The Marvel movie features the MCU's first openly gay superhero in Phastos. And his husband and son get a few seconds of screentime in the latest spot.
Hopefully, the three of them will have more sweet moments to enjoy when the film arrives on the big screen in November. Fans have called for better LGBTQ representation from the franchise, and Eternals has the opportunity to deliver.
Haaz Sleiman, who plays Phastos' husband, told NewNowNext that moviegoers can expect a kiss as well — a huge step forward from the MCU's heavily criticized attempt at representation in Avengers: Endgame.
"It's a beautiful, very moving kiss," Sleiman said. "Everyone cried on set. For me, it's very important to show how loving and beautiful a queer family can be."
That's just one more thing to look forward to when Eternals makes its debut. The film hits theaters on Nov. 5, 2021.