'Eternals' Star Salma Hayek Emotionally Described How the Movie is Creating a 'New Era' for 'Middle-Aged Women'
Eternals received mixed reviews from fans and critics, thanks to its uniqueness compared to other Marvel Cinematic Universe films. The movie featured a diverse ensemble cast of 10 new characters, including the MCU's first gay superhero on the big screen. Salma Hayek, who played one of the Eternals, spoke about what it meant to play a superhero as a middle-aged woman. She also described what it was like putting on her costume for the first time.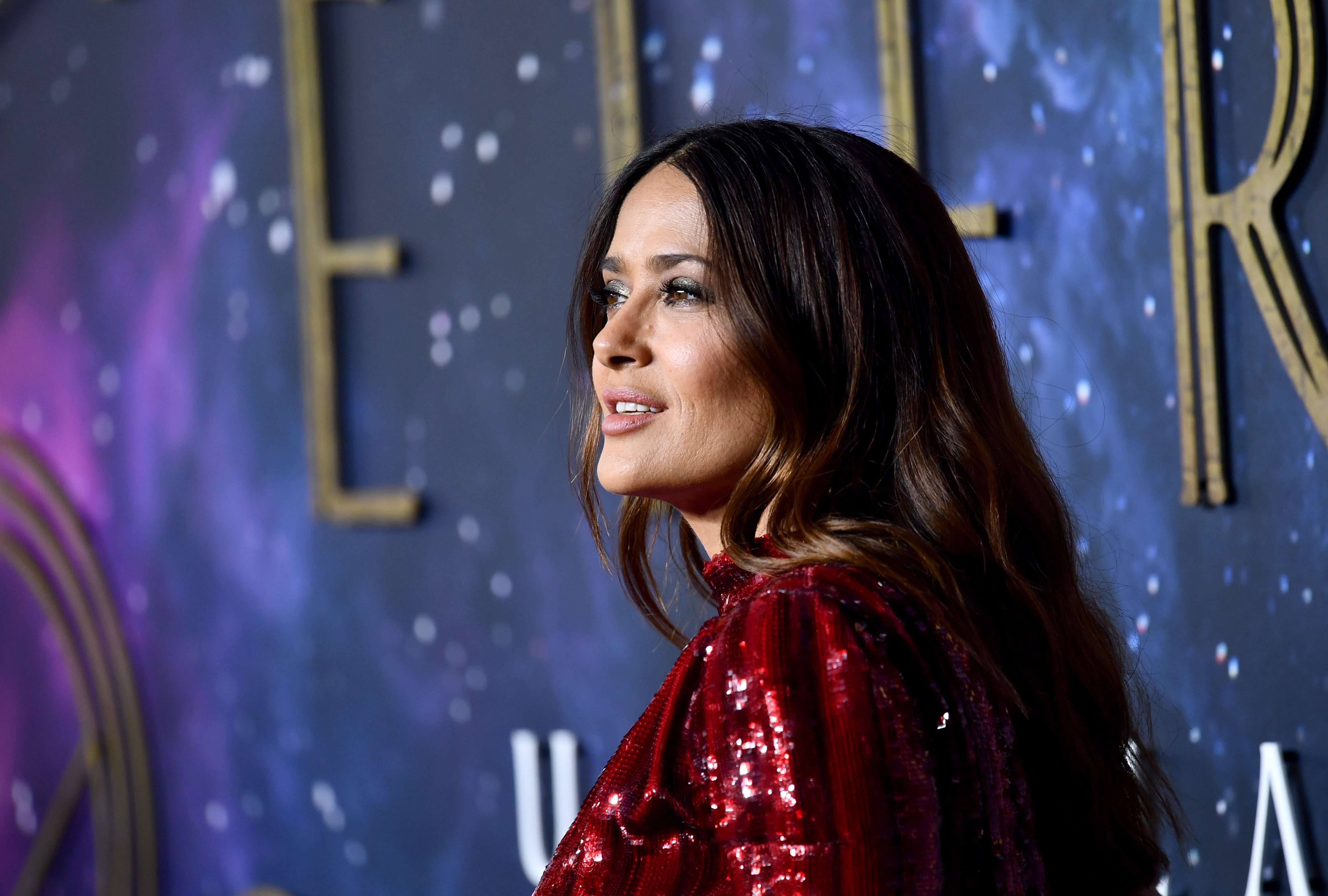 Salma Hayek played Ajak in 'Eternals'
In Eternals, Salma Hayek portrayed the leader of the Eternals, Ajak. The character is traditionally male in the comic books, but Marvel changed Ajak to be female for the film. In Eternals, Ajak had the power to heal and communicate with the Prime Celestial, Arishem.
At the film's beginning, the Celestials sent Ajak and the rest of the Eternals to Earth to protect humanity from the Deviants. However, the truth was a lot more complicated than that. After the superheroes defeated the last Deviants, Ajak retreated to South Dakota to live on a remote farm and wait for the Celestials to bring her and the Eternals back home.
Five hundred years later, the Deviants returned and killed Ajak, who posthumously chose Sersi to be her successor as the leader of the Eternals. Later in the movie, the audience learns that Ikaris killed Ajak by offering her to the Deviants.
Regardless of her character's fate in Eternals, Salma Hayek was still thrilled to be involved in the Marvel film.
The actor reminisces putting on her superhero costume
While on the Eternals press tour, Salma Hayek sat down with Geek Culture to discuss the MCU movie. The interviewer asked the actor what it was like to put on her superhero costume for the first time.
"It was very strange because it made me want to cry, and I was not expecting that," Hayek shared. "And then I realized that I was putting that superhero outfit [on] for so many women, you know? Whenever there was something that was bigger than life, we were never included."
She continued, "I felt that it was very meaningful — that's including middle-aged women. I understood that this moment was bigger than me, and I felt very humbled that it was me who got to step into this costume that represents, maybe, a new era."
Salma Hayek wasn't the only one who got emotional when she saw herself as a superhero in Eternals. Lauren Ridloff, who played Makkari, also frequently talked about what it was like being a part of the film.
Eternals was undoubtedly a monumental movie in terms of diversity and representation, and it's clear that that meant a lot to those involved.
Salma Hayek has a multi-film deal with Marvel, including 'Eternals'
Although Ajak died in Eternals, Salma Hayek revealed that she signed a multi-film deal with Marvel Studios.
"I did sign multiple movie deals. It was kind of fun being part of this … secret society that you have to protect so fearlessly," Hayek told Smallzy's Celebrity Small Talk Podcast.
Perhaps Ajak's story is not complete. And this wouldn't be the first time a character was resurrected in the MCU, so fans shouldn't be surprised if Ajak appears in the unconfirmed Eternals sequel.
Eternals, starring Salma Hayek, is coming to Disney+ on Jan. 12.