Ethan Hawke Stars in 'The Black Phone' – Jason Blum's 'Scariest Movie He'd Ever Worked On'
Jason Blum's Blumhouse Productions is well-known for providing some of the year's biggest horror hits. For instance, they're behind titles such as Paranormal Activity and The Purge. Their films typically have lower budgets, making their movies quick and easy box office successes. They signed a ten-year first-look deal with Universal Pictures back in 2014. Further, The Black Phone is their next horror vehicle starring Ethan Hawke.
From the minds that brought you 'Sinister'
Director/co-writer Scott Derrickson and co-writer C. Robert Cargill made Sinister in 2012. The story follows true-crime writer Ellison Oswalt (Hawke). After moving into a new house with his family, he finds a mysterious box of old home movies. However, Ellison discovers that they are videos showing horrific murders that go as far back as the 1960s. Consequently, his family's lives are on the line of him getting to the bottom of these killings.
Derrickson went on to write and direct the Marvel Cinematic Universe's Doctor Stronge in 2016. He hasn't directed a full-length horror film since Deliver Us From Evil in 2014. However, it appears that he's making a return to the genre in a huge way.
Indeed, Sinister remains to be one of Blumhouse's most frightening movies to date. Additionally, it was a huge success. On a reported budget of $3 million, it grossed $87.7 million worldwide. Ciarán Foy directed Sinister 2 from a screenplay written by Derrickson and Cargill. However, the sequel failed to capture the same lightning in a bottle.
'The Black Phone' at CinemaCon 2021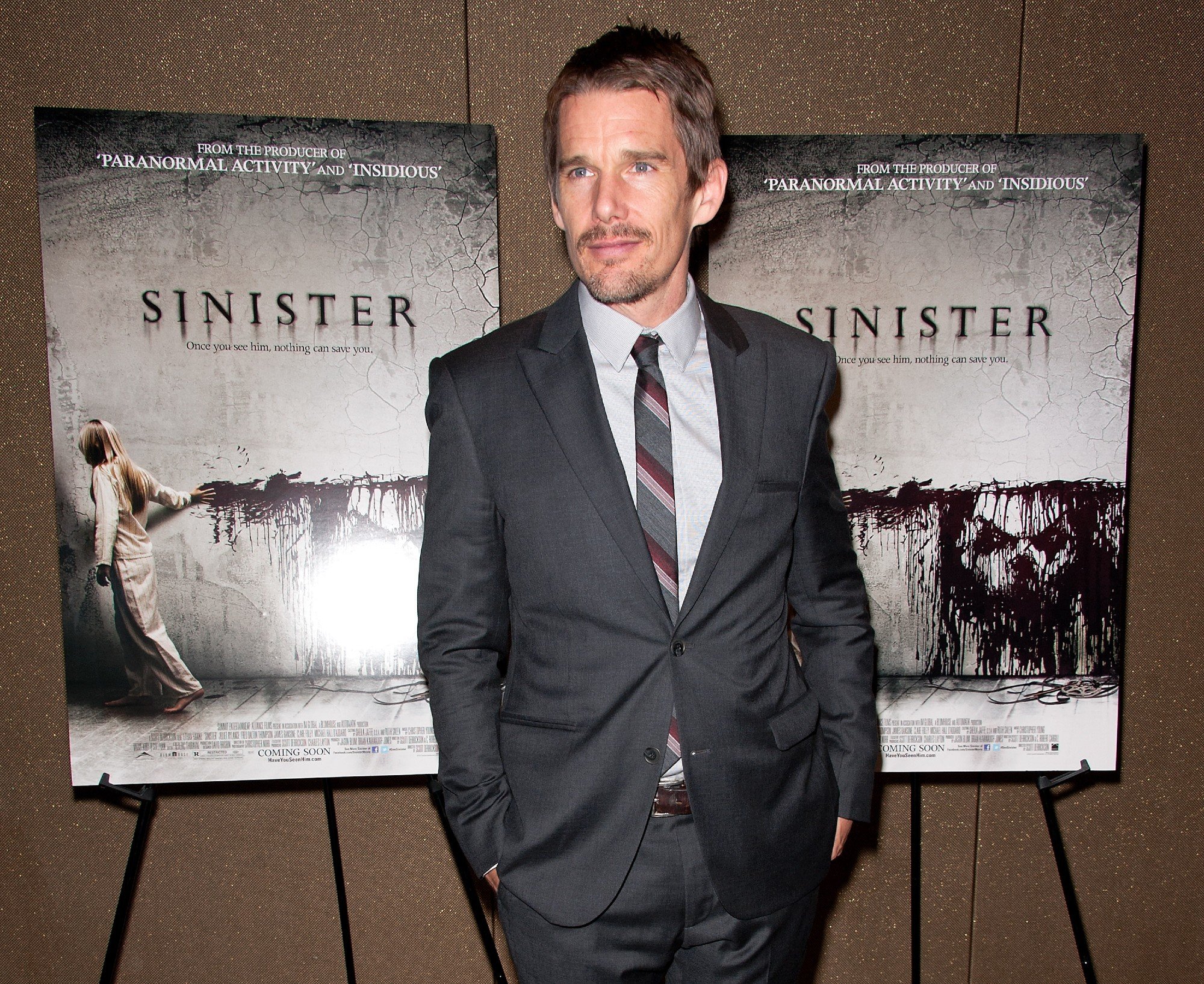 Variety reported on the Universal Pictures presentation at CinemaCon 2021. Blumhouse's next big project sees Hawke reunite with Derrickson and Cargill. The screenplay is based on a short story written by Joe Hill (Horns). However, this is a very different role for Hawke.
The Black Phone tells the story of a kidnapped child (Mason Thames), who is "locked in a basement that's stained with the blood of half a dozen other murdered children. In the cellar with him is an antique telephone, long since disconnected, but which rings at night with calls from the dead."
CinemaCon's teaser introduces Hawke's character as the antagonist. He lures the young lead with claims of being a magician. Next, the young boy is in a basement, where a phone starts ringing.
Hawke recalled that Blum addressed Sinister as "the scariest movie he'd ever worked on." However, he mentioned that The Black Phone has now usurped Derrickson's 2012 feature.
'The Black Phone' reactions
Derrickson has become a more recognizable name after working on Doctor Strange. He was intended to return for Doctor Strange and the Multiverse of Madness, although he exited the project due to "creative differences."
Now, he's returning back to the horror genre with The Black Phone. The teaser footage terrified members of the press. Similar to Sinister, it introduces horrifying stories of unspeakable violence with a paranormal twist. This time, the supernatural element is an attempt to help the young boy, rather than being the threat.
If the creepy children and paranormal events of Sinister are any indications, his next movie is going to be pure nightmare fuel. The Black Phone rings into theaters on January 28, 2022.