Ethan Hawke Wants the Fourth 'Before' Movie to Take Place During the Coronavirus Pandemic
Ethan Hawke shared his idea for a sequel to the 'Before' trilogy, following his and Julie Delpy's characters during the coronavirus pandemic.
When audiences think of movie trilogies, a few popular ones come to mind. The original Star Wars trilogy, The Lord of the Rings, and the Dark Knight trilogy all stand among the biggest examples of the format done right. However, very few movie trilogies are as beloved as director Richard Linklater's Before trilogy. Now star Ethan Hawke has suggested a surprising new way to continue the story.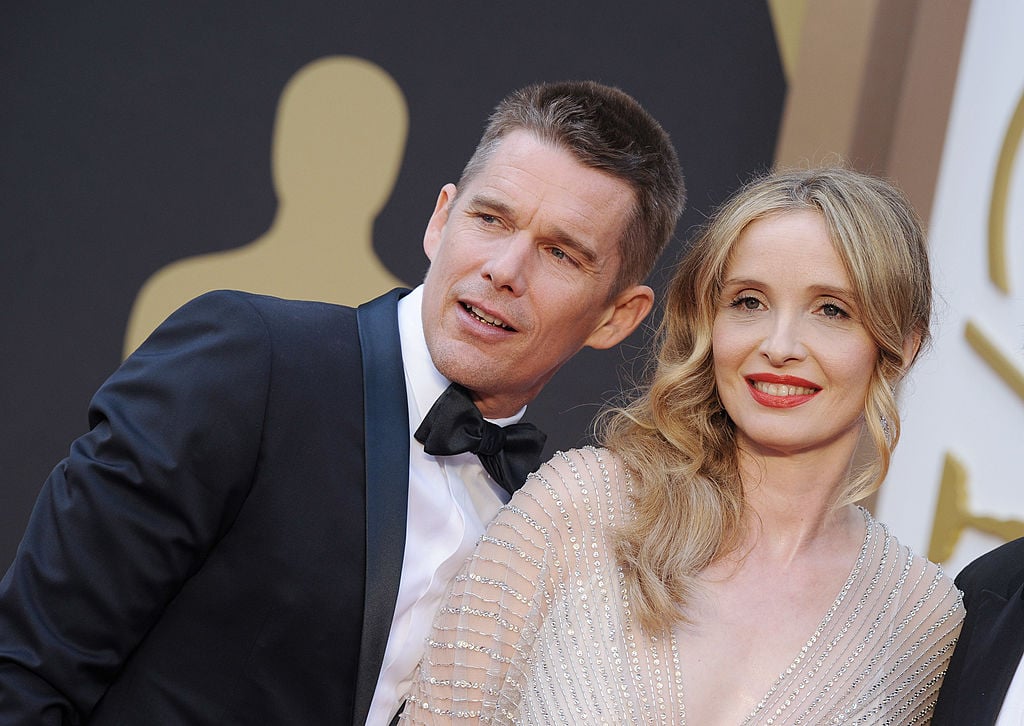 The 'Before' trilogy offers a structure unique for the industry
In 1995, Linklater released Before Sunrise, a romantic tale of two travelers who form an instant connection. Starring Hawke and Julie Delpy as Jesse and Celine, the film captured the essence of how people see love in their 20s. Moreover, it marked a close collaboration between Linklater and his two stars.
A critical hit, Before Sunrise spawned a sequel — 2004's Before Sunset — and that's when the true hook of the series sunk in. With both those first two films and ultimately 2013's Before Midnight, Linklater, Hawke, and Delpy checked in with Jesse and Celine every nine years. In doing so, the Before trilogy has tackled a variety of concepts. These include the passage of time, how relationships evolve, and our evolving understanding of love.
Now that several years have passed since the third film, fans have begun wondering if the trio will reunite for a fourth installment. While nothing official has been confirmed, Linklater, Hawke, and Delpy have addressed rumors of a fourth entry in the Before trilogy. Such a project wouldn't necessarily stick to the established nine-year tradition, though Hawke does have one timely idea.
Ethan Hawke has a promising idea for a fourth 'Before' movie
Given the all-encompassing effects of the coronavirus pandemic, Hawke speculates how Jesse and Celine would handle the crisis. In a recent interview with Indiewire, the actor shares his pitch for a quarantine-focused Before movie.
Wouldn't it be hysterical if the next movie was just [Jesse and Celine] in isolation? If there's one person to make the world laugh about what's happening now, it's Julie Delpy. I can't imagine what she would say about this. And Linklater is such a scientist. He has something powerful to say about this. Maybe this one should be set in Italy. Just go right into the fire and [Jesse and Celine] are singing with all those people on their porches.
The Italian setting sounds likely if a fourth film were to happen. After all, the first three films were set in Vienna, Paris, and the Greek Peloponnese peninsula, respectively. And Italy is located right in the midst of those other locations. What's more questionable is whether the film would acknowledge the real-life coronavirus pandemic directly.
None of the previous Before movies have been quite so tied to recent history. So it's hard to imagine a new one relying quite so much on it, especially as it might make the film feel dated. Besides, the final act of Before Midnight essentially covered what would happen if Jesse and Celine were cooped up in a confined space.
But it would have to happen soon to stick with the series' release pattern
That being said, we're confident Linklater, Hawke, and Delpy could come up with a worthy Before film if they decided to go the self-isolation route. The fourth film could even center on a fictionalized outbreak inspired by real life. But if the project were to happen, Hawke doesn't seem to feel beholdened to the nine-year pattern, which dictates a 2022 release for the next one.
Those movies worked because all three of us were making the same exact movie every time. When people make sequels just to be together…like Burt Reynolds just made sequels to party with those friends. They could make a million Cannonball movies. You could tell they were having a great time. I don't know if the audience was. We enjoy working together and being together, but we have to make sure we have something to say.
Given how much the Before trilogy means to fans, we couldn't agree more. Let Jesse and Celine rest until the time is right.