'Euphoria': Jacob Elordi Admits He Was 'in Awe' of Eric Dane's Bare-It-All Monologue
'Euphoria' star Eric Dane let it all hang out in the most recent episode and Jacob Elordi admits he was 'in awe' of his onscreen dad's seven-minute monologue.
ARTICLE HIGHLIGHTS
Euphoria took nudity to another level with Eric Dane's recent bare it all monologue.
As Cal Jacobs, Dane went on a tirade in front of his family for seven minutes with a certain appendage hanging out.
Jacob Elordi admits he was "in awe' of his co-star and watching the scene was like "experiencing a master class."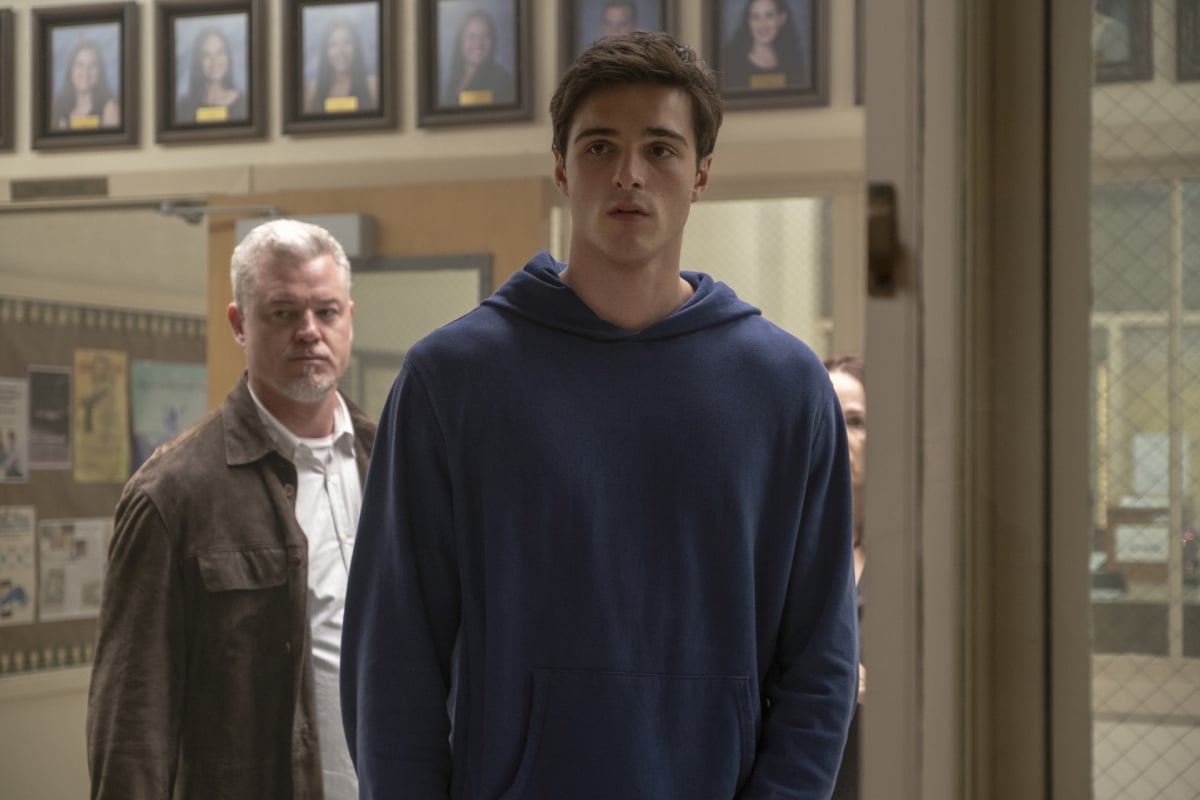 Euphoria's Cal Jacobs — played by Eric Dane — let it all hang out during a recent episode. After coming home from a bender, Cal proceeded to pee all over the foyer and then deliver a seven-minute speech in front of his wife and kids while his penis hung out of his pants. According to Dane's scene partner Jacob Elordi — who plays Cal's son Nate — he was "in awe" of Dane's bare-it-all monologue.
'Euphoria' star Eric Dane got to chose his own prosthetic penis
Dane recently joked that when he saw the script for Season 2, Episode 4 "You Who Cannot See, Think of Those Who Can," his first thought was "I hope they don't think I'm using my own to do this." Luckily, they didn't.
"It's a prosthetic again," Dane told Entertainment Weekly. "It has to be. I don't know if I would last 15, 16 takes if it were real."
The Grey's Anatomy alum also revealed in a separate interview with Men's Health that he got to choose his own prosthetic.
"I had absolute control over the penis. Because it was supposed to be mine. I approved it. I said, 'This looks like a nice penis. Let's use this one,'" Dane said.
Eric Dane thought the scene was 'fantastic'
Dane recalled that after he read the scene for the first time, he immediately thought "this is so great." He noted that it was "so well written." But then he realized that he had to get to work because there were so many lines to memorize.
"I thought, 'S**t, I better start working on this now, because this is a mouthful,'" Dane told TVLine. "And then when we shot it, God, it was so much fun. Everybody was so engaged, so plugged in, so connected, which really helped me hit all these notes in this really fantastic monologue which lets Cal liberate himself within the dynamics of his family."
Jacob Elordi was 'in awe' of his 'Euphoria' co-star
It took an entire day to shoot the scene. And Elordi told Entertainment Weekly that when Dane came to the set that day, it was like "experiencing a master class."
"We were all standing at the top of the stairs as a family, and this player just came, he just kicked down the door and from the moment the door opened, it was just like [Claps], and I remember sitting back in awe, just like, 'Oh s—. This is the real deal," Elordi recalled.
Eric Dane hopes the viewers "accept" the shocking scene
Dane noted that his character is a man who has gone to extremes to keep his secrets hidden. And, he doesn't think anyone can live a double life like that for very long. He says that Cal existed for the better part of his adult life with an "ironclad facade." And that scene finally allowed the character to come clean to his family.
"[It's] spectacular if you think about it, that he carried that burden for so long — with the exception of the trysts he has at the motels with the younger girls and boys," Dane said. "I thought it was just so much fun to do that scene and I hope that that translates into the viewers' accepting it."
Nate wasn't too surprised by Cal's tirade on 'Euphoria'
Cal's tirade may have been shocking to his family. But Elordi believes that his character wasn't too surprised by what he saw and heard. He says that other than the immediate "physical insult" of seeing his father with his penis out and peeing on the floor, everything else wasn't new to Nate.
"Even when Cal starts coming in and speaking his truth, that's something I think that Nate's known for such a long time, and the fact that he's doing it in front of his family, I think immediately he needed to go into like, 'OK, how am I gonna deal with this? Your shock tactics aren't gonna work on me now. I'm gonna start moving forward and figure out how I'm gonna deal with you,'" Elordi said.
New episodes of Euphoria air Sunday nights on HBO.