'Euphoria' Special Episode Highlights Rue's Unreliability as a Narrator With 1 Scene
In the first episode of Euphoria, Rue tells everyone watching that she's not a good narrator; that she might not get it all right, all the time. While some of the events of the show happen without Zendaya's character's knowledge, any voiceovers are from her point of view. And she's no omnipotent being. So the show was bound to reveal that some aspects that she's telling the audience or even certain scenes aren't true.
So, on the most recent episode that aired on HBO, it was brought more to light how unreliable a narrator she is. And showrunner Sam Levinson touched on that as well. [Spoiler alert: Spoilers ahead for Euphoria's special episode, "Part One: Rue"].
Rue reveals that she and Jules didn't actually get lip tattoos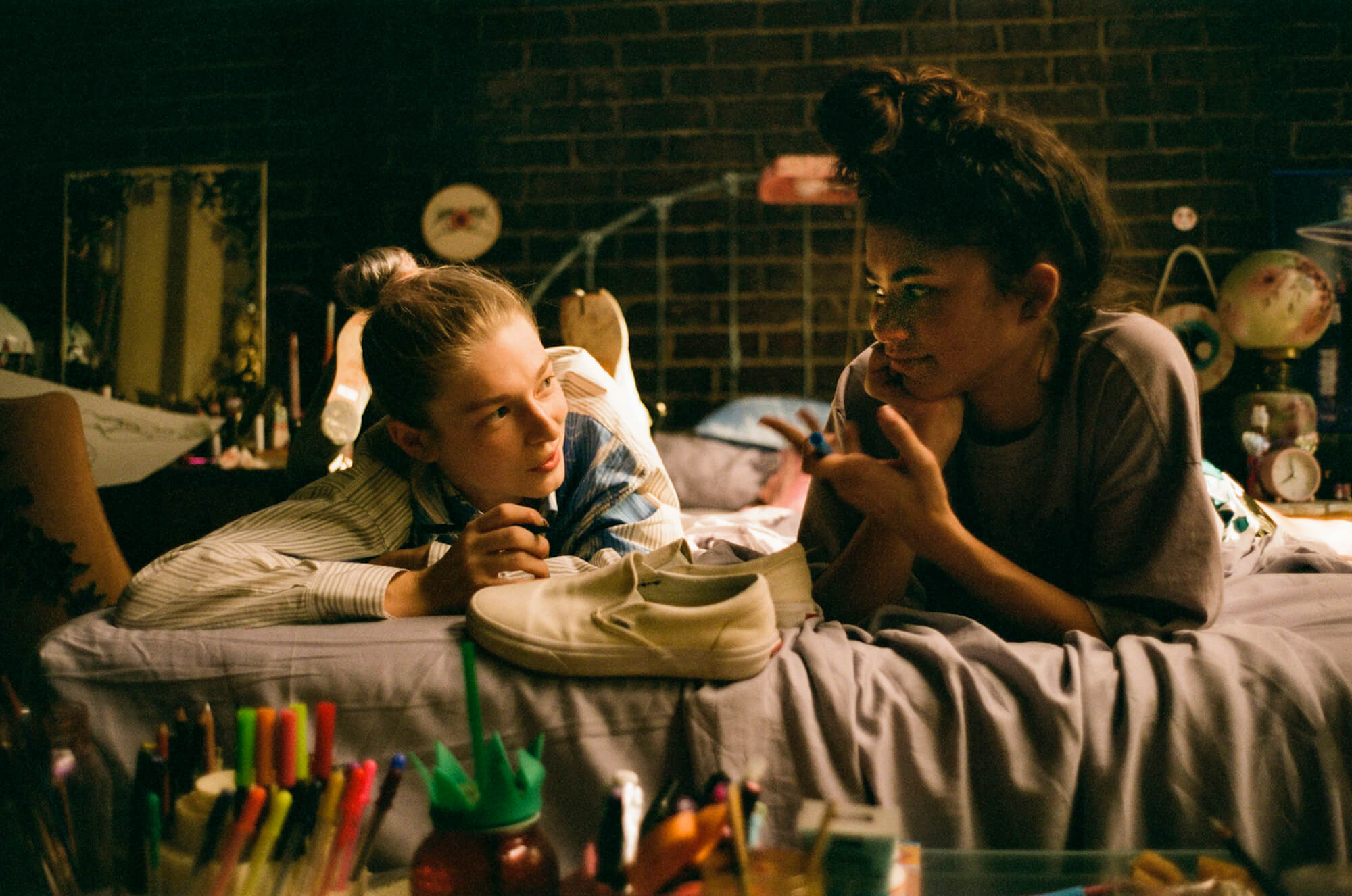 RELATED: 7 Shows With Same-Sex, LGBTQ Couples You Can Get Obsessed With During Pride Month
At the end of Season 1 of Euphoria, Rue is heartbroken because Jules decided to follow through on the plan to run away from their town. Rue had been sober for a bit, but was obviously still pretty precarious, and was desperately in love with Jules. Jules was showing signs of being uncomfortable with how much Rue relied on her, or how much Rue cared for her. 
While both of them did love each other, it was clear that they were in over their heads. Rue relapsed that night, which resulted in the big "All For Us" number at the end of the finale. 
So at the start of this episode, the special Christmas Eve bottle episode, so to speak, which is due to COVID-19's strict filming restrictions and pushbacks, Rue is at a diner with Ali (Colman Domingo) her mentor and sponsor from NA. They have some deep conversations and Rue reveals that something that happened in Season 1 actually never took place. And that's the "Rules" lip tattoo that she and Jules got together. 
It was never brought up again, but lip tattoos notoriously fade quickly. However, now fans know they were never there to begin with. Jules and Rue only talked about getting them. But the sequence that they showed on the series didn't indicate it was a dream or wish at all; it just seemed like a regular scene. So what does that mean about Rue, our narrator? Again, it shows that she's not always showing us, the viewer, the full story. Or she's not telling us what's true and what's in fiction, in her mind. 
Levinson said that Rue is an unreliable narrator
And this, of course, that was done on purpose, along with the reveal of her unreliability in this episode. In the featurette after the episode, Levinson, the showrunner, said that Rue's exaggerations are starting to seep through. 
"This episode is starting to kind of sow the seeds that Rue's perspective is very much Rue's perspective, and she's not always accurate in her retelling of things," Levinson said. "She is limited in her ability to understand the other emotional worlds of other characters, and it leaves open the other side of the story, which is Jules' side."
Every episode has something from Rue's perspective. Whether it be her thoughts on nudes or on Nate Jacobs and how she'd deal with him in a lawless situation. But not everything is, of course. But this does leave open some questions about which scenes could have just been made up in Rue's head.
This also impacts Rue and Jules' love story and how it looks from Jules' perspective
Zendaya also talked about her character's storytelling in the featurette. The episode focuses on Rue's addiction as well as her mentality on a lot of things like religion, sobriety, and more. Ali also talks about Jules and how dating might not be the best thing for someone trying to get sober and stay that way. They also run into some issues with how Rue sees her relationship with Jules. 
"Rue fell in love with this idea of something that she never actually was clear about," Zendaya explained. "I think both of them don't know or have the emotional understanding to be able to have a conversation about how they feel. With that comes a lot of miscommunication."
That's pretty clear when Rue describes feeling hurt that Jules cheated on her when she went to Los Angeles, but then proceeds to gloss over the fact, or not acknowledge, that the two of them never said they were dating.
This coincides with Rue not being the best narrator, or just telling her side of the story, because viewers never get Jules' feelings. Or how she sees the situations, what's going on in her head.
"Jules feels the pressure of Rue's sobriety resting on her," Hunter Schafer noted in the featurette. She plays Jules, and had a part in the special episode as well. "I think Jules is really worried that if she makes the wrong move with Rue, it could go straight back to relapsing. And that's countered with the two of them being very in love."
It is a lot resting on Rue and Jules, and Euphoria is definitely going to dig into it more as these specials go on and bleed into Season 2.
RELATED: 'Euphoria' Fans Debate Whether Jules Is 'Toxic' for Rue — What's Next for These Characters?