'Euphoria' Star Hunter Schafer Opens Up About Her 'Nonchalant' Relationship With Makeup
Hunter Schafer is a model and actress who rose to fame on the controversial HBO series Euphoria. Schafer has made waves in the world of politics and activism as well as entertainment and has met with several high-profile political figures to discuss LGBTQ rights. Schafer is transparent with her fans about body image and beauty, and recently, the Euphoria actress opened up about her unique relationship with cosmetics. 
How did Hunter Schafer become famous?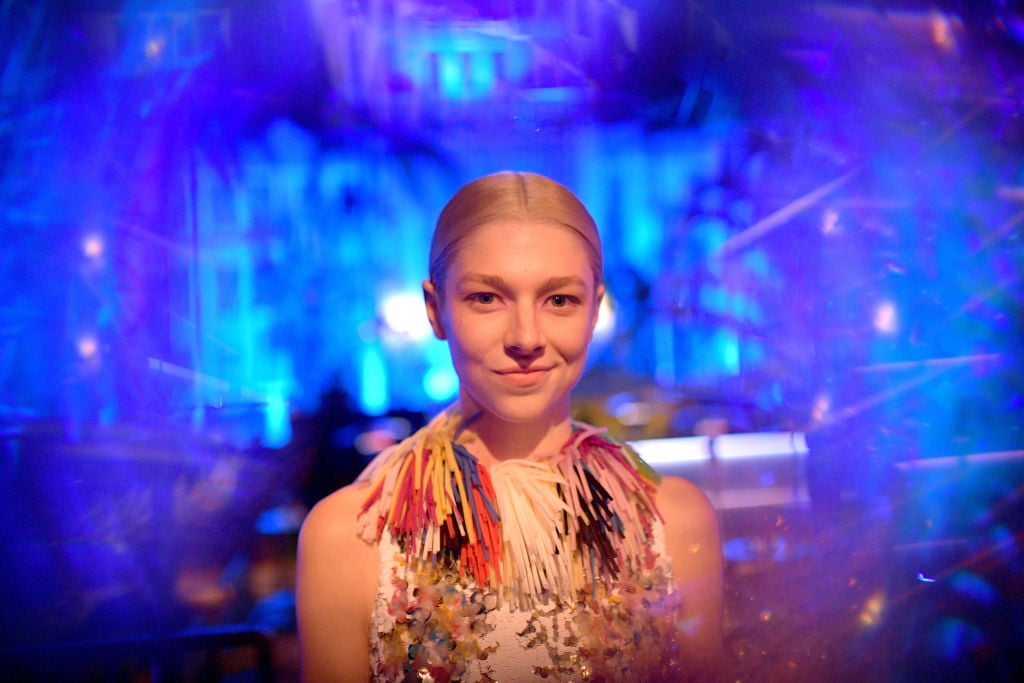 Schafer's early years were unconventional. Schafer and her family lived in a number of different states, including Arizona, New Jersey, and North Carolina.
Schafer was raised in a large family, with three siblings and loving, devoted parents. She struggled with her gender identity at an early age, but these days, Schafer identifies as a trans woman. Even though Schafer had a difficult time as a young woman, she has devoted much of her career to working on behalf of LGBTQ rights.
Schafer began her career as a model, walking the runway on behalf of major fashion brands like Dior, Coach, Miu Miu, Tommy Hilfiger, Vera Wang, and Marc Jacobs. Schafer's striking looks helped her to rise to the top of the modeling industry and by 2019, movie and television studios had started to notice the young star.
In 2019, Schafer made her acting debut in HBO's Euphoria, playing Zendaya's love interest, Jules. 
Who does Hunter Schafer portray on 'Euphoria'?
Euphoria focuses on a group of high school students and their unique adventures as they experiment with drugs, sex, and gender identity. In the process, young people learn a lot about themselves as well as society as a whole.
Right away, critics and viewers took notice of Schafer in the role of Jules. The character of Jules is remarkably similar to Schafer, as she is a young transgender woman who struggles with acceptance and self-love, all while navigating the travails of high school.
Eventually, Jules becomes Rue's love interest, and the two young women push each other to experiment with increasingly more dangerous and unpredictable situations. Schafer's acting has earned acclaim, as she is frequently involved in many of the show's most intense scenes.
Schafer's role in the show has pushed her to the forefront of her industry, and she has continued to make waves in everything that she does. 
Hunter Schafer opened up about her relationship with makeup
Schafer frequently rocks out-there looks when acting in Euphoria. However, in real life, Schafer has admitted that she doesn't often make herself up in full glam.
In a recent interview, Schafer opened up about her relationship with makeup and how she has been able to evolve her look over the past few years.
"When I was younger, I was more concerned with looking pretty. Whereas now, when I do wear makeup, I'm using it to bring something internal into the external world," Schafer admitted. "For the past two years, I've started wearing less makeup on my own time. My relationship to beauty has definitely become more nonchalant."
Still, Schafer appreciates how makeup can aid in self-expression. She said: "There's so much that lies within makeup — it's a storytelling device. I feel like you can play and use makeup to discover things about yourself that you may not have seen otherwise."
It is clear that Schafer is determined to help raise awareness for acceptance and self-love and with her level of talent and artistry, it is likely that she will be in the entertainment industry for years to come.