'Euphoria': Was That a Prosthetic Penis — Or Was That All Eric Dane?
ARTICLE HIGHLIGHTS
Euphoria finally told Cal Jacob's (Eric Dane) backstory in episode 3.
At the end of episode 4, Dane did an entire seven-minute monologue with a certain appendage hanging out.
Now, fans want to know if he used a prosthetic or if that was all Eric Dane.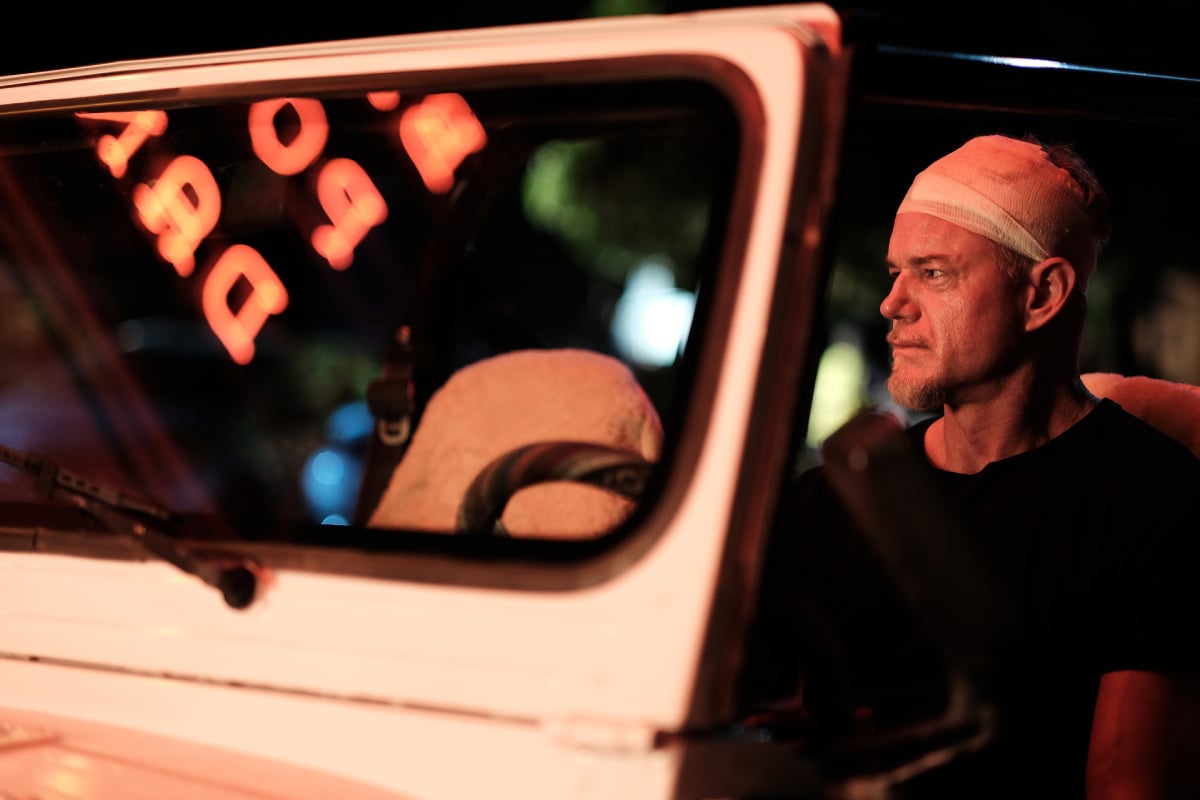 Euphoria has taken nudity to another level in season 2. And the show really went there during episode 4 with one of the parents of the young ensemble cast. In the episode titled "You Who Cannot See, Think of Those Who Can," Cal — played by Eric Dane — had his penis out for an entire seven-minute scene with his wife and sons. Now, fans want to know — was it a prosthetic? Or, was that all Eric Dane?
'Euphoria' flashed back to Cal's teen years
Fans got the chance to learn more about Cal's backstory during the episode when the show flashed back to his teen years. It was revealed that during the summer before college, Cal and his best friend Derek started exploring their feelings for each other. The duo spent a night at a gay bar together, and fans finally saw Cal feeling free and unburdened.
But before the friends got the chance to figure things out, Marsha (Paula Marshall) announced that she was pregnant. And everything changed.
Back in the present day, Cal finally returned to that bar for the first time in 25 years during a bender. When he returns home drunk, he tells his wife, "I think I'm lonely."
Eric Dane did an entire scene with his penis hanging out
At the end of the episode, Cal comes home and starts peeing all over the foyer. When Marsha confronts him, Cal continues to leave his penis out in front of his wife and kids as he delivers his monologue.
"I can't play this character with one foot in and one foot out, so I have to totally commit to it," Dane told The Hollywood Reporter.
While fully exposed, Cal proceeds to unload his trauma and tell his family about the men he had sex with when Marsha was pregnant. He admits he's concealed many emotions, and he also confesses that he doesn't understand anything about his own son Nate (Jacob Elordi).
"Cal tells Nate that he's his biggest regret and, at face value, you might think that bringing Nate into the world is a regret. I don't see it as that. I see it as, 'I failed with you. You're my biggest regret because I failed," Dane explained.
Did Eric Dane use a prosthetic penis in 'Euphoria'?
The long and devastating scene is part tragedy, part dark comedy. Dane said that his first thought when reading the script was, "I better start working on this right now because it's a lot of words."
"But I thought it made sense. I mean, you know, Cal is a deeply conflicted character," Dane told Men's Health. "And he's been living this double-life for the better part of his adulthood. At some point, he's going to reach his breaking point."
While Dane had a lot of work to do when it came to memorizing his lines, he also had another job to do for the scene — choose a prosthetic penis.
Eric Dane says he was in charge of choosing a penis
The Grey's Anatomy alum says that he was in charge of choosing the prosthetic penis because it belonged to his character.
"I had absolute control over the penis. Because it was supposed to be mine. I approved it. I said, 'This looks like a nice penis. Let's use this one,'" Dane said.
He also revealed that they took the entire day to shoot the scene, which he described as "somewhat exhausting, but also exhilarating." The actor says that everyone managed to stay in character and stay connected for the duration — no one cracked.
The 'Euphoria' star says the scene was perfectly written
The tone of the scene went back and forth between funny and devastating, and Dane says that's because the scene was "perfectly written" by creator Sam Levinson. The actor explained that it was all about saying what was on the page and "finding the truth in the circumstances."
Dane also confessed that he enjoyed filming the scene because it was "freeing."
"It's very freeing to do a monologue with your penis out. I hope everybody becomes a bit more comfortable with their appendages after this show," Dane said.
New episodes of Euphoria air Sunday nights on HBO.