Eva Longoria Finally Shares Her 'Best Beauty Secret'
Eva Longoria is a true triple-threat in the entertainment industry. She is an actress, producer, and director, as well as a dedicated activist. After a lengthy career in television, Longoria is spending more of her time these days working behind the scenes, although she still finds time for projects that mean a lot to her. Longoria is often noted for her incredible beauty. The actress isn't shy about sharing her beauty tips, and recently, she opened up about what she considers to be her "best beauty secret."
What is Eva Longoria best known for?
Longoria rose from humble, working-class beginnings to fame and fortune in a true rags-to-riches story. She studied at Texas A&M University-Kingsville, and during her time at college, she began participating in beauty contests.
Due to her success as a pageant queen, Longoria was "discovered" by a talent agent in the late nineties and began booking roles on television. A few of Longoria's early television roles included parts in shows such as Beverly Hills, 90210, The Young and the Restless, and Dragnet.
In 2003, Longoria received her big break when she was cast in the series Desperate Housewives. She continued to act on the show until 2012 when the series went off the air.
To date, Longoria's role as Gabrielle Solis remains her best-known, and one that many fans love her best for. In the years after Desperate Housewives, Longoria has continued to appear in high-profile projects like Telenovela, Brooklyn Nine-Nine, Jane the Virgin, and Empire. She has also worked in movies and has acted in a wide variety of films, including Overboard, The Heartbreak Kid, Crazy Kind of Love, and Visions. 
Eva Longoria's skincare routine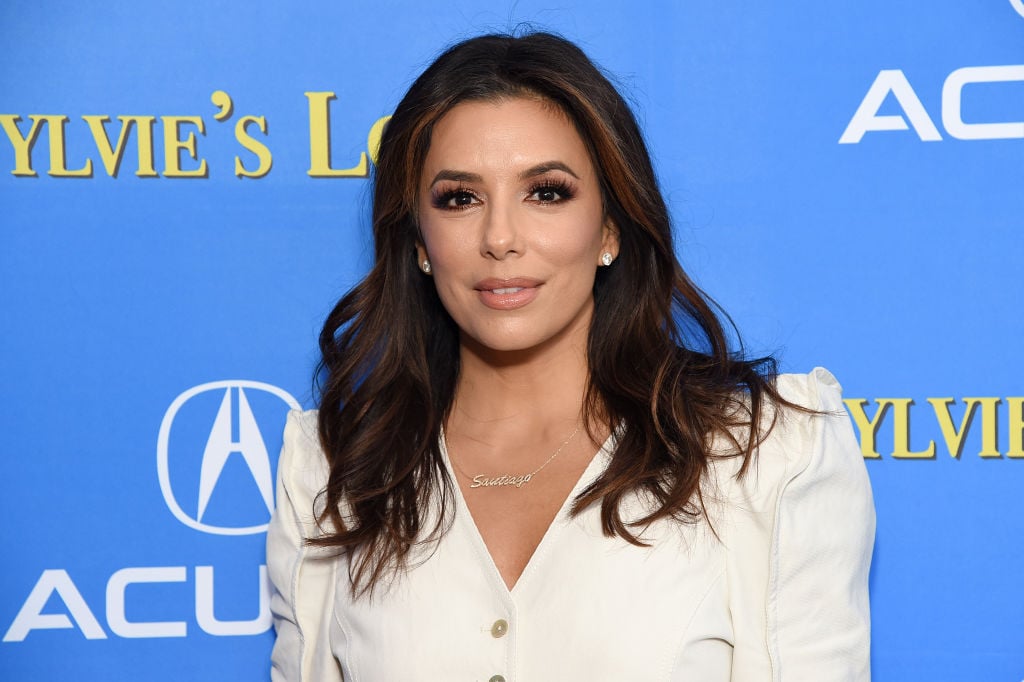 In addition to her talents as an actress, Longoria has become renowned for her beauty. The actress is a noted skincare devotee, and although she has admitted to loving makeup, she believes that beauty all comes down to a proper skincare routine.
In particular, she recommends always wearing sunblock in order to help prevent fine lines and wrinkles. Longoria revealed that she follows her mother's advice on wearing sunscreen: "my mother was so strict on wearing sunblock. She always said, 'the skin you take care of in your 20s is the skin you have in your 40s'."
When it comes to makeup, Longoria likes to keep it simple. She recommends not overdoing it with powder, because it can settle into fine lines and look cakey. Longoria's anti-aging beauty trick is one that many women can relate to — she stated that "happiness" is the very best thing for the skin. 
What is Eva Longoria's best 'beauty secret'?
Longoria, along with many other people all over the world, is currently in quarantine. Therefore, she is following a more low-key beauty routine.
Rather than going to a hair salon, she has been choosing to keep up with her hair at home. Recently, Longoria revealed that she actually loves to color her own hair.
The L'Oreal spokeswoman admitted that "there's nothing scary about having grey hair, especially because you can fix it. Home hair color is the best beauty secret that people often look over. But there is so much amazing technology now in at-home hair color, and it's so easy, that you don't need to spend money on going to the salon."
She stated that she started getting grey hair when she was very young, and ever since, she has turned to coloring her hair as "like a sacred moment between me and my greys. I say, goodbye, and 'thank you very much for the wisdom that it represents.'"
Clearly, fans who want to emulate Longoria's shining, healthy hair, just need to purchase a box of home hair color and begin getting in touch with their inner stylist.