Why Evan Rachel Wood Didn't Interact with Mickey Rourke While Filming 'The Wrestler'
Mickey Rourke has gone through his fair share of controversy. The actor has been known to be more candid than most celebrities, which has had an impact on his career. However, he went through what some might call a resurgence in the 2000s with his roles in Sin City and especially 2008's The Wrestler.
But even then Rourke's reputation preceded him. According to his co-star Evan Rachel Wood, the Westworld actor felt uncomfortable interacting with Rourke when they were on set. It was a discomfort that was encouraged, however, as it helped sell their relationship in the movie.
Mickey Rourke's return to Hollywood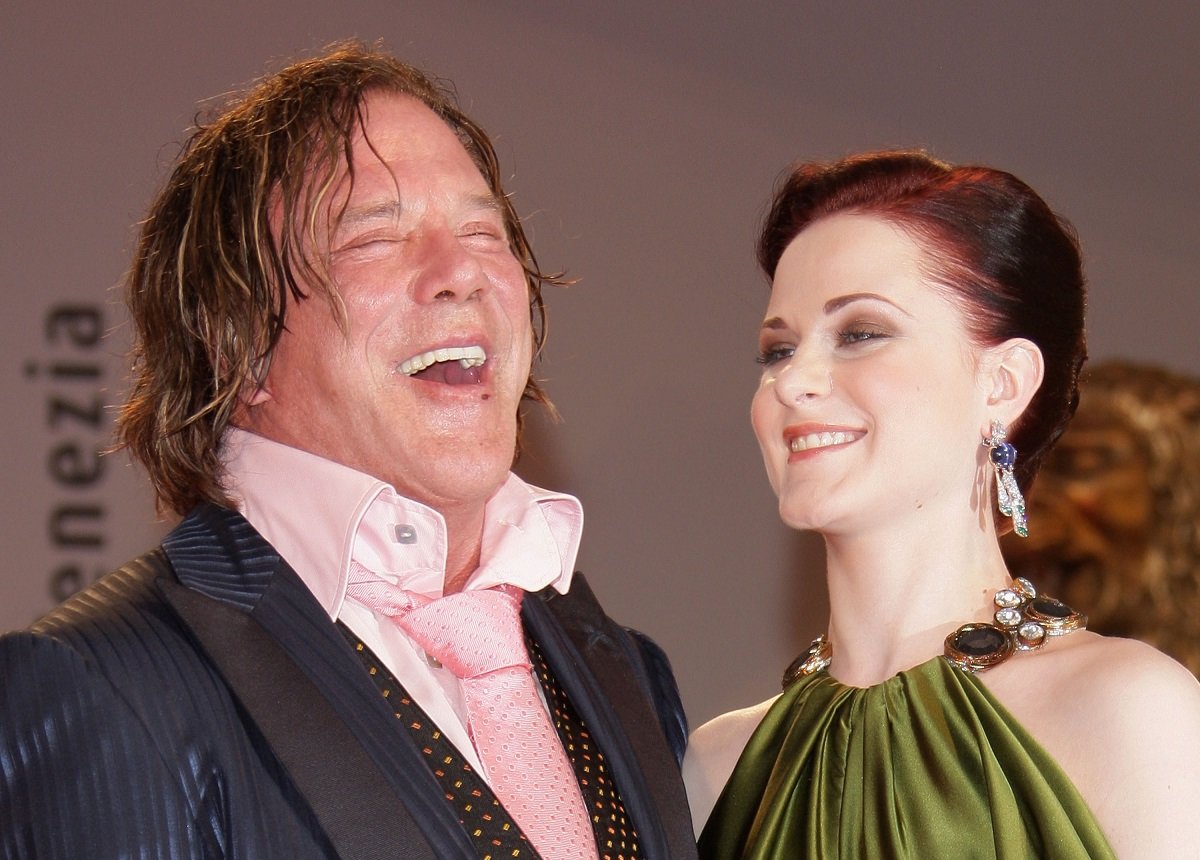 In the 2000s, Rourke made a bit of a comeback. His role as Marv in 2005's Sin City garnered significant praise, which was only surpassed by his role in The Wrestler. Directed by Darren Aronofsky, Rourke portrayed an aging professional wrestler in Randy The Ram Robinson.
Similar to Rourke, Randy made questionable decisions in his career that left the former pro wrestler in a tough spot. Rourke related to the role enough to earn him an Oscar nomination for his performance.
However, his co-star still had reservations about Rourke because of his past. And while they were filming The Wrestler, it made for an uncomfortable environment.
Why Evan Rachel Wood didn't interact with Mickey Rourke on 'The Wrestler'
The Wrestler co-starred Evan Rachel Wood as Randy's estranged daughter that The Ram abandoned years ago. Although the two worked together, Wood revealed that she was worried about Rourke because of his history.
"I heard rumors," Wood told The New York Times. "That he was intense. That he wouldn't give it up for anyone. I was prepared to kill or be killed."
Wood went on to say that she and Rourke didn't interact off camera. This distant relationship was fostered by Aronofsky who wanted to make their on-screen relationship as uncomfortable as possible.
"Besides, Mickey never broke character after a scene," Wood continued. "I've never seen anyone so zoned out. It was crazy to watch. Mickey was the Ram."
Somewhere along the way, however, the two did grow close on set. So much so that publications reported seeing the two hang out frequently, with the implication that they might've been more than friends.
Did Evan Rachel Wood date Mickey Rourke?
The internet was once filled with rumors that Wood and Rourke were dating. According to People, Wood, 21 years old at the time, had just gotten out of a relationship with Marilyn Manson. She was seen hanging out with Rourke at the time, and publications like the Boston Herald even reported they saw the two kiss.
But both Wood and Rourke denied they were anything other than friends.
"Mickey and I bonded while shooting The Wrestler and we became friends, but nothing more," Wood told People at the time. "I guess, because of my recent break-up, I will be linked to many people, but I am not interested in pursuing a relationship at this point."
Wood once again echoed these sentiments about their friendship in a subsequent interview with GQ, but offered a little more detail on their partnership.
"There was no truth to it, and it was so annoying," Wood said. "The friendship was intimate and nice, and this makes it weird."
The story of Mickey Rourke's fall from grace
Rourke, once a superstar in the 80s, was driven away from Hollywood due to questionable career decisions. According to GQ, Angel Heart Director Alan Parker once said about the actor, "Working with Mickey is a nightmare. He is very dangerous on set because you never know what he is going to do."
Screenwriter Mark Geldman, who was in a legal dispute with Mickey Rourke, recounted an alleged phone call he received from the actor in the LA Times.
"'If I were you, I'd be looking over my shoulder,'" Geldman claims Rourke told him.
In addition to his growing reputation of being difficult, Rourke started boxing professionally, which was therapeutic for him.
"It was something that I loved to do and that I enjoyed," Rourke said in The Guardian."It's very pure, there's no grey. I was able to just let out and get away from that acting crap."
The facial injuries he sustained from his professional fights required surgery, which dramatically altered his appearance. With his addiction to heroin added to the mix, eventually, the roles dried up for Rourke. The once-promising actor found himself in dire straits.
Despite his comeback in the 2000s, Rourke seems to have faded from the spotlight once again. The 2010s and 2020s saw Rourke falling back to old habits. For instance, he had publicly expressed his own frustration with filming Iron Man 2 according to MTV News. Rourke had also begun to call out his fellow actors again, like Taxi Driver star Robert Deniro, calling him a crybaby per NME.