Every Detail About Princess Eugenie's Wedding (So Far)
Princess Eugenie and Jack Brooksbank are set to marry in October 2018. Here are all the details we have so far.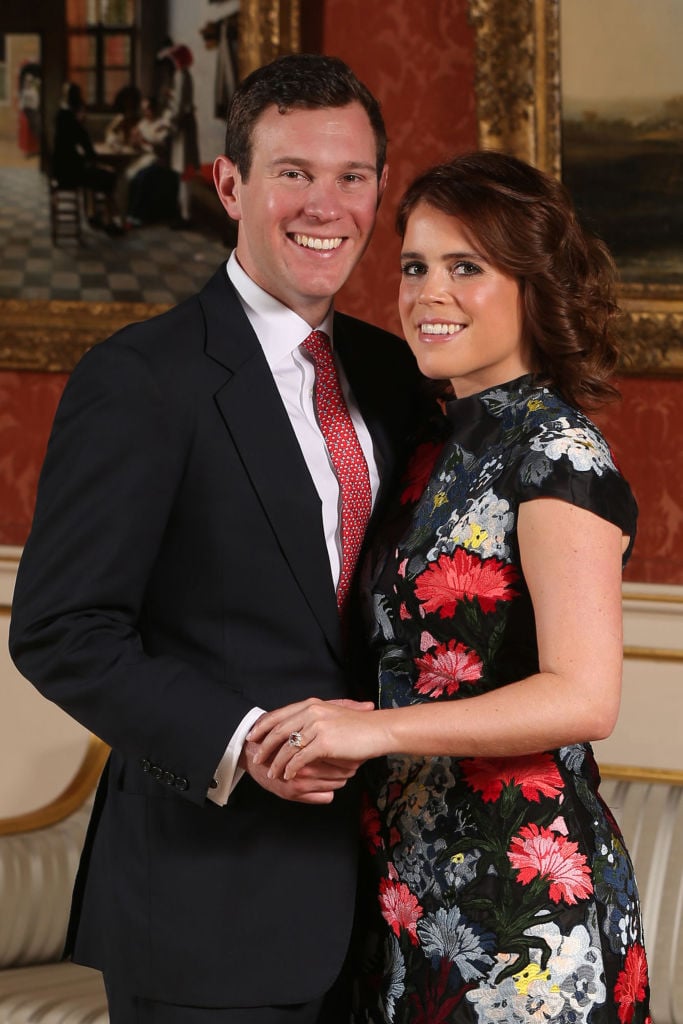 Devout royal family followers are still reeling over Meghan Markle and Prince Harry's wedding — but another ceremony will soon be upon us. The 28-year-old Princess Eugenie and her fiance, Jack Brooksbank, are marrying in October 2018. It's time to prepare for more beautiful gowns, fancy hats, and huge crowds at Windsor Castle.
In case you missed it, Town & Country reminds us Princess Eugenie and Jack have been together for roughly seven years. They first met in 2010 at a Swiss holiday resort in Verbier, Switzerland. At the time, Eugenie was 20 and Jack was 24. The two of them started dating in 2011. Nowadays, Eugenie isn't a working royal, but Jack is an ambassador for Casamigos, George Clooney and Rande Gerber's notable tequila brand.
As for the wedding, what will it entail — and will it be anything like Meghan and Harry's? We have all the details you want to know here.
When and where: 
Good Housekeeping reports the official date of the wedding is Oct. 12, 2018. Interestingly, the couple chose a Friday to tie the knot, which the publication speculates could speak to a more casual choice on their part.
The wedding will take place at St. George's Chapel in Windsor Castle, which was to be expected from the beginning. Meghan and Harry wed here, as did Prince Edward and Sophia Rhys-Jones in 1999.
Who's invited:
Unlike the much larger Westminster Abbey or St. Paul's Cathedral, St. George's Chapel caps out at 800 people. While this sounds like more than enough people for the average bride and groom, that number's considered to be relatively small for royal nuptials.
Aside from the usual suspects, USA Today reports Eugenie and Jack are extending invitations to members of the public, too. They're reportedly inviting up to 1,200 folks to take part, and those who go will be able to see the arrival of the royals, the congregation, and Eugenie and Jack exit the chapel. They'll also be able to hear a broadcast of the ceremony.
Want to go? Hopefuls will have to apply for a spot on the Windsor Castle grounds to take part in the festivities. You must reside in the U.K. and be older than 5, too.
Speculation on the maid of honor:
Princess Eugenie has a sister, Princess Beatrice. And the two are reportedly quite close, leading us to assume she'll be asked to be the maid of honor.
There is a chance, however, that Eugenie will forgo having a maid of honor like Meghan Markle did. As royal tradition goes, it's more usual to see flower girls instead of adult bridesmaids. But Eugenie may choose to have her sister by her side anyway — we'll just have to see.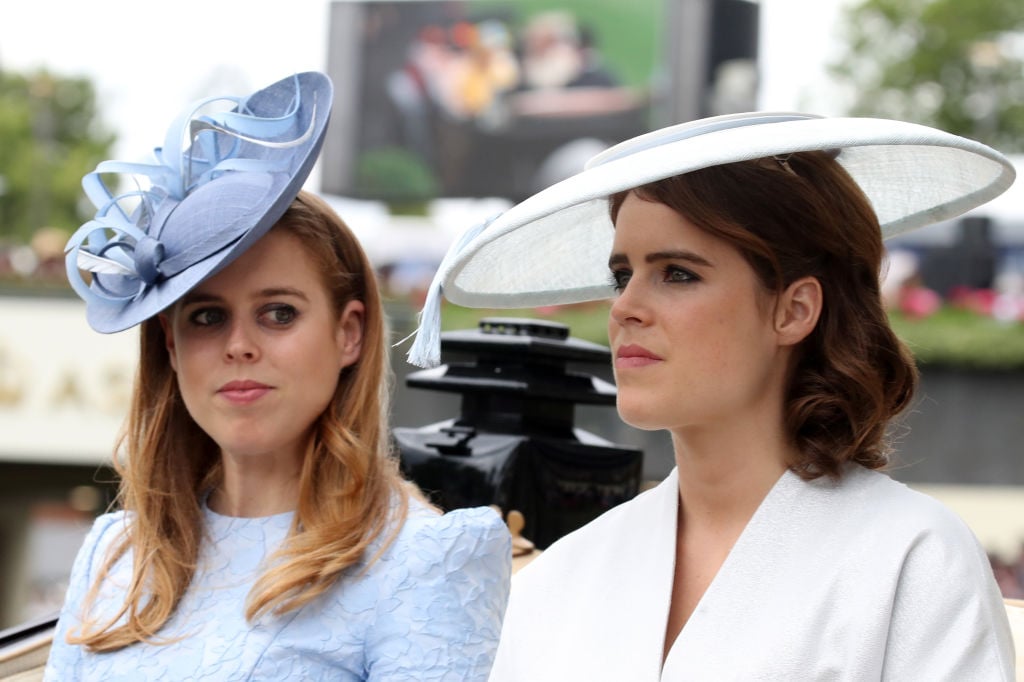 The flower girls and page boys:
As for the flower girls, Express.co.uk reports Princess Charlotte will once again lead the way. As for the others, Robbie Williams, a famous pop singer, and his wife, Ayda Field, are good friends with Eugenie and her sister, so their 5-year-old daughter, Theodora, will also be a flower girl. Two-year-old Ines de Givenchy is reportedly set to be a bridesmaid as well. Maud Windsor is the last flower girl of the bunch (so far, at least). She's the daughter of Lord Freddie Windsor and actress Sophie Winkleman, and she also attends the same class as Prince George.
For the page boys, Prince George will be there as expected. Ines de Givenchy's brother, Louis, will also be a page boy.
Speculation on the tiara:
Here's the big question: What tiara will Eugenie choose? There's the York Diamond Tiara, which Town & Country explains was worn by her mother, Sarah Ferguson, on her wedding day in 1986. But others think Eugenie may choose to wear a flower crown for at least part of her ceremony, as that's also what her mother did during her ceremony.
As for other tiaras that are up for grabs, there's the Strathmore Rose tiara, which many thought Meghan Markle would wear (she instead went for Queen Mary's diamond bandeau).
Speculation on the gown:
We're not sure what Eugenie's gown is going to look like yet, but experts have a few ideas. Fashion expert Kate Beavis told Express.co.uk she thinks Eugenie "knows her own sense of fashion and is not afraid of color and bold shapes even though she does tend to stick to knee length or over the knee hemlines." Eugenie's style has also been described as "very contemporary" — so we're thinking a seriously edgy wedding dress with her own flair is in the works.
Details on the engagement ring:
If you haven't seen the massive engagement ring Eugenie's been sporting on he finger, now's the time. Good Housekeeping explains it's a gold ring with a pink padparadscha sapphire in the center. The coral-colored sapphire also features a halo of diamonds around it, making it look even more beautiful.
As for the pink gem, it's a rare find native to Sri Lanka. She and Jack apparently designed the ring together.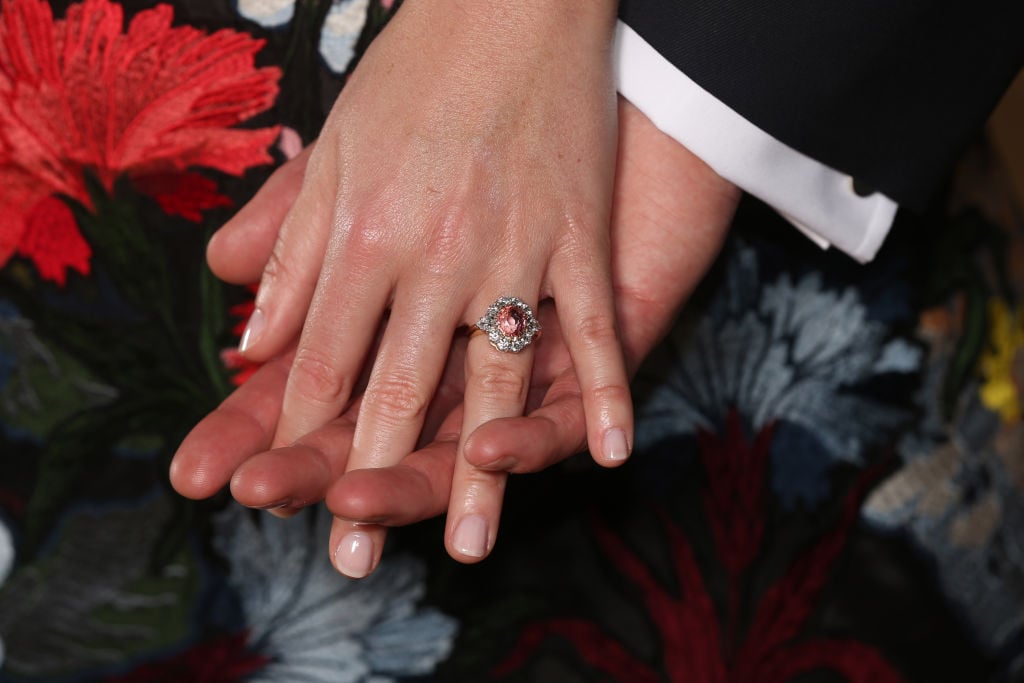 Who's footing the massive bill:
Town & Country speculates that Meghan and Harry's wedding cost up to $43 million. The good news is Eugenie and Jack's wedding won't cost nearly as much — but it'll still probably be between $500,000 and $1 million
As for who will pay, Kensington Palace's statement said the royal family will take care of the "core aspects," like the church service, music, flowers, decoration, and reception.
Watching the wedding:
It's not unusual for royal weddings to be televised — but it looks like Eugenie and Jack have not yet decided on whether or not they want the whole world watching. Town & Country explains there's definitely interest from major news networks to report on the event, and the public seems wildly interested as well, despite Eugenie being one of the lesser-known royals. We're hoping they'll choose to broadcast it live.
Check out The Cheat Sheet on Facebook!