Every Single Zac Efron Movie You Can Stream On Hulu Right Now
Everyone actor has a type of movie they tend to make. Whether they're an action star or comedian, a lot of actors just have their forte. Now, that's not to say they can't delve into other genres, but they might have a specialty. Now, with Zac Efron, though, you have a mixed bag of genres he's done over the years. From musicals to bro-comedies to dramatic love stories, Efron has a range of genres. And if you're a fan of his, then Hulu is your saving grace; the amount of Zac Efron movies they have is kind of ridiculous. Here they are: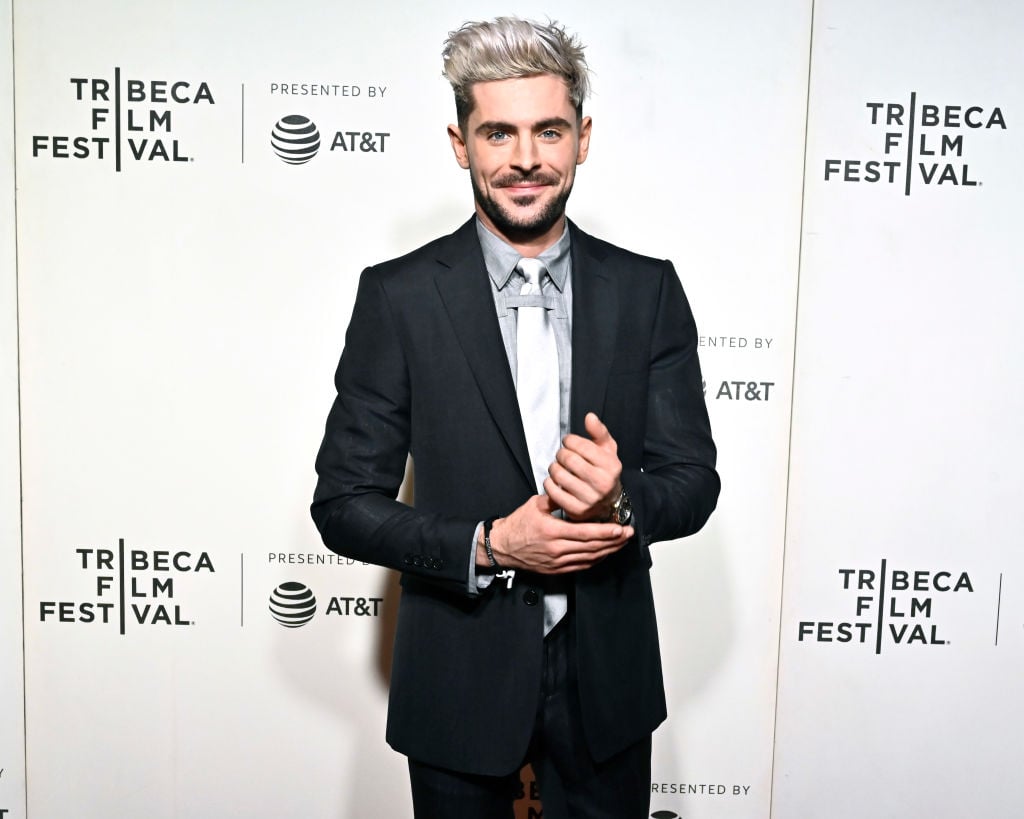 'The Beach Bum'
If you're a fan of Spring Breakers and The Hangover, The Beach Bum is definitely up your alley. Matthew McConaughey stars as "stoner poet," Moondog, who gets in trouble with the law almost as often as he gets high. The movie also stars Snoop Dogg, Isla Fisher, Jimmy Buffett, Martin Lawrence, and Jonah Hill. Efron plays Flicker, a sort of guru, spiritual guide. Even if you're not a fan of stoner comedies, seeing Efron sport a panini beard and Guy Fieri-styled bleached tips, this one is calling your name. 
'The Greatest Showman'
The Greatest Showman doesn't need much introduction. It was the most-talked-about original musical in a long time when it premiered in late 2017 and stars Hugh Jackman, Efron, Zendaya, Michelle Williams, and more. It follows P.T. Barnum as he makes a name out of himself by creating a successful circus. The music and concept are both original, and it's such a joy seeing Efron step into a musical again. His first since Hairspray. And his romance and song with Zendaya — "Rewrite The Stars" — is a winner. 
'Mike and Dave Need Wedding Dates'
Another comedy, this one follows Efron in the role of Dave, and Adam Devine in the role of Mike, two brothers who feed off of each other's craziness. Their father makes an ultimatum for them to come to their sister's wedding: they need to each bring "nice girls" to stop them from stirring up trouble. Anna Kendrick and Aubrey Plaza also co-star and it's a movie full of fun times and hilarious antics. 
'Neighbors'
Actually, Efron does kind of have a favorite type of movie: bro-comedies. While he has several genres under his belt, he loves coming back to these comedies that have to do with men making bad decisions or surrounded by weed and alcohol. Not that they're bad! There's just a theme. Neighbors really is an example of great casting with Seth Rogen, Dave Franco, Rose Byrne, and Efron. Rogen and Byrne's characters move in next door to a fraternity house and they cannot deal with the noise and chaos that happens.
'Baywatch'
Baywatch is a modern retelling/take on the Baywatch series from the late '80s/'90s. Dwayne "The Rock" Johnson leads this cast as Efron plays Matt Brody, a cocky Olympic swimmer who thinks he deserves a spot on Mitch Buchannon's (Johnson) team of lifeguards. It's fun but kind of dumb, with several hilarious moments throughout.
'High School Musical'
Quite literally the movie that started it all for Efron, High School Musical is still as relevant today as it was in 2006. Efron had the lead role of Troy Bolton, opposite Vanessa Hudgen's Gabrielle Montez. What happens with a cliche-based high school gets turned upside down when the main jock decides he wants to sing and dance in a musical? Iconic stuff.  
'High School Musical 2' 
If you don't have Disney+, then you'll be happy to know that not only is the first HSM on Hulu, but High School Musical 2 is as well. This one really elevates what the first one did, and takes the students of East High away from their school and puts them in a resort for the summer. And while Efron didn't sing most of the songs in the first one (minus "Start of Something New") he took over all of his songs in the second. Which is highly important for the superb delivery of "Bet On It."
'That Awkward Moment' 
There are several awkward moments life throws at you, but That Awkward Moment focuses on having to ask the question, "What are we?" when a relationship gets a little too serious. Efron stars with Micheal B. Jordan and Miles Teller as these bros navigate their love lives in the modern age. While critics nor audiences particularly thought this was a great movie, it might worth a watch if you're at the bottom of your Efron barrel.  
'17 Again'
17 Again is a surprisingly heartfelt movie about a middle-aged guy — Matthew Perry — is not happy with his life and is nearing divorce with his wife suddenly finds himself young again. Efron plays his younger counterpart and has to re-enroll in high school decades after he was 17, with his kids. It's funny and has some really great moments for Efron's acting. It also stars Leslie Mann, Michelle Trachtenberg, and Thomas Lennon.
'Hairspray'
Lastly, we have Hairspray, the 2007 remake of the Broadway play about Tracy Turnblad and her dreams of dancing on live television. It's a lively adaptation with a stellar cast that can sing and dance. Efron is pretty captivating as the heartthrob Link Larkin, and he definitely used the charm and newfound fame he gained from High School Musical to make his character irresistible to fans at the time.