'Everybody Loves Raymond' Star Monica Horan and This Comedy Legend Share the Same Pick for Favorite Episode
It's been almost thirty years since now-classic comedy Everybody Loves Raymond premiered on CBS. Since then, it's remained a solid fan favorite and a firm contribution to classic television.
One of the show's cast members, Monica Horan, who portrayed Amy MacDougall Barone, opened up about her favorite episode in the series, which turned out to be a favorite of her comedy idol's as well.
Monica Horan revealed 'Everybody Loves Raymond' wasn't the original title of the show
In a conversation with the Archives of American Television, Horan discussed her early years on the sitcom and broached the show's title, how it came about, and the alternate title that was being considered by the producers and writers.
Speaking of the pilot episode, the mother of two said, imitating Brad Garrett's deep voice, "I loved when the brother said, 'Everybody loves Raymond.' And that was a real story. Ray had told us that his brother was so jealous of him, you know, sibling rivalry, that Ray would get all this attention for standing up and telling some jokes, and he was risking his life as a cop."
RELATED: What is 'Everybody Loves Raymond' Star Ray Romano's Net Worth?
Ray Romano's brother's innocent comment, she explained, was gaining steam with the show's crew as the favorite for the show's name. But Romano wasn't pleased.
"Ray was so upset about that. He hated it so much!" She revealed that Romano wanted to call the show That Raymond Guy.
"I can't remember the other [potential titles] but my favorite was That Raymond Guy."
Monica Horan names her favorite episode of 'Everybody Loves Raymond'
After noting that she has too many favorite episodes of the comedy series, the actor named a few of them. "I love "Therapy," I love "Halloween Candy," "The Canister," "Baggage," I have so many favorites."
One favorite that came up because of Horan's excellent comedic timing in the episode was "Robert Moves Back."
"That was a great episode, and again, I had to embrace my life as a sexually active person on television, and the kids are going to have to see it. It was a great, great schtick," she said.
1 of Horan's comedy idols loved the episode as well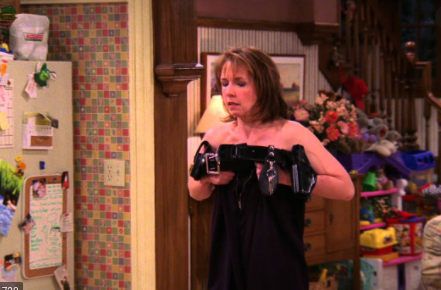 Horan revealed that at one point she was able to meet one of her comedy idols, Tim Conway, who turned out to be an enormous fan of the show – and that episode.
"[Tim Conway] was like, 'Funniest gag on television in the last ten years is you coming up with those pants!,'" Horan said, referencing her character Amy wearing Brad Garrett's very tall pants – and not much more – after she and Robert get caught in the basement.
"That [speaking of the pants] was a wardrobe thing," Horan said. "They had to make them longer so I wouldn't have to be self-conscious. It was hysterical, I loved it. That was a really, really funny episode and I think I hear comments about that one more than any other. I mean from people from all different countries."
RELATED: Patricia Heaton Reveals How She Would Portray Debra Barone on 'Everybody Loves Raymond' Today