Everything ARMY Needs to Know About 'Learn! KOREAN with BTS'
BTS is here to help fans learn Korean. On Aug. 24, the K-pop group released a study package called "Learn! KOREAN with BTS." The package is available for fans to purchase at the BTS Global and USA Weverse Shop and the BTS Japan Official Shop.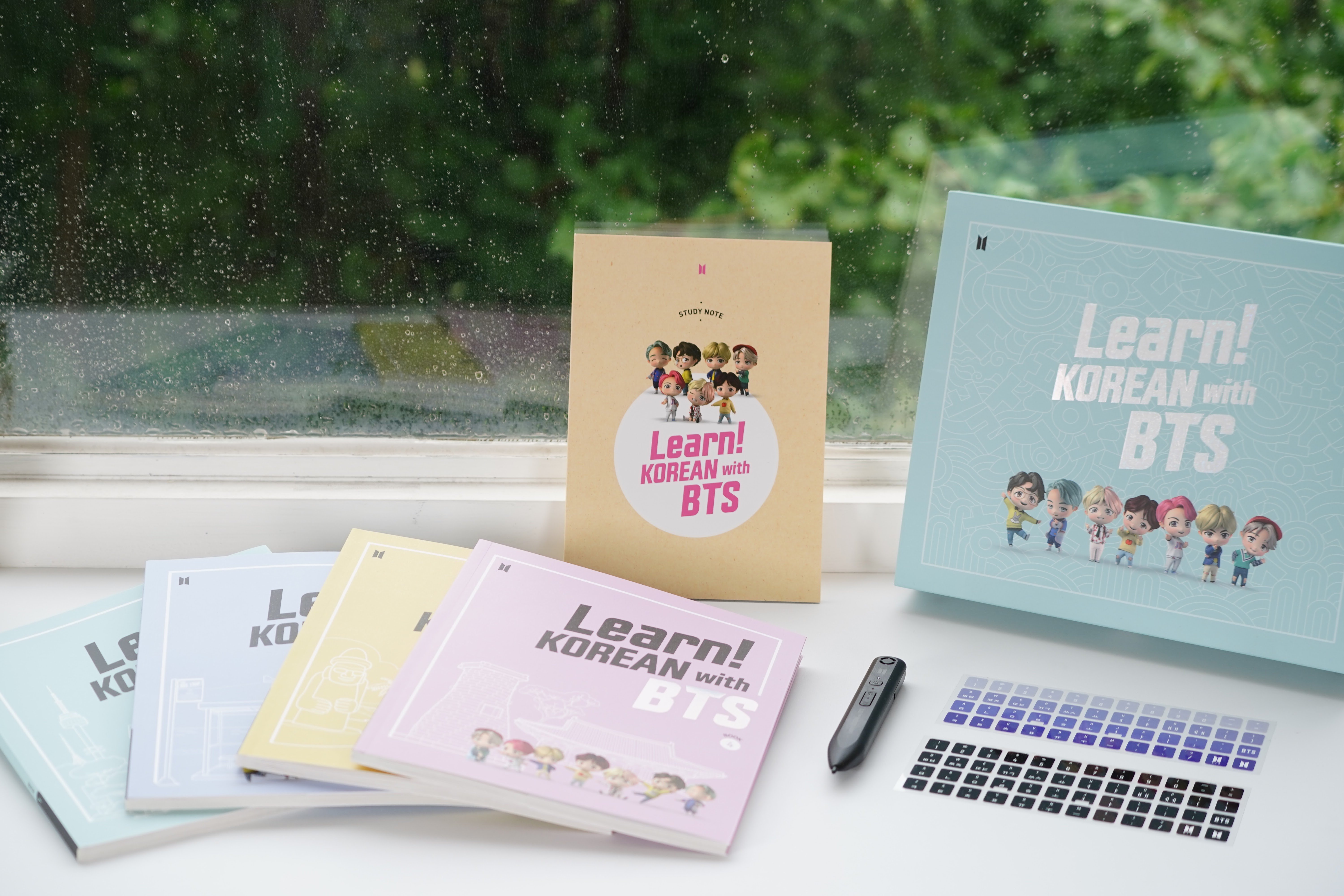 Background about the study package
Big Hit Edu is an education subsidiary of BTS's label Big Hit Entertainment. The company first began releasing Korean lessons called "Learn! KOREAN with BTS" as short three-minute-long instructional videos.
The new study package is a continuation and expansion of that, and it was developed by Professor Heo Yong's research team at Hankuk University of Foreign Studies.
How 'Learn! KOREAN with BTS' works
According to a press release from Big Hit Entertainment, "'Learn! KOREAN with BTS' follows the story of a main character 'Bora' who is traveling around Korea. The study package emulates the experience of traveling throughout Korea with BTS, and was designed for users to study Hangul vowels, consonants, and basic phrases based on Korea's regional traits and culture introduced in BTS' music and video contents."
Fans who order the package will receive a set of four textbooks, a sound pen, Hangul keyboard stickers, and a practice notebook that connects to the sound pen. The practice notebook is only available for the first edition of "Learn! KOREAN with BTS!"
When placed on text, the sound pen lets users hear the standard pronunciations of words. The sound pen is compatible with four languages: Korean, English, Japanese, and Spanish. The press release discloses that this can be used "not only for foreigners learning Korean, but also for Koreans learning foreign languages."
BTS will be featured throughout the study package through voices of encouragement in the textbook. Users will also be able to scan QR codes with smartphones to "reveal video contents of BTS regarding respective words or expressions, enhancing the fun of learning."
BTS just released a new single called 'Dynamite'
The release of "Learn! Korean with BTS" comes at the heels of BTS's newest single, "Dynamite." The English-language song and an accompanying music video were released on Aug. 21.
RELATED: BTS Just Demolished This YouTube Record by Achieving 101.1 Million Views With 'Dynamite'
"Dynamite" debuted at No. 1 on Spotify's daily Global Top 50 chart, achieving the biggest Spotify debut of 2020. With 3 million concurrent viewers at the time of its premiere, the music video achieved the biggest YouTube premiere of all time. The "Dynamite" music video also set the record for the most-viewed YouTube video in the first 24 hours by achieving 101.1 million views.
On iTunes, "Dynamite" and BTS set multiple records. "Dynamite" became the fastest song to reach 100 No. 1s after reaching that number in eight hours. BTS then became the only artist to have five songs reach 100 No. 1s on iTunes.
On Aug. 24, a B-side music video showing alternate angles of the original "Dynamite" music video was released. Big Hit Entertainment also released two remixes, an acoustic remix and an EDM remix of the song.