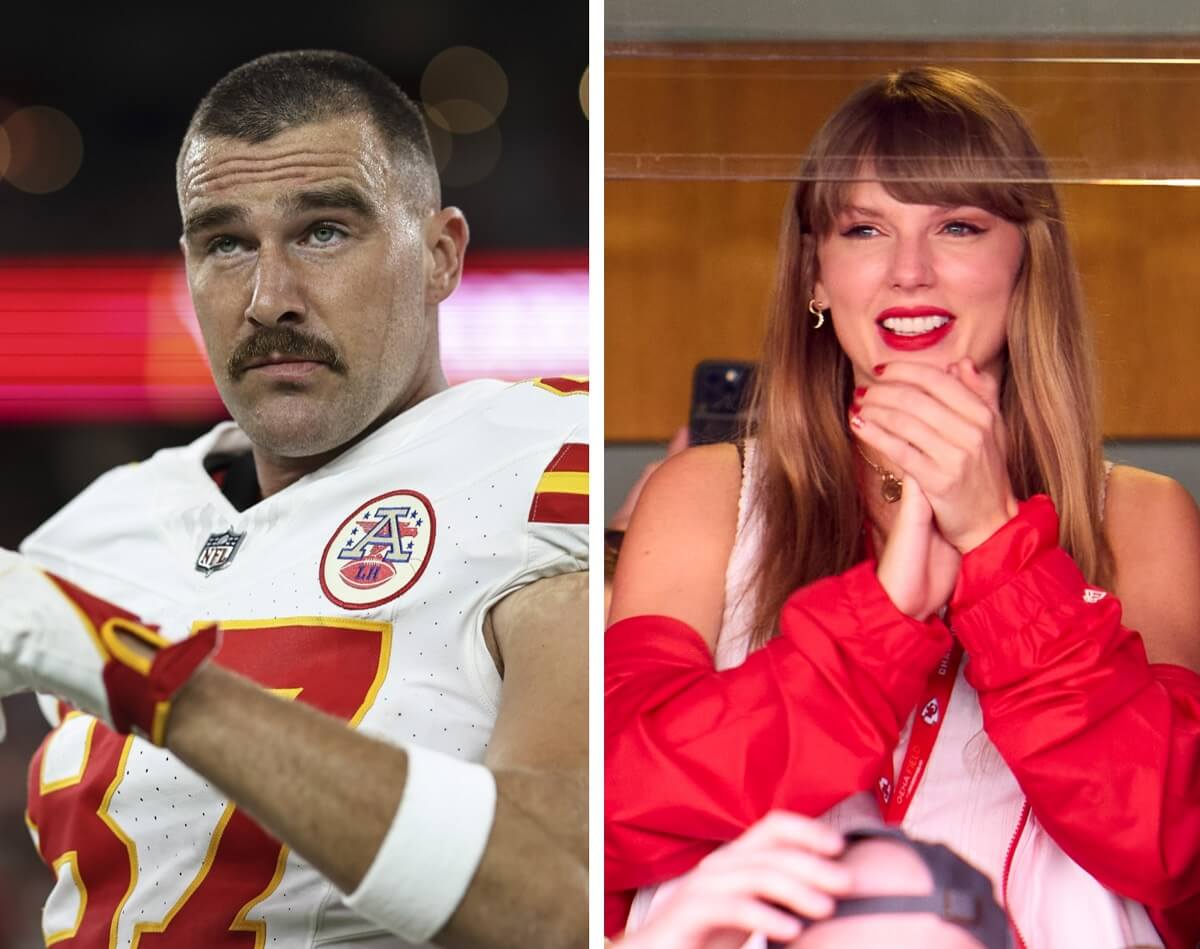 Everything Taylor Swift Fans Need to Know About Her Rumored Boyfriend Travis Kelce
Ever since Travis Kelce and Taylor Swift sent dating rumors into overdrive, her fans want to know all about the athlete. Here's a complete Swifties guide to Kelce and football.
Swifties everywhere were recently glued to their TVs to watch an NFL game. Even Taylor Swift's fans who normally don't watch football or know anything about the sport tuned in after social media began buzzing that the pop star was at the game and being shown on the broadcast. Swift was a guest of Kansas City Chiefs player Travis Kelce, and now everyone is wondering if the athlete could be the "Love Story" singer's new Romeo.
For now, the tight end and songbird aren't confirming anything meaning the speculation will continue. So we've put together a little guide about Travis and the NFL so Swifties can learn all about the songwriter's potential new lover.
'No Dumb Questions: Swifties Edition'
On the New Heights podcast with Jason and Travis Kelce, the brothers do a segment called "No Dumb Questions," and on the Sept. 27 episode they did a "No Dumb Questions: Swifties Edition."
The siblings took questions from Swift's fans on X, formerly known as Twitter, who wanted to know all about the game of football. Some of those questions included: "How/where can I watch football if I don't have ESPN or the sports channel?," "What is a field goal?" and "What is a down … Is it like dropping the ball?"
The Kelces tried to answer them in layperson terms. So hopefully Swifties learned something about the sport. But what about Travis specifically?
What to know about Travis Kelce
What fans need to know about Travis is he's from Cleveland Heights, Ohio, and attended the University of Cincinnati from 2008 to 2012. Today, he plays for the Chiefs, which is the same team that drafted him out of college in 2013.
In his profession Travis, like Swift, is fearless. He's a two-time Super Bowl Champion and eight-time Pro Bowler (which means he's really good). So good in fact that most football experts will tell you he's the best tight end in the game and one of the greatest to ever play the position.
As for his past girlfriends, he had a relationship with a reporter named Kayla Nicole who he was with for five years. They called it quits in 2022. And before that, he dated a woman named Maya Benberry. She was the winner of a reality show called Catching Kelce, in which 50 different women were vying for Travis' heart.
After they broke up, Benberry said they ended on good terms. However, she changed her tune after the news about her ex's potential romance with Swift made headlines. Now, it seems they have bad blood as Benberry claimed Travis was a "cheater."
Travis hasn't responded to that accusation and they dated back in 2016 so if that's true, has he changed? Well according to Jason with Swift, his brother "definitely seems like he is going above and beyond to be a gentleman."