'Evil Dead': Bruce Campbell's 'Army of Darkness' Salary Was More Than the Original Film's Entire Production Budget
When The Evil Dead released in 1981, it did so with a tiny budget, unknown actors, and a brand-new director in Sam Raimi. Yet, the horror movie became a classic. And over the course of 40 years, it spawned an entire multimedia franchise. Perhaps one of the clearest indicators of the series' growth is how star Bruce Campbell's — star of Ash vs. Evil Dead — salary expanded from the first film in Raimi's trilogy to the third.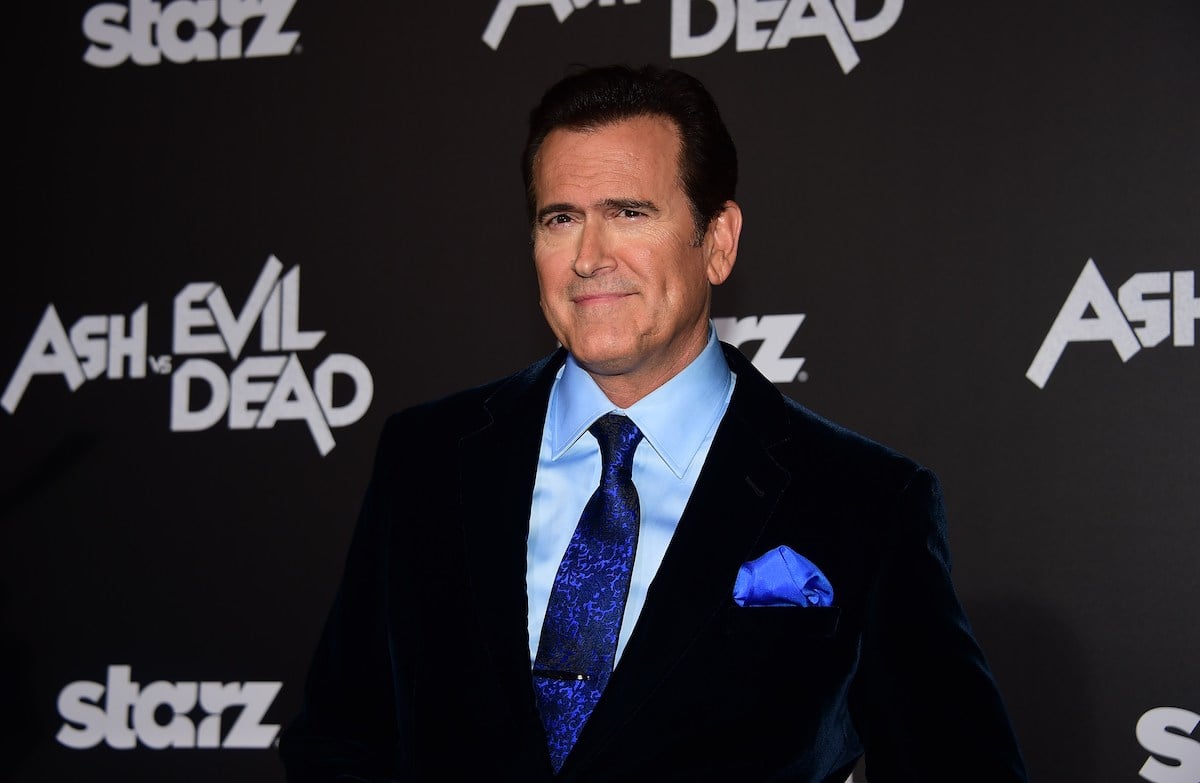 'The Evil Dead' launched a beloved horror movie franchise
The Evil Dead first gained widespread attention when Stephen King publicly voiced his praise for the movie. Over the next few years, it developed into a bonafide cult classic. Raimi's signature style already permeated his limited resources, and the violence was just shocking and brutal enough to keep fans talking. By 1987, the Evil Dead fan base was ready for more. And so Evil Dead II was born, again with Campbell in the lead role.
Army of Darkness concluded Raimi's initial trilogy in 1992. And for a long time, that appeared to be the last live-action project for the series. Instead, Evil Dead lived on in video games, comics, and the like. Then the 2013 remake/reboot came around, followed by Ash vs. Evil Dead from 2015 to 2018. Now another film, titled Evil Dead Rise, is heading to HBO Max sometime in 2022.
RELATED: 'Supernatural' Star Jensen Ackles Reveals the Show Asked Bruce Campbell To Play This Role
How much Bruce Campbell's earned for 'Army of Darkness'
The role of Ashley J. Williams aka Ash made Campbell a horror icon. And the actor has continued on with consistent work in both B-movies and mainstream Hollywood productions ever since. Of course, during the first Evil Dead movie, the budget was extremely tight. In fact, the whole film reportedly cost roughly $375,000. For a film that ended up having such legs, that's a bargain. But Campbell would eventually topped that total.
According to Mental Floss, the actor received a $500,000 salary for Army of Darkness. Being a Universal movie, Raimi had a much bigger budget than he was used to — $11 million, according to The-Numbers.com — and so his leading man earned more than the entire first movie they made together. Even so, Campbell — who has since retired from playing Ash — clarified that he was only left with $93,000 after fees, taxes, and the like.
RELATED: 'Doctor Strange 2' Director Sam Raimi Left a Big Problem for 'Ash vs. Evil Dead'
Bruce Campbell continues to produce the 'Evil Dead' movies
Given Army of Darkness earned more than $21 million at the box office, Universal's investment in the movie — and Campbell — paid off. And even though Campbell isn't playing Ash anymore, he still remains involved in shepherding the franchise along. He, Raimi, and producer Robert Tapert are also producing partners on the series.
This central trio produced not only Ash vs. Evil Dead but helped shaped Evil Dead Rise as well. Even though Raimi has since made a few Marvel movies — and is in the midst of making at least one more — the consistent vision of Campbell, Raimi, and Tapert has undeniably helped keep the Evil Dead franchise very much alive after all this time.