Exclusive Interview: Snoop Dogg's Wife Shante Broadus Speaks on Love, Fam, and Taking Care of Business
Snoop Dogg has been in the spotlight for nearly 30 years, and his wife Shante Broadus has been right next to him during his journey as a hip-hop artist, businessman, and father. He frequently gives her props for holding him down through the years, and the couple recently announced her new role as his manager. An entrepreneur in her own right, Broadus runs Boss Lady Entertainment and has a few fresh endeavors coming down the pipeline.
In a rare interview, Showbiz Cheat Sheet had the opportunity to speak with Shante Broadus about family, taking over the reins for Snoop's businesses, and their upcoming ventures.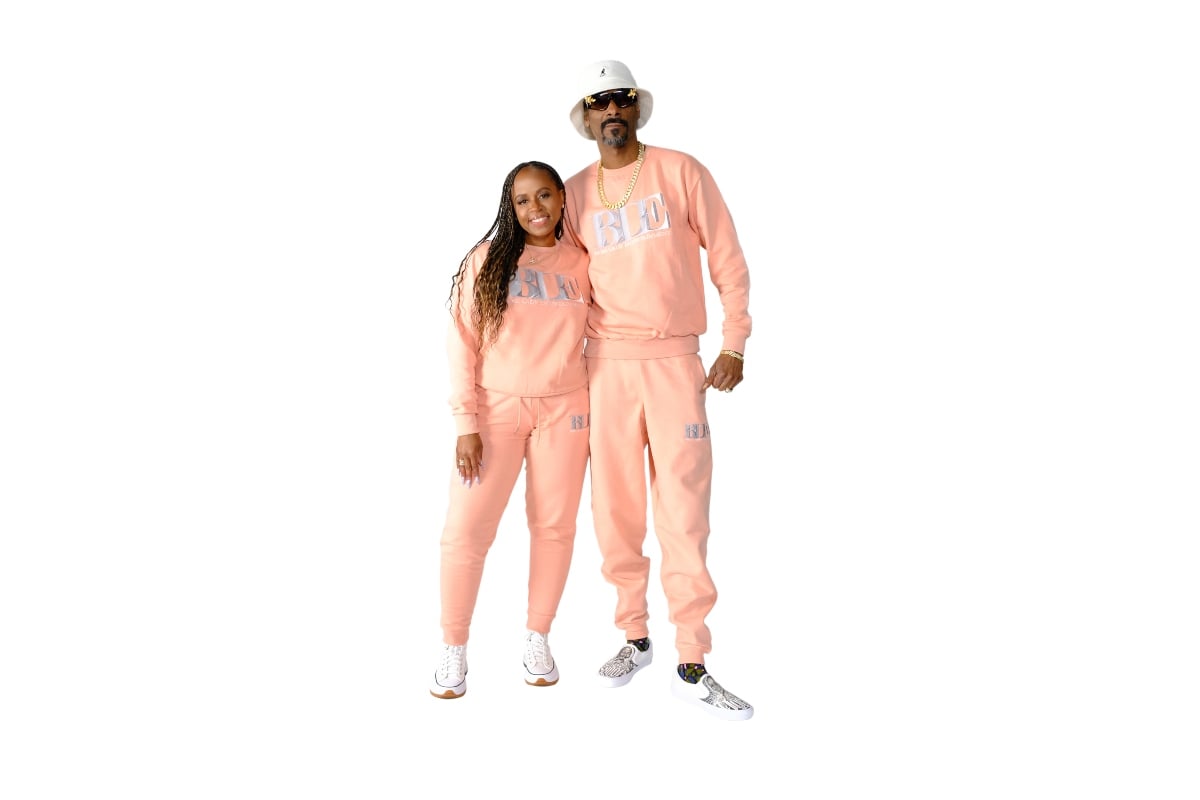 How Snoop Dogg and Shante Broadus' courtship began
Shante Broadus and Snoop Dogg have been married for more than 20 years and together, share three children and are proud grandparents. The couple first met through mutual friends when he was still known as Calvin Broadus. She refused to give him her number during that first meet — at a high school football game — but when they ran into each other again, he insisted.
"We started talking on the phone, and then he started becoming close with my mom —talking to my mom more than he'd talk to me. I would come home, and he would be at my house talking to my mom! They became really close, and now we're married with children. That's how it all started," she said. Snoop even bestowed her mother with a nickname. "She loved him — and they're really close to this day; her nickname is P-Loc," Shante shares.
Shante Broadus helped Snoop Dogg build from the ground up, and now she's leading
Looking back, Shante says she didn't know Snoop's career would blow up like it did. As a family, they were already fans, and she learned to balance her husband's newfound fame with their home life. But it wasn't easy with his schedule and all the travel. Early on, she'd take care of the kids, and would come home to juggle his business obligations while he was away. Their longtime bond has kept them grounded this entire time.
"We were friends first, and then we became parents. He's a businessman but we hold it down together," says Shante. She added that since the beginning, he's regularly shown appreciation for her contributions. "I don't think he could do this without me, to be honest. He couldn't handle it. There's too much going on."
In this next chapter of their lives, Snoop and Shante are partners in the boardroom. But wearing the manager's hat is like second nature for Shante, as it's a duty she carried for Snoop Dogg decades ago. She explains that before she launched her own brand, Boss Lady Entertainment, she handled Snoop's business dealings. That included overseeing his contracts. Now that he's expanded his reach in entertainment and beyond, she's back in charge.
Shante shares that she assembled a team of over 20 people to manage his empire, but as someone who's been around him since day one, it's the perfect time for her to step up again. "He knows I know the ups and downs. He needed someone he could trust and knows him like nobody else, and he decided to have me up front and working in the business with him," she says.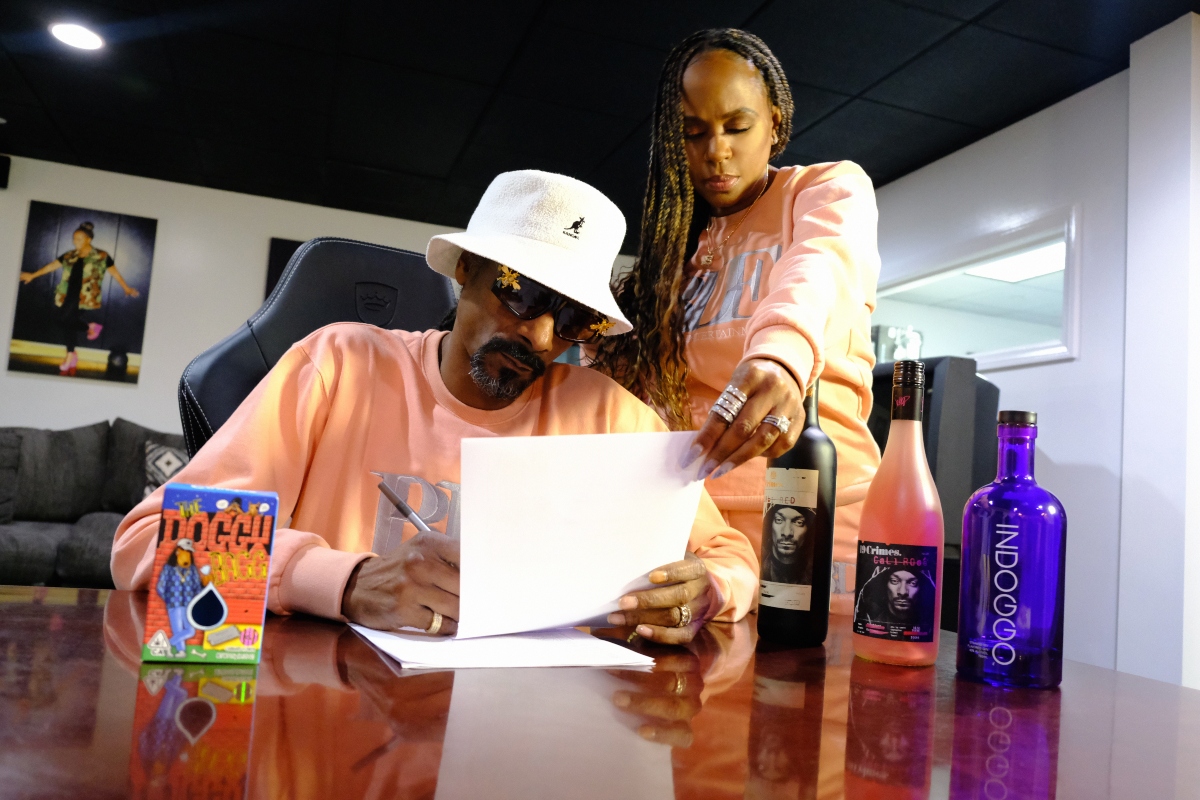 What's under that umbrella? There are multiple plates spinning in the worlds of music, animation, fashion, cannabis, gaming, and more. Doggystyle Records, Snoopadelic Films, Snoopermarket, and The Compound are all branches in the Snoop Dogg enterprise tree.
Additionally, Snoop is making more time for family, including coaching his 6-year-old grandson's football team. Who's cool idea was that? Boss Lady Shante. They'll be side by side on the field as she's serving as the team mom.
What's next for the Broadus clan and Snoop Dogg the brand?
Shante has a memoir on the way titled Paid the Cost to be the Boss Lady, and it will explore her life story, her marriage to the hip-hop legend, and daughter Cori's battle with lupus. "That was a hard time, dealing with my daughter being sick. I'd never experienced anything like that," she says. Reflective and warm, Shante remarks that she couldn't do this without Snoop because they're a team.
Fans should look out for the family's unisex scarf line called The Broadus Collection, which was inspired by Cori. Shante explains lupus caused her hair to fall out as a child, so the whole family began rocking scarves in solidarity. Though Cori is now 22, they still wear them. The scarf collection launches in the fall.
In the music realm, Snoop Dogg is preparing to tour with his Mount Westmore supergroup which features him, Ice Cube, Too Short, and E-40. Fans can expect to hear more coming out of the family's entertainment compound, and artists such as Cardi B, Kendrick Lamar, and DMX have all laid down projects at the facility. The Compound's offerings continue to grow.
Poised for the next leg of their adventure, Shante Broadus and Snoop Dogg are in it to win it as a team.
RELATED: The Best Moments From the Snoop Dogg vs. DMX Verzuz Battle