'Extraction' Sequel: The Russo Brothers Tease David Harbour's Return
Netflix's record-breaking movie, Extraction, is getting a sequel. And according to filmmakers Joe and Anthony Russo, the next installment may feature the return of a character who died in the first film.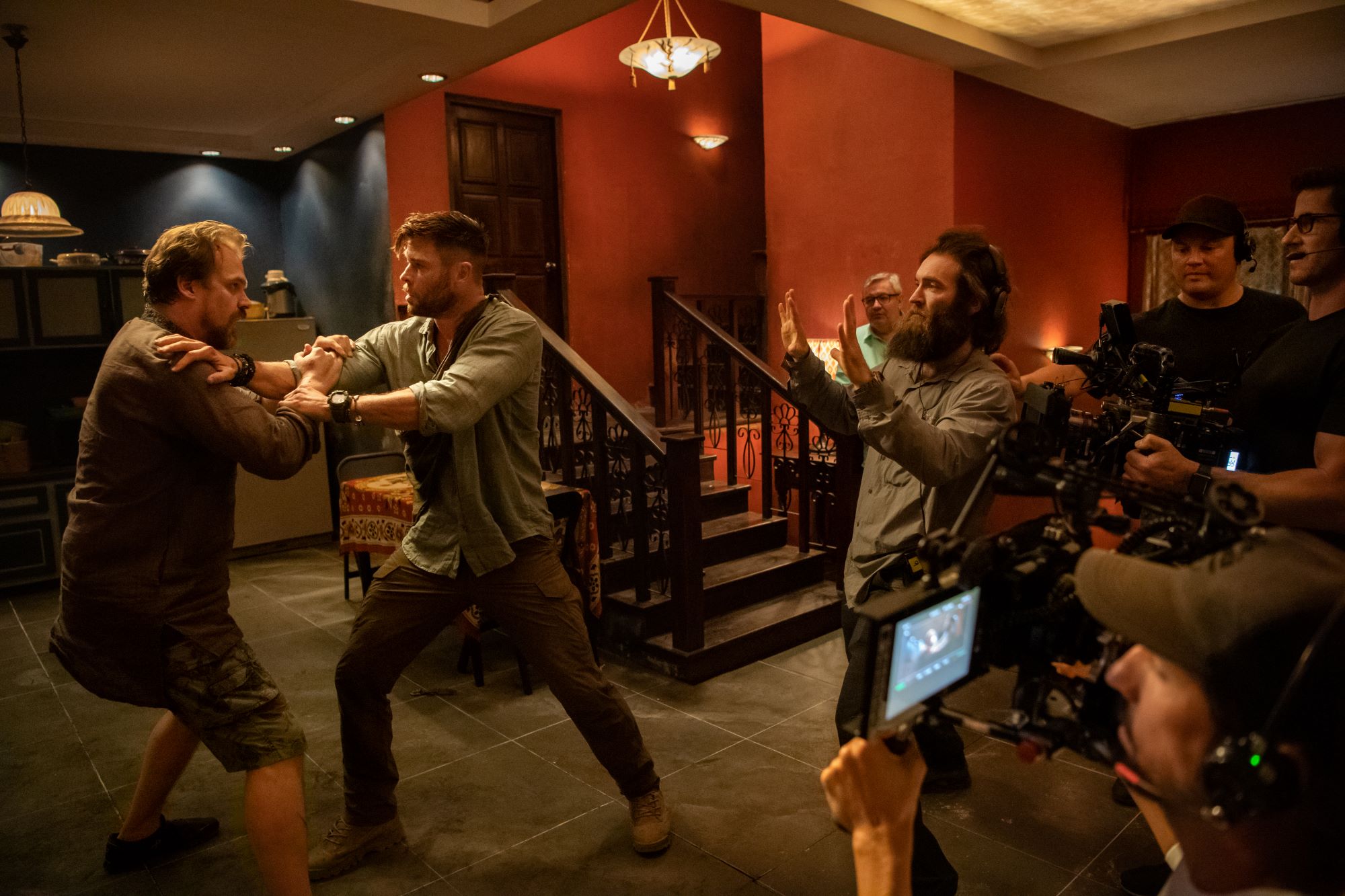 'Extraction' ended with a cliffhanger
In Extraction, Chris Hemsworth plays Tyler Rake, an ex-military mercenary who takes on a mission to Bangladesh to extract a kidnapped teen, Ovi (Rudraksh Jaiswal), from the grips of his drug lord father's arch-rival.
By the end of the movie, Tyler saves the boy but gets shot in the process. He falls off a bridge into a river and is presumed dead. But in the very last scene, a blurry figure who appears to be Tyler is seen standing near Ovi's home. The ending suggests Tyler is still alive and well, opening the storyline for a potential sequel. 
RELATED: How Netflix's 'Extraction' Is Tied to the MCU
'Extraction' was written and produced by the Russo Brothers
Extraction comes from writer/producers Joe and Anthony Russo. The film broke Netflix viewership records, bringing in over 99 million viewers in its first four weeks. And it has since become the most-watched original film on Netflix.
After the record-breaking success of Extraction, the Russo brothers revealed they were working on a prequel/sequel. And they also confirmed Hemsworth's return as Tyler Rake.
RELATED: 'Extraction' Star Randeep Hooda Is a Celebrated Bollywood Actor
"I started writing the sequel (prequel?)," Joe told Cinema Blend. "It's a great character to write for, with a fantastic performance from Hemsworth, so it makes my job easier. I think the mission is to up the scale on this one, both emotionally and physically."
The Russo brothers tease the return of David Harbour's character
In Extraction, Stranger Things star David Harbour portrays Gaspar, Tyler's former teammate who lives in Dhaka. Tyler takes the teen to Gaspar's apartment, expecting it to be a safe place.
But in a bid to collect a $10 million bounty, Gaspar turns on Tyler. The two get into a physical altercation, and Gaspar is shot and killed by Ovi. 
But in a recent interview with Collider for CCXP, the Russo brothers talked about the potential return of Harbour's character. They didn't confirm whether the next Extraction installment would be a prequel or sequel, but they did imply viewers would get some origin stories. 
"We are working at building out a universe that could potentially explore some of the other characters from the first movie, and some new characters," Joe said. "And see the interaction, more historical interaction, between the characters. So if you're interested in David Harbour's character, you just may get to see him in a future Extraction film."
"In the traditional sense of universe building, potentially, we're trying to find more interesting ways to tell these stories and to cross-pollinate them," he added. "We're big fans of just forging new paths and narratives — Every antagonist is [a] protagonist in their own story, so can we see their point of view?"
The filmmakers also confirmed they are prepping production for the Extraction sequel/prequel. If all goes according to schedule, they should begin filming in the Fall of 2021.