'Fair Play' Movie Review [Sundance 2023]: An Intense Dramatic Thriller With Gendered Office Politics
The world of office politics is all too familiar for many employees around the world, which movies are increasingly touching upon. Writer/director Chloe Domont makes her feature film debut with Fair Play, which finds a way of intertwining a young relationship with the terrors of office trauma. Her sharply-written screenplay taps into dramatic gendered workplace politics that find a unique edge to fascinate.

'Fair Play' sets a young couple up for failure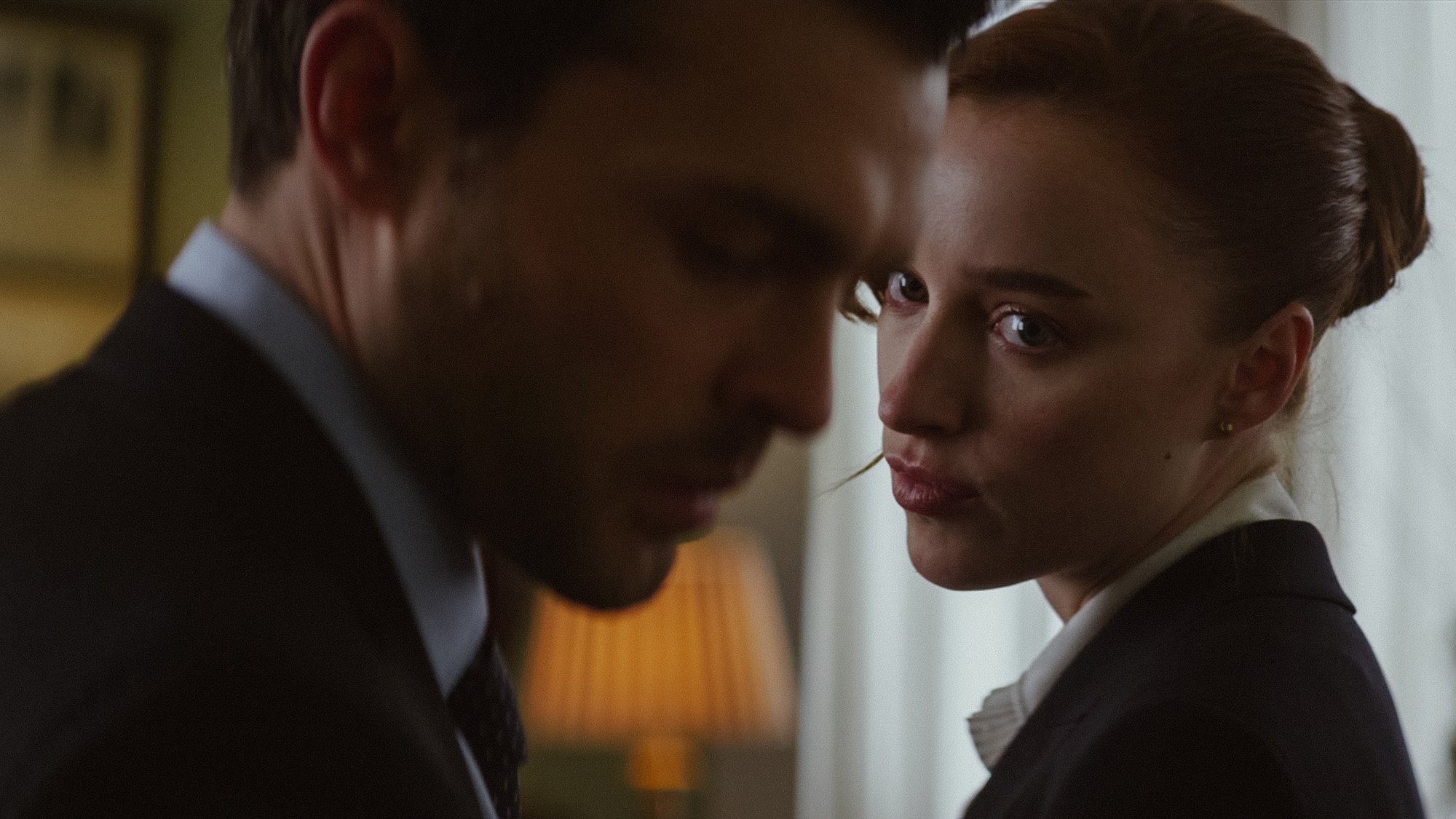 Emily (Phoebe Dynevor) and Luke (Alden Ehrenreich) are a happy couple in New York thriving off the news of their recent engagement. They have an undeniable passion that pulls them together physically and emotionally, but they have to keep their relationship a secret from the cutthroat financial firm they work at due to company policy.
A highly-coveted promotion opens up with a substantial raise and the potential for monumental future success. As a result, Emily and Luke's relationship experiences a severe shift that sends their new engagement into total disarray. They're about to discover the true price of success.
The fragile male ego and the hunger for power
Fair Play leads with the undying passion between Emily and Luke. Their chemistry is bursting at the seams, as other men envy what he has, calling her the "prettiest girl in the room." However, their dynamic suddenly changes when she also demonstrates a drive for success in her career. Emily leaves her ring at the apartment, returning to a "work appropriate" relationship. A manager has an alarming outburst in the office when he's suddenly fired in front of his colleagues, acting as a precursor for the dog-eat-dog world that's unfolding.
Initial office rumors point to Luke getting the promotion to the now-vacant job, but they're shocked to discover that Emily actually earned the position. The majority of the on-screen employees are male, who instantly have no desire to work for her. They make offensive assumptions that she must have slept her way to the top, rather than having earned it on her own merit. Naturally, Luke begins to sink to peer pressure, even though they have no idea that he's actually in a romantic relationship with Emily.
The initially-happy couple devise a plan to boost one another up in their career. Luke first offered to help Emily, but now that the positions have switched, he's made uncomfortable by the offer. Fair Play places fragile male ego under a magnifying glass, demonstrating how it festers and ultimately becomes a source of destruction. Luke follows the advice of a leadership motivational speaker, inheriting the most toxic lessons that only further alienate himself from Emily.
'Fair Play' is a sharp and compelling thriller
Domont builds tension through her sharp screenplay, but her direction, coupled with Menno Mans' cinematography, frequently finds ways to make the office environment feel like a location of imminent danger. Brian McOmber's score pumps additional urgency into pivotal scenes, further bringing more dramatic weight to a setting that would otherwise be rather drab.
Leading actors Dynevor and Ehrenreich turn in enthralling performances that take a sudden heavy dramatic turn. Dynevor is electric in a grounded performance that anchors even the most melodramatic moments. Meanwhile, Ehrenreich is impeccable in an excited portrayal that further demonstrates his emotional range greater than he ever has before.
Luke says that presentation is everything. It quickly becomes apparent that sinister intentions hide behind many of the seemingly harmless interactions. The truth of the story doesn't sugar-coat the darkest corners of these characters, and Domont has a meaningful message to back it all up. It's leading and predictable, but it's absorbing. Fair Play is a ferocious dramatic thriller with bite.