'Family Feud' Host Steve Harvey Shares The Dumbest Answers on the Game Show
Family Feud is one of the most fun-to-watch game shows on television. Neither the contestants nor the host takes themselves very seriously, and the families seem to genuinely enjoy competing on the show together rather than just being in it for the prize money (although, of course, that doesn't hurt!). However, whether it's the pressure from the time limit or the live audience, some hilariously dumb answers have been thrown out by contestants on the show, which makes Family Feud really fun to watch.
What makes the show even better is the current host, comedian Steve Harvey's facial expressions and jokes in response to some of these dumb answers. It's obvious to viewers that he's clearly astounded by some things that come out of the contestants' mouths, and sometimes he can't hold in his laughter. Harvey recently revealed what all Family Feud fans want to know: What are some of the dumbest answers that he's ever heard on the show?
What is 'Family Feud' all about?
Family Feud is a game show that pits one family against another in order to compete for a $20,000 prize. Instead of having to be a trivia expert like you do to compete on Jeopardy, the families on Family Feud simply need to guess the top answers that the public came up with in random survey questions. The family who reaches 300 points first wins the prize!
The show first entered into America's hearts and living rooms in 1976, when it was hosted by Richard Dawson. Since that time, Family Feud has gone through multiple host changes and has been hosted by beloved comedian Steve Harvey since 2010.
Dumb answers given by contestants have always been a feature of the show, and each host has had their own way of dealing with it. Harvey openly mocks the contestants and doesn't even try to control his surprise and laughter at some of the answers he hears, and many think that his hilarious reactions are now the best part of the show.
What did Steve Harvey do before 'Family Feud'?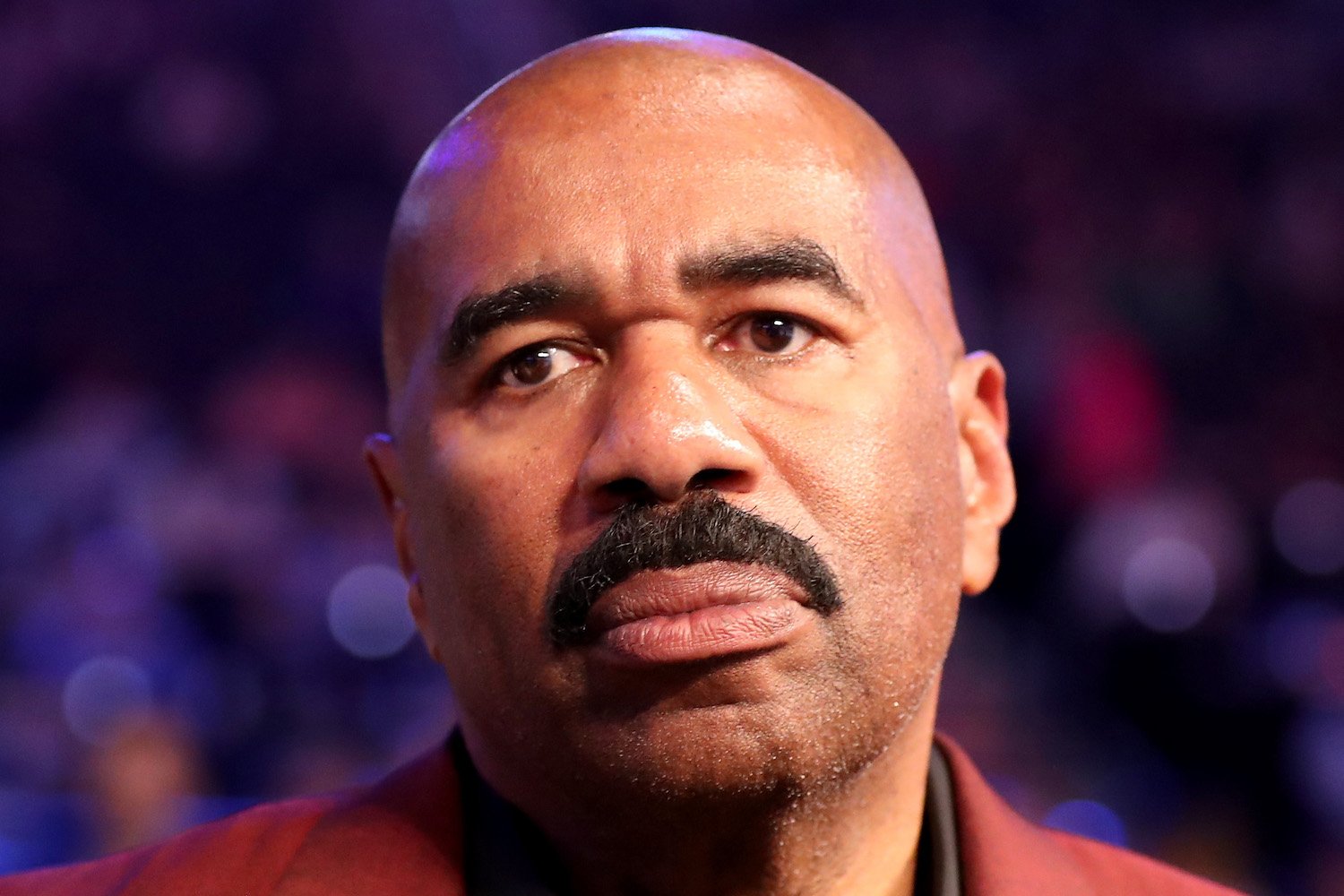 Newer generations might only recognize Harvey from his gig hosting Family Feud, but before this job was offered to him, Harvey was most famous for starring in his own self-titled TV sitcom, The Steve Harvey Show. He also hosted countless other shows, did stand-up comedy, and was recognized for being one of the funniest comedians in the business.
It's no surprise that he allows his comedic talents to come to life on Family Feud as well, and viewers can't get enough of Harvey's facial expressions and jokes as he pokes fun at some of the contestants' dumb responses.
Harvey reveals some of the dumbest answers
RELATED: 'Family Feud': Are Steve Harvey's Jokes Scripted or Improvised?
On Late Night with Seth Myers, Harvey didn't hold back as he looked back on some of the dumbest answers he's ever heard on Family Feud. 
"The question was, 'If a robber breaks into the house, what's the most unexpected thing he would hate to run into?' You're thinking, you know, an owner with a gun. You're thinking a dog … this country dude goes: 'A naked grandma!,'" he laughed. We don't even want to know what this contestant's grandma is doing running around the house naked! "You just go, 'What … what did … what … why is that your answer?'," Harvey said.
Another famously dumb answer that Harvey referred to was the now-infamous "Pork" question. In response to the question, "Name a word or phrase that begins with pork" the contestant, instead of pork loins or pork sausages, for example, answered: "-cupine."
We're not sure if the contestant was just trying to be funny, but it certainly got a laugh out of Harvey. "Pork-cupine is not a damn word," Harvey laughed on Late Night. The contestants' dumb responses are funny, but Harvey's responses to them are even funnier!