'Family Feud': 'Steve Harvey' Isn't Actually the Host's Real Name
Steve Harvey is a triple threat entertainer with fans all around the world. He has his hand in many projects, from movies to television, and people love him for his outspoken personality and hilarious reactions.
Harvey is the longtime host of the game show Family Feud and even has his very own talk show. Although it seems like Harvey has been in the public eye forever, the host actually spent much of his early life under the radar, until he eventually found fame — and there is a lot that fans don't know about the beloved television personality. 
When was Steve Harvey born?
Harvey was born in West Virginia in 1957. At birth, his name was Broderick Harvey, named after the well-known actor, Broderick Crawford.
He was raised by working-class parents, with his father working as a coal miner. Harvey spent the majority of his early years in Cleveland, Ohio, after his family moved there when Harvey was very young. In Cleveland, Harvey's family struggled to make ends meet and were forced to share a very small living space. 
Harvey attended several colleges, including West Virginia University. He had a variety of odd jobs as a young man, from carpet cleaning to selling insurance.
It took him a while to really find his niche in life, but by the eighties, he had decided that he wanted to pursue a career in comedy. He began performing stand-up comedy in clubs, but, as with most up and coming comedians, he didn't find success right away. 
Steve Harvey's expansive career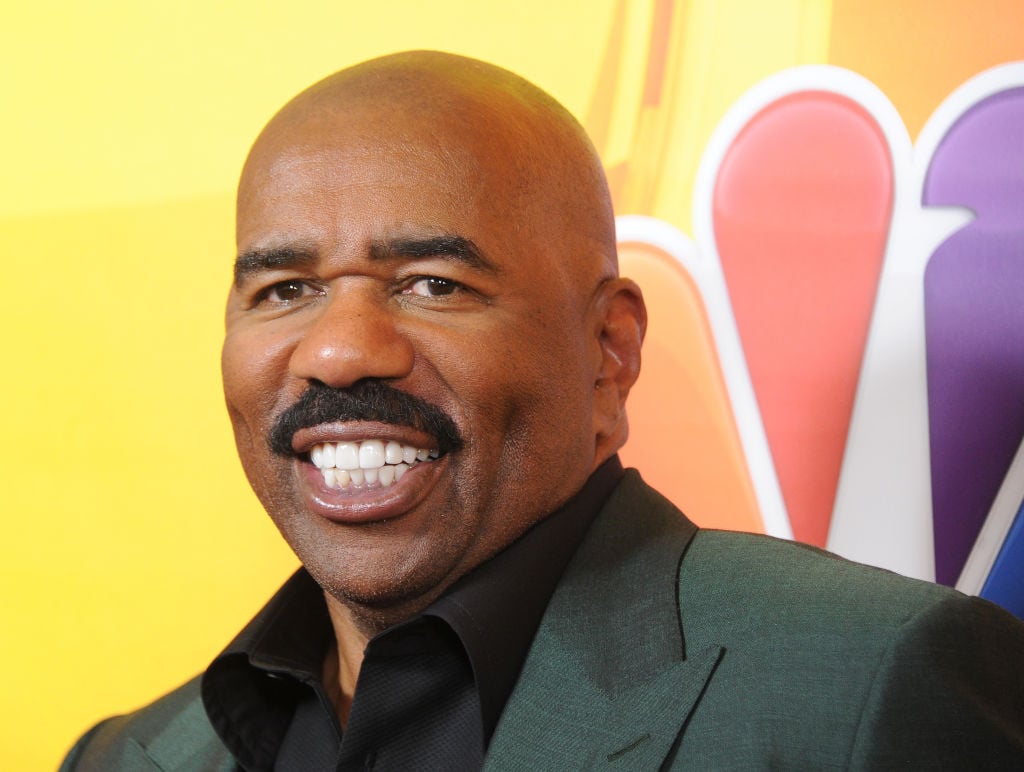 In the early nineties, Steve Harvey got his first big break when he was cast on Showtime At The Apollo. The success that he found on that show led to other opportunities in television, including his very own network show, The Steve Harvey Show.
All throughout the nineties and into the early 2000s, Harvey continued performing stand-up comedy, all while pursuing other projects, including writing several bestselling books.
In 2012, Harvey debuted his new talk show, Steve Harvey. As the host of the show, Harvey conducted interviews, offers giveaways, and dispenses wisdom to his viewers.
The show ran through 2017 and was followed by a special web version of the show. He has also appeared in a number of high-profile films, including The Fighting Temptations, You Got Served, Racing Stripes, and Madea Goes to Jail. Through it all, Harvey has maintained the optimistic, outspoken personality that originally made him a star. 
Fans love Steve Harvey for 'Family Feud'
Harvey has worked on many projects over the years. However, he is probably best known for being the host of Family Feud, the hugely popular game show.
Harvey became the host of the show in 2010 and has been at the forefront of it ever since. The show, which has been around since the seventies and has gone through several hosts, enjoyed greater popularity with Harvey as the host.
Harvey's hilarious responses to contestants' questions have caused him to be made the subject of many internet memes, and there's no question that his booming personality has provided a welcome shot of energy in a genre that often suffers from the same staid format.
Harvey has even hosted the show's spinoffs, including Celebrity Family Feud. These days, Harvey still works on multiple projects, but his focus remains on Family Feud. Even though he is a huge star, Harvey hasn't forgotten his roots, or his original first name — in fact, he named his oldest son Broderick Harvey Jr.