Fans Are Begging Taylor Swift to Somehow Stop Kanye West From Running for President
On July 4, Kanye West tweeted that he plans to run for president in 2020, and some feel that it is up to Taylor Swift to stop him. The rapper's announcement earned the immediate support of Kim Kardashian West and Elon Musk, while others are skeptical on if West even plans to run. Regardless, social media was filled with posts begging Swift to try and stop West from running for president.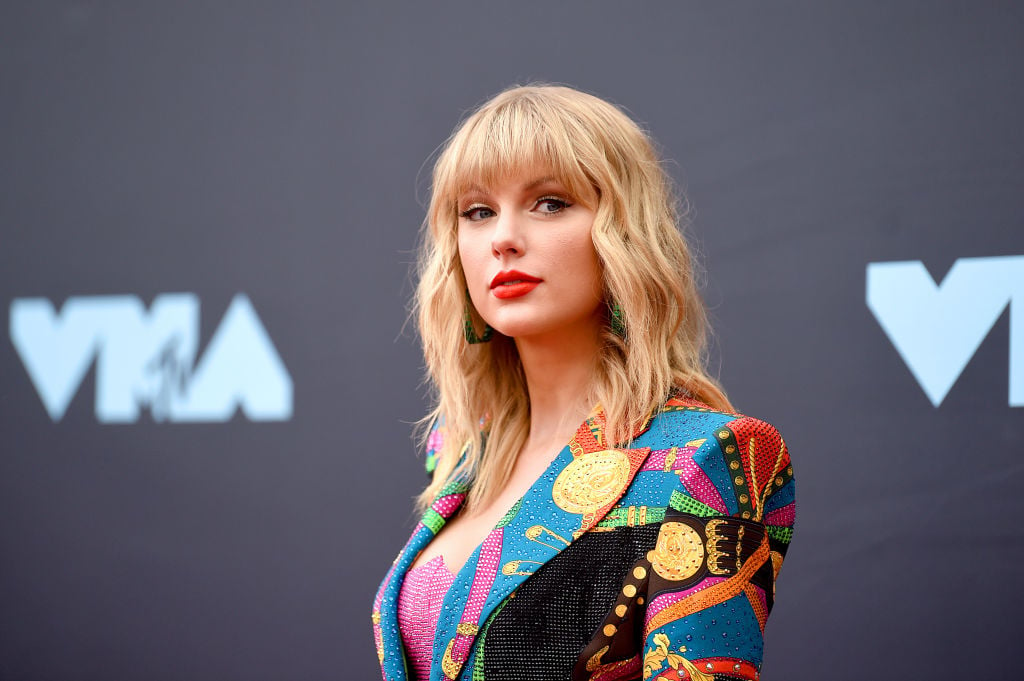 Kanye West tweeted that he planned to run
The evening of July 4, West announced on Twitter that he would run for president later this year.
"We must now realize the promise of America by trusting God, unifying our vision and building our future. I am running for president of the United States ! #2020VISION," he wrote on Twitter.
Kardashian West, his wife, shared his tweet with an American flag emoji, showing her support. Tesla CEO Elon Musk also endorsed West for president and tweeted, "You have my full support!"
RELATED: Will Kanye West Really Run For President?
This is not the first time West has said he plans to run for president. At the 2015 MTV Video Music Awards he ended his acceptance speech for the Video Vanguard Award by saying he would run in 2020.
Fans want Taylor Swift to stop Kanye West
Because Swift has become more involved in politics over the past couple of years and has feuded with West in the past, some have been expecting the singer to condemn West's run for president. On Twitter, some fans joked about Swift running herself to stop him, while others begged for her to speak out against West.
"If Kanye is serious about running for President, it is Taylor Swifts official patriotic duty to shut him down," one Twitter user wrote.
"If Kanye gets elected as president, I want Taylor Swift to gate crash his first speech and say something like, 'Yo Kanye, I'm happy for you, imma let you finish but I think Beyoncé deserves to be president instead.' #KanyeWest #Kanye2020," a fan tweeted.
RELATED: Taylor Swift Calls Out Donald Trump on Twitter and Promises to 'Vote' Him 'Out' of Office
Taylor Swift caused someone else not to run for public office
While some might think that asking Swift to do something is far-fetched, she is the reason Scooter Braun decided not to run for any public office. Ever since Braun purchased Swift's former label Big Machine Records and the masters to her first six albums, the two have been at odds. Swift has repeatedly called Braun out for being power-hungry when it comes to her music, while Braun has denied her accusations.
In an interview with GQ UK, Bruan admitted the feud dissuaded him from running for public office.
"Public office is something I've thought about in the past, but only because I get very frustrated by a lack of leadership. The reason I have shied away from it is because I have young children and I have to be careful… Recently I was attacked very publicly by someone I don't know, someone who refused to have a conversation with me, and I wish that person nothing but the best and hope that one day a dialogue is had, because I think it all could have been avoided with proper dialogue," Braun said.
He continued, "But what it did teach me was that if my children were teenagers, if they were a little bit older, this could have been very hard for them. And I don't know if I'm comfortable being in public office knowing the amount of ridicule and exposure you get and I don't know if I want to put my children through that. So right now I'm trying to do the best I can from the private sector."