Fans Are Calling Khloé Kardashian a 'Clown' Over Rumored Pregnancy with Tristan Thompson
Khloé Kardashian and Tristan Thompson have had plenty of ups and downs in the years since they started dating. They moved in together, had a baby, and even started talking about marriage. But they also experienced lots of drama, including two cheating scandals.
Fans were happy to see them rebuild their relationship as co-parents following his cheating scandal with Jordyn Woods. But when it comes to a possible reconciliation, they are not here for it, arguing that Kardashian deserves better. That's why they're so enraged about rumors that the Good American designer is allegedly expecting another kid with Thompson.
Amid the reports, they took to various social media platforms and slammed Kardashian, calling her a "clown" and more.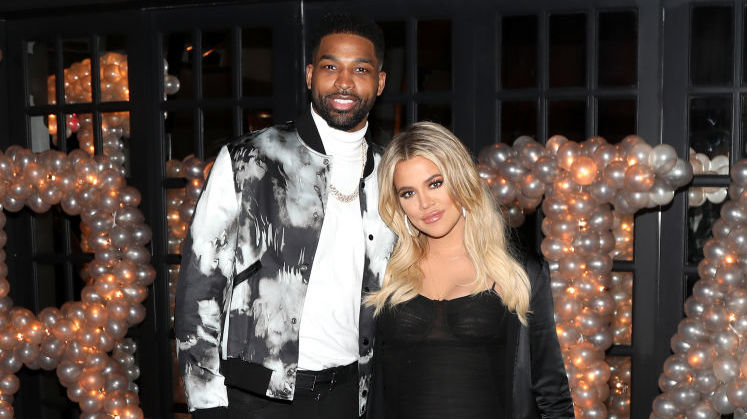 Why people think Khloé Kardashian is pregnant
To be clear, Kardashian has not said anything about being pregnant a second time. But Internet sleuths believe that she has been dropping hints on Instagram over the past few weeks.
The earliest post dates back to February when Kardashian posted a photo of her giving the peace sign — something fans interpreted as a pregnancy announcement.
She has since shared a string of pink-themed posts that have fueled speculation she is allegedly expecting a girl. The photos come amid a Keeping Up with the Kardashians episode where the reality star told Thompson that she might need some of his sperm to have another baby. A source later told People that Kardashian was "half-joking" about her comments.
The tweets about Khloé Kardashian's rumored pregnancy
As you can imagine, fans have been giving Kardashian an earful over this latest news. At the root, they seemed shocked due to Kardashian's treatment of Woods and her comments about moving on.
(She claimed in a tweet around the February 2019 scandal that Woods had ruined her family. Although she later clarified and said Thompson was equally responsible, Woods is seemingly still ousted from the KarJenner circle while Thompson is not.)
"Khloe & the Kardashians literally got Jordyn blacklisted from business deals, humiliated her publicly and I can't imagine the sort of psychological pain they inflicted, AND Jordyn was literally only 21? So ALL this for Khloe to get pregnant with Tristan again? This is so unfair," wrote one critic.
"Khloe Kardashian tried to ruin Jordyn Woods life because HER MAN kissed JORDYN without consent and now she's pregnant by him again. Y'all stans can stop complaining about people treating Khloe Kardashian like a clown," read a second tweet.
"You're telling me Khloe & Ko. tried to turn the internet on Jordyn over a cheating idiot and then ended up getting pregnant AGAIN to said idiot? That's clownery luv," said another tweet.
"If Khloe Kardashian actually is pregnant again (with Tristan's baby apparently!!!!) I will never EVER feel bad about the clown sh*t I've done in the past. She is not a clown she is the whole flipping circus," read a third tweet.
Some people are happy for her, though
On the other hand, there are lots of people who congratulated Kardashian and pointed out that she can make whatever decision she wants.
They are definitely right about that, but it is again worth pointing out that we don't know whether this news is true. With that in mind, let's all just relax and wait for word from Kardashian. OK? OK.
Read more: Tristan Thompson Claims That Khloé Kardashian Used His Cheating Scandal as a PR Stunt