Fans Are Slamming Jim Bob Duggar for Bringing a Few of His Daughters to a Pro-Life Rally
Whether you love them or hate them, the Duggars have graced our television screens for over a decade — and they never seem to get less controversial. It all began with Jim Bob and Michelle Duggar bringing their 19 children into the spotlight. And now that many of their kids are all grown up with children of their own, many diehard fans get an inside peek into the Duggar family's lives via Instagram instead of waiting for new seasons of Counting On.
Not only do many of the older Duggar kids have their own social media presence, but Jim Bob and Michelle keep fans apprised with what's going on at the Duggar family home with their Instagram. And a photo showing Jim Bob with three of his youngest daughters at a pro-life rally is getting significant backlash. Here's what's going on.
The Duggars are known for having pro-life beliefs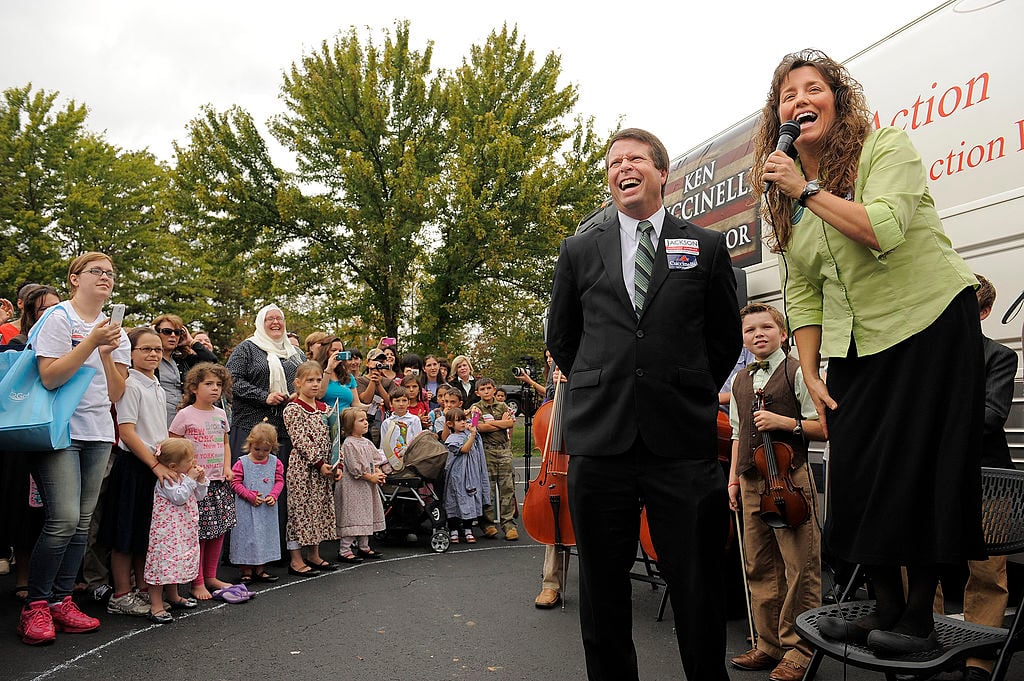 There are plenty of ultra-conservative families around the U.S. — but few are featured on the small screen and under the watchful eye of the public. Since the Duggars were first featured on television, Jim Bob and Michelle explained their beliefs. And their strict family rules and courtship guidelines have shocked viewers for years.
The Duggar kids were not allowed to take in any modern media growing up. Not only that, but they abided by a strict dress code that required the women to wear long skirts and shirts that covered their shoulders. And when it comes to dating, the Duggars believe in courtships with chaperoned dates and no touching or kissing until the wedding day.
Since the Duggars are conservative Christians, they also believe in the pro-life movement and have been adamant about sharing this with their followers. Back in March 2019, OK! Magazine reported that the Duggar Family Instagram posted a photo of the Duggars fighting for pro-life legislation. And this is far from the only documented instance.
The Duggar Family Instagram posted a photo of Jim Bob Duggar at a rally with his daughters
Despite the backlash of the past, it hasn't stopped Jim Bob and Michelle Duggar from sharing what they're up to publicly on Instagram. On Jan. 19, 2020, the family's Instagram posted another controversial image. The photo shows Jim Bob with three of his young daughters holding up a photo of a fetus seven weeks after conception followed by a video of the rally.
"Every human life has value and is created in God's image! So encouraged to stand up as a family with thousands of people across America and affirm the value of those who cannot speak for themselves!" the caption of the post reads.
We can't forget that before Jim Bob was known for having 19 kids, he was a Republican member of the Arkansas House of Representatives. And Buzzfeed notes he had a strong stance against abortion when he ran for the U.S. Senate, which shouldn't be too surprising.
Fans are outraged over the photo
The Duggars have many pro-life followers, of course. But many of the comments on the Instagram post are staunchly against the idea of Jim Bob bringing his younger girls to a pro-life rally. Not only that, but considering the oldest Duggar child, Josh, was found to have been molesting his younger sisters, many believe Jim Bob should redirect his moral compass.
"Who speaks for the abused children after they are born??? They don't have a voice either," one follower commented on the post.
"I feel so awful for the women who have to Walk past these disgusting protestors on their way to abortion clinics. They shouldn't have to be attacked by such hatred," another wrote. "Leave women alone, they are already stressed out and you don't need to be screaming in their ears about things going on with their own bodies."
Yet another commented, "Have loved you all since day one but no longer….your ignorant judgment has lost you another fan."
No matter how much hate the Duggars get, they haven't considered changing their pro-life stance yet — and we doubt they'll take their followers into consideration now. Instead, their followers should be prepared to see even more of this type of content going forward.
Check out Showbiz Cheat Sheet on Facebook!