Fans Console Halsey as They Mourn the Death of Their 'First Love' Jagger: 'It's the Most Visceral Loss I Have Ever Felt'
Halsey's fans are comforting the singer after she posted about the untimely death of her beloved dog Jagger, who was just five years old.
Halsey revealed that their beloved dog Jagger died unexpectedly at just five years old. Here's what the singer/songwriter said and how fans are comforting her.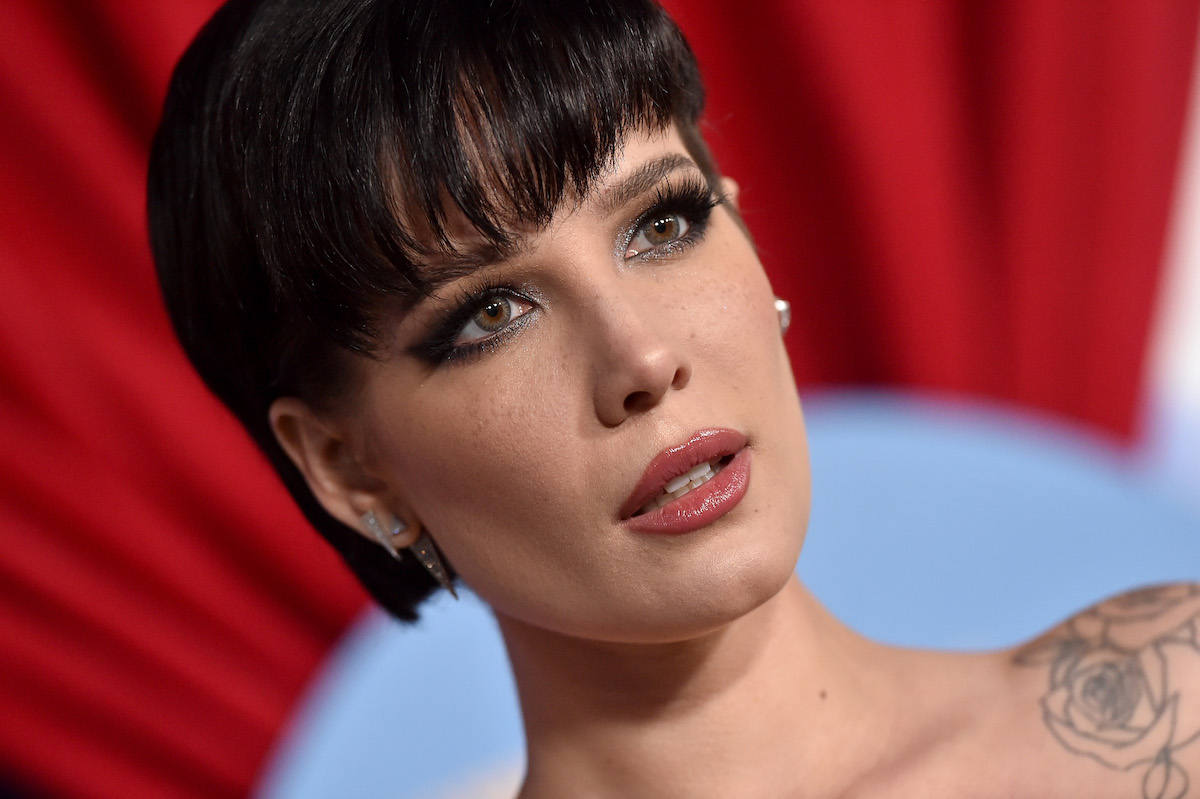 Halsey's dog Jagger died of Myelomalacia
On Mar. 5, Halsey shared via Instagram that her 5-year-old dog Jagger died. She posted 10 photos of the pit bull mix, including one where Jagger wore a birthday hat and another featuring Halsey's son. 
"This has been the worst week of my life," Halsey began their lengthy caption. "Before I had a dog of my own, I would hear people mourn their pets and think 'it's just a dog…' well I couldn't have been more wrong."
She went on to explain how she thought Jagger would be "old and rickety and grumpy" by the time he died. Halsey said they feared the dog's death "immensely," but they thought they would have "many more years together and he'd have a long good life."
But the "Nightmare" singer said that Jagger was diagnosed with a condition that took his life swiftly and unexpectedly. "Unfortunately that is not how it happened for us," Halsey wrote. "Jagger was 5 years old and yesterday we lost him to a progressive condition called Myelomalacia. It is sudden and uncommon and unfair with a catastrophic prognosis."
They described how Jagger deteriorated in a matter of days. "Within 3 days my beautiful baby boy went from chasing imaginary birds around the yard and laying in my lap turning his ears up at the sounds of Sesame Street, to having paralysis spread through his body by the hour."
Halsey described the death of their dog Jagger as 'the most visceral loss [they] have ever felt'
The "Bad at Love" singer shared a warning with fans after the sudden loss of her dog Jagger. "It was sudden and shocking and I still haven't even really processed it," she wrote. "I don't know why I'm sharing all this besides to just say love your pets every single second because anything can change in a moment."
Halsey, who gave birth to her first child in July 2021, said Jagger taught her how to be a mother. "My very first love, who taught me how to be a mommy," she wrote.
"It's the most visceral loss I have ever felt," they ended the emotional caption. "Like the absence of a vital appendage. Every single second of my day that once revolved around his little habits and routines is now full of just emptiness and silence. If you loved Jagger along with me, thank you for giving him the best life the bestest boy could have ever had. 🌈🌼👑"
The singer's fans are offering condolences
Halsey's fans are offering sympathy and support in the comments section of her post about Jagger's death. 
"I'm so sorry ash," one fan commented, calling Halsey by a nickname for her first name, Ashley. "He was never 'just a dog' and you deserve to feel and process any way you feel you need to. I'm sending you so much love. Just know he's not in pain anymore and can't wait to see you again 💜"
One fan wrote, "Oh I'm so sorry. My condolences. May he chase imaginary birds endlessly over the rainbow bridge. Sending love," while another commented, "He was an angel he'll remain in our hearts. Love you Jagger, fly high little prince."
And one fan with veterinarian experience said, "Im a vet tech and honestly this is the worst diagnosis ever. it breaks my heart every time. so sorry for your loss. my dogs and patients will help guide him across the rainbow❤️"