Fans Don't Believe Zendaya When She Says She and 'Spider-Man' Co-Star Tom Holland Aren't Dating
The Marvel Cinematic Universe is seriously involved, and no matter if you've seen all of the Avengers flicks or you're just getting into the films now, there remains one superhero that fans young and old still enjoy — and that's Spider-Man. Tom Holland is gearing up to play the beloved hero once again in Spider-Man: Far From Home, and we're looking forward to see Zendaya reprise her role as Michelle Jones, the Mary-Jane-like character in the new series, too.
Zendaya and Tom Holland clearly have a fantastic friendship in real life, and that's led many to speculate that the two are dating. She's since denied the rumors — but fans don't believe it. Here's why.
Dating rumors have circled the couple since Spider-Man: Homecoming
Elle reminds us the dating rumors started way back in the summer of 2016, when the cast of Spider-Man: Homecoming was first announced and Zendaya and Holland were both appearing on each other's Instagrams. And from there, the rumors only continued to spiral as the co-stars shared how close their friendship really was. In November 2016, Zendaya shared the cover of The Hollywood Reporter that she and Holland were on to Instagram and added that "Spider-Man himself" was one of the best things to come out of "all the chaos and sadness" she was experiencing. And fans took note of the duo. "Perfect wedding photo," one fan commented to the 'gram.
Through 2017 and up until now, the rumors continued to persist as the two made red carpet appearances with each other and joked with each other online. They even started joking about the dating rumors over Twitter, too.
Reports before confirmed the two were seeing each other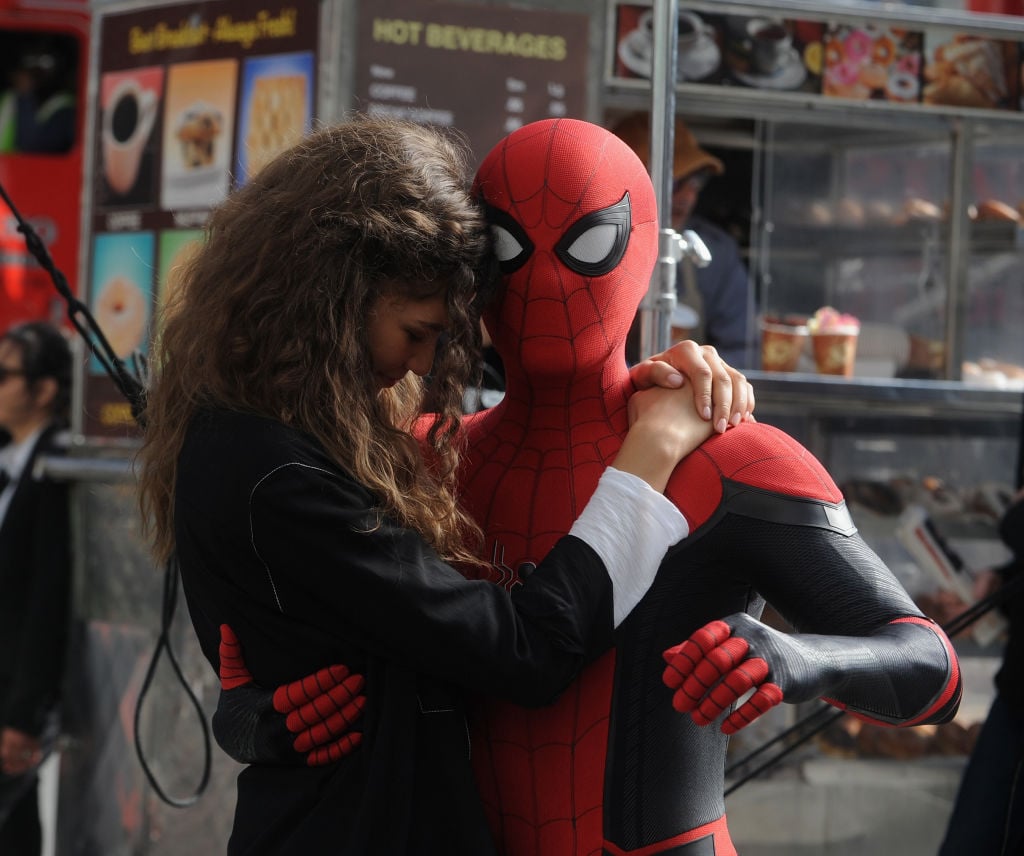 Holland and Zendaya may love to joke about the rumors, but we can't forget that reputable publications have said sources came forward claiming the two were an item. Back in July 2017, a source allegedly told People that the Spider-Man co-stars are indeed romantically linked and they started seeing each other while they were making the first movie. "They've been super careful to keep it private and out of the public eye but they've gone on vacations with each other and try and spend as much time as possible with one another," the source claimed.
Another insider commented on Holland and Zendaya, too. "They're both really ambitious and they challenge each other — but, most importantly, they make each other crack up." Zendaya and Holland still denied it though, just calling each other "best friends" during press interviews while still being hanging out together outside of the movie set.
Zendaya just shut down the rumors, but we're not convinced
Another incident just occurred that had fans wondering about the state of their relationship. Teen Vogue notes Holland posted a photo of him and his Far From Home co-stars as they stopped at Disney Land, and Zendaya made a funny comment that made Holland aware that he tagged her name in his crotch area. "I'm assuming because you don't know how to work ig, that's the reasoning behind my name placement," she commented. Now, Holland added, "Thanks @zendaya for making me aware of my obvious blunder," to the caption of the photo itself.
Fans were quick to point out that perhaps the Instagram slip-up was purposeful. As one tweeted, "Why is it killing me that Tom Holland tagged Zendaya right on his crotch in this pic? Is this a subliminal message, Tom?" Unfortunately, Zendaya shut down the rumor by just calling Holland "Instagram stupid," but it's clear fans aren't convinced. We'll have to wait and see how the two interact after Far From Home is released.
Check out The Cheat Sheet on Facebook!