Fans Found a 'Star Wars Rebels' Fave in The New 'Star Wars: Squadrons' Game Trailer
There's currently a new dawn for Star Wars video games, between Star Wars: Battlefront II and Jedi: Fallen Order. And now the next game from this galaxy far, far away is coming in October called Star Wars: Squadrons. The game will feature both the Empire and the Rebel Alliance starfighters, as the gamer gets to be a pilot in battle. It looks fun and action-packed, and there are fan-favorites involved too.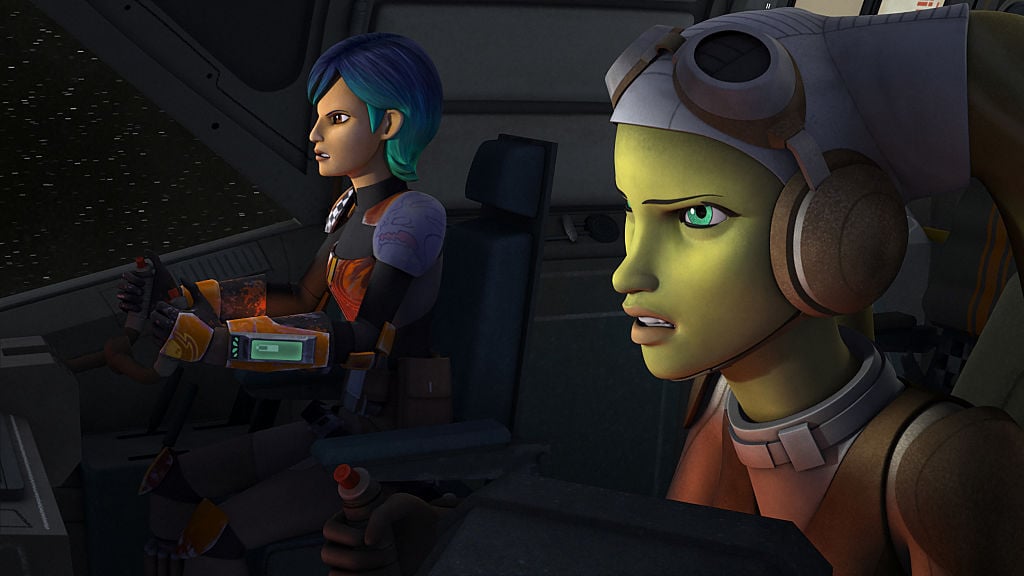 The new 'Star Wars: Squadrons' trailer just dropped 
On June 15, the trailer for Star Wars: Squadrons dropped along with a lot of new information on the project. It releases on Oct. 2, and will be available to play on PlayStation 4, Xbox One, and PC, and playable via virtual reality (VR) on PlayStation 4 and PC. It's a first-person game that also has "5v5 multiplayer space dogfights, monumental fleet battles, and an original story set during the final days of the Galactic Empire and the rise of the New Republic after the events of Star Wars: Return of the Jedi" according to StarWars.com
While Star Wars is much more than the lightsabers and spaceships involved, they're also immense fun. So a game where you can be a fighter pilot, with amazing graphics, sounds like a fan's dream. 
"We created this game for every Star Wars fan who has ever dreamt about soaring across the galaxy in their favorite starfighter," Ian Frazier, creative director at Motive Studios, to StarWars.com. "Through the collaboration of the teams at Motive and Lucasfilm, we've been able to create a high-fidelity starfighter experience with an authentic storyline that invites Star Wars fans to explore never-before-seen corners of the galaxy in their own ship."
It also sounds like they'll reveal more at EA Play Live, an event usually held at a convention, but now is going to stream online on June 18. 
Hera Syndulla is in the trailer, along with Wedge Antilles 
The trailer features a really dramatic look at the new characters and both sides of the Galactic conflict. But, if you look close enough, you'll see that Rebel fighter Wedge Antilles is making an appearance. And Star Wars Rebels' Hera Syndulla will also be in the game. Fans pointed this out and it was also part of different announcements from Lucasfilm. 
Antilles was most notably part of the Rogue Squadron, flying as Rogue Three during the Battle of Hoth. He also makes an appearance in The Rise of Skywalker as a pilot during the battle against Sidious' risen army. Wedge Antilles is played by Ewan McGregor's uncle, Denis Lawson. 
Hera is well-known as a rebel on board the resistance ship, Ghost, with her other crew members that consisted of Kanan, Ezra, Sabine, and more. In the epilogue to Star Wars Rebels, which takes place around a year after Return of the Jedi, fans find out that Hera fought in the Battle of Endor and also had a child with Kanan. Fans pointed out that in the Star Wars: Squadrons trailer, she's wearing a jacket she wears in Lego Star Wars: The Freemaker Adventures. 
The game takes place after 'Return of the Jedi'
As stated in the press release, Star Wars: Squadrons takes place after the events of Return of the Jedi, which featured the Battle of Endor. The rebels won that fight, as we saw, but the war did go on for a bit longer. 
Granted, this battle shifted the war in favor of the Rebellion. Sidious was gone along with Darth Vader, and the second Death Star was destroyed. This game will no doubt show how the falling Empire fights to the very end, from the pilots' point of view. This isn't a time period we see often, and it makes sense that Hera is involved, considering she fought during Endor. 
As StarWars.com also stated, players can move up in rank, and you earn new components to enhance their individual starfighters. This includes weapons, engines, and more. Again, the gameplay is what unlocks any new features, which is an incentive to keep playing. 
A fun addition, too, is the multiplayer function. It allows you to "squad up" with friends "regardless of platform." This means gamers can play with friends who also have the game, even despite not using the same console.